By Ronni Berke, Senior Producer, CNN





Hartford, CT. (CNN) -- Eighteen-year-old Nicole Suissa is off to a running start in her pursuit of a career in law. In her freshman year at the University of Hartford, she's clocked a 3.73 grade point average.
But, because of money, she may not even make it to sophomore year.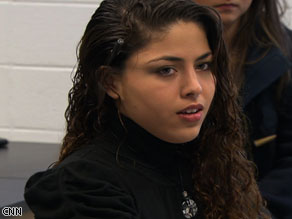 Nicole Suissa at class at the University of Hartford.
"I owe about five grand," she says.
Despite thousands of dollars in university and federal grants, subsidized student loans, and a part-time job, Suissa simply can't come up with the money needed to cover tuition, room and board at the private school.
"If I can't stay for next year, I'm pretty much in the water, I'm done," she says.
Education experts say Suissa is like many lower income students who find themselves edged out of college.
The National Center for Public Policy and Education says the cost of attending college rose 439 percent from 1982 to 2006. According to the Center, although the burden of paying for college has increased for all families, it is substantially more for low- and middle-income families.
Prof. Anthony Carnevale, who researches education at Georgetown University, says 600,000 qualified students, mostly from low- and middle-income families, who graduate in the top half of their high school class every year, do not go on to even a two-year degree in the subsequent eight years.
"These kids are qualified, they're in the top half of their class, but they never do get the degrees they're quite ready to get if we funded them and supported them properly."
This worries educators who say that an entire class may be closed out of better jobs in the future.
"Education is what makes the American Dream possible, and when you close off opportunity to higher ed, you limit access to the American Dream," said Prof. Pedro Noguera of New York University's Steinhardt School of Culture, Education, and Human Development.
With the current economic crisis, experts say state and local governments really have no choice but to cut funding to higher education, rather than something like prisons or Medicare. They say officials know most parents will do anything to fill in the financial gap -- but for poorer students, that's simply not an option.
Carnevale says political speeches and public anger against tuition increases may miss one important point.
"The difficulty here is that as the states pull out and the tuitions rise, the public gets angrier at the colleges and don't really understand that what's going on here is a reduction in government support, not runaway cost increases in colleges," says Carnevale.
Dan Hurley, Director of State Relations and Policy Analysis for the American Association of State Colleges and Universities, agrees there has been a cost shift from states to students. He says there has been a growth of state contributions to merit-based, rather than need-based programs, and this leaves lower income students, who often have lower standardized test scores, at a disadvantage.
"The desire is to have higher standards, but it is really rigged towards higher income-based families," Hurley says.
However, Hurley and Carnevale both share the view that even more than the poorest students, the group that is being pinched the hardest in the new economy is the lower-to middle-class -- as Hurley says, "those who are on the edge of not qualifying for aid and not being nearly wealthy enough to afford it."
Gary Pelkey, a friend of Suissa's at Hartford, may fit into that category. With his family struggling on his divorced mother's income from a fast-food restaurant job, he is unable to get loans. He dropped out of Hartford after fall semester.
Now, Pelkey says he's looking for a job to tide him over until he can save enough money to go back to school. For him, higher education is a ticket to a better life. Eventually, he'd like to become a civil engineer and design bridges. "I really want to provide for my family," Pelkey says.
"I don't want to suffer like my family has through the years, live from paycheck to paycheck, fast food or some other job that won't let me provide."
Because of her overdue balance, Nicole Suissa's account and transcripts are now frozen, so she can't even apply to transfer to a cheaper school -- not that she wants to.
"If I have the grades and I have the potential, and I have this willingness, this innate willingness to come here and to graduate with an honors degree, then why shouldn't I be able to stay here?"
Suissa says the school seems committed to helping her, but she still is not sure how she'll be able to afford sophomore year.
University of Hartford President Walter Harrison says although the school is tuition-driven, it is budgeting an extra half million dollars for financial aid next year.
"We're committed to helping our students, we want them to succeed here," Harrison says.
Success is what Suissa wants to focus on. "There are other things at my age that I should be thinking about -- and that shouldn't involve how I'm going to stay in college."
E-mail to a friend