By Chris Welch
CNN





Editor's note: CNN has asked its journalists across the country to offer their thoughts on how the economic crisis is affecting their cities. In this installment, All Platform Journalist Chris Welch reports from Minneapolis, Minnesota.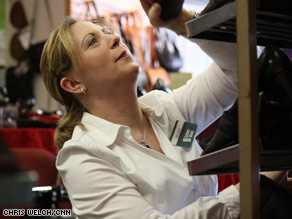 Shoe store employee Becky Fiene says people have been heading to the clearance racks more frequently.
MINNEAPOLIS, Minnesota (CNN) -- There's a strip mall just outside the city limits of Minneapolis that seems to capture in a nutshell what the city's economic situation has been like of late -- bad, but compared to other cities, it's definitely not horrible.
About a dozen or so retailers currently call the Golden Valley Shopping Center home, and hope to for quite some time still.
But there also are a handful of shops that haven't been so lucky and sit with their lights out. Remnants of a flooring store remain -- the phone number and various styles of flooring still cover the storefront window, though the space is empty.
And a pet shop -- gone, as well.
Next door to what used to be Dream Floors is Schuler Shoes. This particular location has been there since 1950. I stopped in to see how business is for them.
Employee Becky Fiene describes their current business situation as "down a little bit" but says for the most part they've survived as well as anyone could have hoped for at this point.
"It hasn't been too bad," she says.
Fiene says people always need shoes and that's part of what's kept their business from sinking in this economy.
"We're a necessary product," she says. "It's been slower, but it hasn't been too bad."
She did admit, though, that one thing has changed significantly.
"They used to buy regular products. Now they focus on the clearance items a lot more."
And it's not as though Schuler Shoes hasn't gone through any layoffs. They have. Still, the business is surviving and not in any immediate danger, Fiene says.
Mayor R.T. Rybak echoed those comments when referring to the city as a whole. Particularly, the health-care industry in Minneapolis has been a primary benefit to the city's ability to stay afloat. But even though Rybak told me the city's economy is doing "slightly better" than the country is on average, people are still having a rough time making ends meet.
"Clearly lots of people are suffering right now," Rybak says, "and I think there's not only the impact of people losing their jobs but people just being so concerned that they're not spending dollars at all."
And even the retailers at the strip mall who've done well say that's certainly evident.
Mike Paradise is the general manager at Down in the Valley, a music and gift store that sells posters and novelties in addition to various CDs and DVDs. Paradise says a combination of declining CD sales due to Internet downloading and the current economic climate makes it twice as tough.
He sees people having a much harder time opening their wallets these days, but he also says that sometimes, with the little cash they do have, people will decide to buy something fun simply because it takes their mind off the negative.
"We're selling gifts and fun little things to make you feel better [and] I think people do want to feel better."
Mayor Rybak -- and, naturally, Mike Paradise -- would like to see the money go to these kinds of local shops first and foremost so the money circulates locally.
It's Paradise's notion that people want to feel better, to escape, to get away from a real world so dominated by gloomy economic news, and that's giving a boost to -- believe it or not -- local theater.
Krista Bergert, the communications director for the city's Community Planning and Economic Development Department, says local theater companies have been thriving -- some even selling out each night. She explains that people want to escape reality but aren't able to physically travel very far or to even see the Broadway tours when they stop in town because, even though they tend to be glitzier, they're also much pricier.
A side note: Minneapolis is said to have more theater seats per capita than any U.S. city outside New York.
And there are other positive stories that have come out of these economic times. About two weeks ago, I was talking to an administrator at one of the city's local hospitals who told me the economy has brought out the compassion among co-workers. She says they were faced with what appeared to be a few imminent job cuts but that the employees' jobs were saved all because their colleagues decided to come together and each take pay cuts.
Bergert also says that sometimes being handed a pink slip is just what a select few people have been secretly needing in order to carry out a long-held dream or passion, or starting their own business or doing something totally new and random. It's given them freedom.
Perhaps there can be some silver lining, even if, as reality seems to be showing us, the lining is inside just one small cloud in a sky of hundreds.
E-mail to a friend

All About Minneapolis