By Jeanne Meserve and Mike M. Ahlers
CNN





(CNN) -- Pilots on 12 jetliners landing at Seattle-Tacoma International Airport on Sunday reported that someone was shining a green laser light into their cockpits, bringing renewed attention to a problem that has plagued pilots since the introduction of cheap laser pointers several years ago.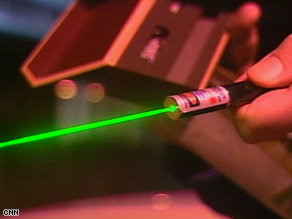 High-powered lasers can cause temporary blindless for pilots -- their use has been called "a form of vandalism."
All the planes were targeted during a 20-minute period Sunday night, and all landed safely. But the incident led to pilots simultaneously trying to avoid being temporarily blinded by the light while trying to help authorities pinpoint its source, believed to be about a mile north of the airport.
Air traffic controllers continuously cautioned pilots about the light during the episode, which lasted from 7:10 to 7:30 p.m. PT.
"All right, I'll keep an eye out for that," one pilot responded before correcting himself. "Er, I'll keep an eye away from that," he said in radio traffic captured by LiveATC.net.
Another pilot reported the source to be a block and a half west of an interstate. Airport authorities said they conducted two searches of the area but did not find the culprit.
Laser attacks on aircraft have increased in recent years, according to the Federal Aviation Administration. There have been 148 incidents this year, FAA spokeswoman Laura Brown said.
On Friday alone, there were reports of incidents in Salt Lake City and Ogden, Utah; Lake Charles, Louisiana; Orlando, Florida; and Burbank and San Jose, California.
Sunday's incident was noteworthy only because of the number -- 12 -- although one federal official said the final report came later Sunday evening.
Lasers have not contributed to any accidents, authorities say. But officials note that it is a federal crime to point a laser light at an aircraft, and pilots are required to report encounters with laser lights. Officials fear that the lights could cause an accident by blinding pilots or otherwise affecting their night vision.
"There's a great risk that this could lead to an accident, in particular because it happens during the take-off phase or the landing phase, and that is literally the most dangerous part of any flight," said Capt. Bob Hesselbein of the Air Line Pilots Association.
Hesselbein and others say they have not seen lasers used as weapons by politically motivated terrorists. But "it's a form of vandalism, whether intentional or unintentional. It's sort of a terrorist moment for the crew members who are trying to safely land an airplane, and suddenly they're dealing with blindness or temporary blindness or an incredible distraction."
SeaTac Airport spokesman Perry Cooper said airport police twice searched an area north of the airport.
"We didn't find anything or make any arrests. Hopefully that's it, and we won't hear from them again," he said.

A 2004 study by the FAA subjected pilots to "eye-safe levels" of laser light in a simulator. At the highest level of exposure tested, more than half of the 34 pilots reported difficulties, including ducking under a glare shield to hide from the light.
Of those, four executed a "go around maneuver," and five reported that they would have performed a missed approach if it were a "real world" incident or the duration of the laser exposure had been longer.
E-mail to a friend

All About Seattle-Tacoma International Airport • Federal Aviation Administration