By Stan Wilson
CNN





LOS ANGELES, California (CNN) -- Doctors remained optimistic Friday that all eight babies born last month to a California woman will fully develop without major complications.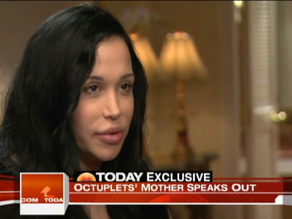 Nadya Suleman has been visiting her newborns every day, a hospital spokeswoman said.
All of the octuplets are breathing on their own and continue to receive tube-fed donated pasteurized breast milk, Kaiser Permanente Hospital spokeswoman Socorro Serrano said. Only two of the six were being supplemented with intravenous nutritional combinations.
"Premature babies take a while before they can be bottle-fed, and there are signs that each baby is developing motor functions so they can receive bottle-feeding and be able to swallow and breathe at the same time," she said.
"When I last talked with Dr. Mandhir Gupta, the neonatologist who led the delivery team, he said there are small positive signs every day," she said.
Don't Miss
The babies continue to make progress in their development as they grow to their optimum weight, Serrano said.
According to Serrano, most premature babies are ready to go home when they reach "normal newborn weight," which can be about 6 pounds. That may still take a few weeks to a couple of months for the octuplets, she said.
The babies' progress has been good, Serrano said. The heaviest at birth, Isaiah, weighed 3.25 pounds and is now 3.61 pounds. The smallest, Makai, was born at 1.5 pounds and now weighs 1.76 pounds, she said. On Thursday, they will be 1 month old.
According to Serrano, the mother, Nadya Suleman, 33, has been visiting her children every day since she was released from the hospital a few weeks ago.
E-mail to a friend

All About Nadya Suleman • Premature Births