By Faith Karimi and Robyn Sidersky
CNN





(CNN) -- Cheryl Bradshaw shivered under a big brown coat as she made her way through a line of people waiting along an icy road in Wilmington, Ohio. She was among about 5,000 residents who accepted food from the nonprofit Feed the Children.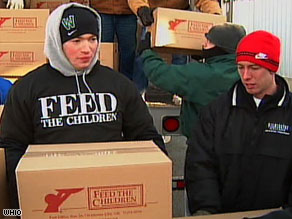 The nonprofit Feed the Children delivers boxes of food and other items to families Thursday in Wilmington, Ohio.
"A lot of this people in this town ... it's day to day, dollar to dollar," Bradshaw said of the town of about 12,000 between Cincinnati and Columbus.
Wilmington is still reeling from news that delivery giant DHL would close its hub there. About 3,000 of the 8,000 people who faced layoffs lived in or around Wilmington.
One in three families in Wilmington had someone employed at DHL, according to an economic task force created by Mayor David Raizk.
A crowd gathered Thursday as 12 loaded semitrailers cautiously parked on slippery roads. Each family got two boxes. One had 25 pounds of canned food and vegetables. Another contained 10 pounds of personal care items.

Watch as townspeople describe tough times »
Bradshaw said she appreciated the help.
She got laid off in December from ABX Air, a Wilmington-based air cargo services company that worked with DHL.
Don't Miss
"We are raising two grandkids, and we only have one income, so it's a big, big blessing," she said.
Tony Sellars, the nonprofit's director of communications, said, "This is the largest distribution we have had in such a small town."
Sellars said the organization is monitoring layoff conditions in various cities and identifying critical locations where it can be of assistance.
"We have been around since 1979, and this is unprecedented in terms of need," Sellars said. "In Wilmington, the residents are proud and confused; they are resilient and trying to solve their problems on their own, but they don't know where to turn."
Feed the Children distributed the food and other items in conjunction with partners that include Avon Products and the local Sugartree Ministry Center.
Larry Jones, founder and president of Feed the Children, urged communities to reach out to one another.
"If we are going to solve the problem, it's not going to be the government; it's going to be churches and charities and colleges, literally everyone working together," Jones said. "We are not the total answer, but we are part of the answer, and hopefully when people see us doing what we are doing, they will join in to help."
Ohio is facing one of the highest jobless rates in the country -- 7.8 percent in December. The nation's unemployment rate is 7.6 percent.
DHL's decision to close its hub in Wilmington has had a ripple effect.
Sharon Testa, 48, who owns the Mediterranean Restaurant in downtown, has lived in Wilmington for 20 years.
"Our business opened two years ago because we had a lot of international people coming in to work for DHL or companies affiliated with them," Testa said. "Everyone is concerned. We don't want our city to shrivel up; people who still have jobs are trying to come in to keep the business running."
Helen Keech, 50, who works at the Arby's near where DHL was located, said that the restaurant used to open early for the DHL employees.

She said there were many businesses in that building, including ABX and DHL, and now that there are less employees, things will change.
"It's gonna be a ghost town I can tell you that," Keech said.
E-mail to a friend

CNN's Amy Sahba contributed to this report.
All About Ohio • Unemployment Rate • Layoffs and Downsizing