By Peter Wilkinson
CNN





(CNN) -- The turboprop plane that crashed in New York state, killing all 49 people on board and one on the ground, was one of the safest and most sophisticated aircraft of its type, according to an aviation industry expert.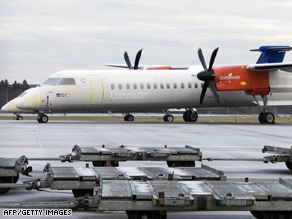 Scandinavian Airlines grounded its fleet of Dash 8 Q400 planes after three crash landings in 2007.
The Bombardier Dash 8 Q400 was less than one year old and had flown for only about 1,500 hours, said Kieran Daly, of the online aviation news service Air Transport Intelligence.
The Continental Connection Flight 3407 was operated by Colgan Air between Newark Liberty International Airport and Buffalo.
Daly said propeller-driven aircraft such as the Canadian-built Bombardier Dash 8 Q400 and its European rival, the ATR series, had sold well to airlines in the last three years because they were almost as fast as jets, cruising at about 480 kilometers/hour (300 mph), but used much less fuel.

Listen to audio of plane's last moments »
However, despite an excellent safety record, some passengers were still wary of traveling on propeller planes, he said.
Daly said that for most of the time turboprops were as safe as similar-sized, 50-seater jets, but in icy conditions turboprops were at a disadvantage.
Stressing that the cause of Thursday's crash in near Buffalo was still unclear and could be caused by mechanical failure for example, he said the potential for ice was there because it was short and the plane would have been flying at a relatively low level. Watch what iReporter captured on film
Daly said the pilot appeared not to have reported problems with icing, but this was not unusual because planes were designed to cope with these conditions.
"All aircraft have de-icing system: a big jet like a 747 can cope with ice almost indefinitely, but smaller planes, especially propeller planes can experience problems," he said.
"Pilots cope by increasing altitude -- icing mainly occurs at lower levels -- but because propeller-driven planes are slower, they take longer to reach high altitude and spend longer in the icy conditions."
According to the National Weather Service weather observation for Buffalo, there was light snow, fog and mist shortly before 10 p.m.

Watch more on the plane crash »
CNN has listened to a tape of communications between air traffic control and the flight crew. The first officer had no sign of stress in her voice initially. The plane was cleared for approach. About two minutes later, the air traffic controller came back, with stress in his voice. Radar contact was lost.

Watch report from witness: "All I saw was flames" »
The question went out: Can other planes see anything? No one responds. The controller says they might have a plane down. The pilot's last comment was "Colgan Flight 3407." There were no sounds of distress.

Watch video from CNN affiliate WGRZ »
Scandinavian Airlines (SAS) permanently grounded its fleet of Dash 8s after three crash landings during a two-month period in 2007 that were blamed on the aircraft's landing gear.
"Confidence in the Q400 has diminished considerably and our customers are becoming increasingly doubtful about flying in this type of aircraft," Mats Jansson, president and CEO of SAS, said at the time. "I have decided to immediately remove Dash 8 Q400 aircraft from service."
Air expert Daly said though that in Thursday's crash the landing gear of the Continental plane was unlikely to be down because it was far from the airport.
The National Transportation Safety Board said early Friday it was preparing to send a team to Buffalo to investigate the crash.
Thursday's plane crash is the deadliest on U.S. soil since August 2006 when Comair Flight 5191 crashed when it attempted to take off from the wrong runway.
E-mail to a friend

All About Buffalo (New York) • U.S. National Transportation Safety Board • Continental Airlines Inc.