CLARENCE CENTER, New York (CNN) -- They were athletes and academics, businessmen and artists, beloved fathers and aunts of diverse backgrounds who met the same fate when Continental Airlines Flight 3407 operated by Colgan Air crashed into a home near Buffalo, New York on Thursday.
Portraits are emerging of the 50 people who died Thursday night. All 49 aboard the plane died, along with one person on the ground.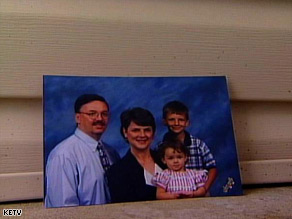 Marvin Renslow's life was centered on family, faith and flying, his sister told affiliate KETV.
Marvin Renslow
Renslow, 48, the captain of Flight 3407, lived in Lutz, Florida, with his family, his older sister told Larry King.
Shirlene Thiesfeld said Renslow "was my best friend."
Renslow grew up in Iowa, according to affiliate KETV.
The Omaha TV station quoted Thiesfeld as saying her brother had a full life.
"I think Marvin's life was well-lived," she said. "Every moment centered around his family, his faith and his passion for flying."

Watch Renslow's sister and nephew reminisce: "He'll be missed" »
Thiesfeld told King that she learned of the crash from her other brother, Melvin, who called at 1 a.m. to tell them "there'd been an accident," she said, taking deep breaths.
Douglas Wielinski
Wielinski had just left the family room in his Clarence Center, New York, home, and went to the dining room to work when Flight 3407 crashed into his home, his wife, Karen Wielinski, told Buffalo radio station WBEN.
Karen Wielinski and her daughter, Jill, managed to escape. They were treated for injuries in a hospital and released.
Wielinski, a Vietnam War veteran, was remembered in the community for sharing his wartime experiences with history classes at Clarence Central High School, Clarence School Superintendent Thomas Coseo told the Buffalo News.
"Doug was committed to the students," Coseo told the newspaper. "He thoroughly enjoyed the lectures he did. He enjoyed sharing his experience."
Wielinski, a marketing manager at Luvata Buffalo, was a committed family man who doted on his four daughters, Coseo said.
"He was very supportive of all the kids in their academics and athletic programs," Coseo said. "Everybody is extending their condolences to the family. He was a quiet, wonderful, good person who cared deeply for his family."
Gerry Niewood
Niewood was traveling to Buffalo on Flight 3407 with jazz guitarist Coleman Mellett for a show with musician Chuck Mangione and the Buffalo Philharmonic at Kleinhans Music Hall.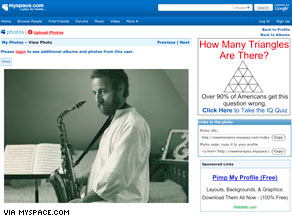 Gerry Niewood was an instrumentalist who played with artists such as Sinead O'Connor and Frank Sinatra.
Niewood was born Gerald Joseph Nevidosky in Rochester, New York, in 1943, and began playing the saxophone when he was 6. He first performed with Mangione when they were students at Franklin High School in Rochester, according to the Encyclopedia of Jazz.
Niewood went on to become an accomplished instrumentalist who lent his skill on the flute, piccolo and clarinet to various acts, including Simon and Garfunkel, Sinead O'Connor and Frank Sinatra. He reunited with Mangione permanently in the 1990s, according to the Encyclopedia of Jazz.
Niewood and his wife, Gurly Victoria Hulbert, had two children, Elizabeth and Adam, also a professional saxophonist, the Encyclopedia of Jazz said.
"The outpouring of phone calls, emails, text-messages etc is truly overwhelming. All I can say is, it's too bad Gerry isn't around to witness the impact he made on all of you," the Niewood family said in a blog post on MySpace.com
Coleman Mellett
Mellett was traveling with Niewood on Flight 3407 to play with Chuck Mangione and the Buffalo Philharmonic.
Mellett began playing with Mangione in 1999 as a substitute guitar player and joined him full time two years later, according to Mellet's profile on MySpace.com.
The Washington-area native studied jazz at William Paterson University and received a master's degree in jazz performance from the Manhattan School of Music in 1998. He went on to play with numerous artists and acts before joining Mangione full time.
As of Saturday night, dozens of messages has been posted on his MySpace page expressing condolences and bidding him farewell.
"This can't be real. Rest in Peace my friend. I will never forget your soulful swinging sound and your larger than life personality," user Bill Sneider said. "You've touched so many in such a brief time. We are all richer for having you in our lives."
Rebecca Shaw
"We kind of keep expecting Becky to come around the corner and say, 'It's not real,' " Lynn Morris, Rebecca's mother, said through sobs.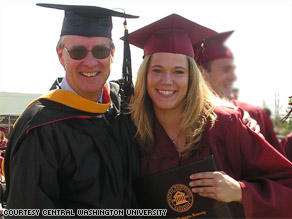 Rebecca Shaw, shown with Professor Dale Wilson, graduated from Central Washington University in 2007.
The family said they stayed up all night after learning that Shaw was co-pilot on the fateful flight. Her father said Shaw loved to fly and "couldn't believe she'd get paid" when she took the job.
Morris said her daughter was less than a year from college graduation when she took an interest in flying. "She said, 'What would you think about it if I told you I wanted to fly?' " Morris remembered.
Shaw excelled as a pilot and, "we couldn't be prouder of her as a family," Morris said.

Watch the family recall 1st Officer Shaw »
"She packed so much into her short life. God gave her 25 years. She found the man of her dreams. She experienced love. She experienced passion," Morris said.
When asked what she wanted the world to know about her daughter, Morris said, "That Rebecca's the most amazing human being on the planet ... an amazing woman."
"She's perfect; perfect little sister," Billy Morris, Shaw's brother, said before breaking down.
News of Shaw's death hit the campus of Central Washington University hard, according to Amy Hoover, chairwoman of the CWU Department of Aviation.
Shaw, 25, graduated from Central Washington University in fall 2007, earning a bachelor's degree in flight technology with a minor in philosophy.
Hoover said the university would extend counseling to all those who express a need for it.
"We extend our deepest sympathy to 'Becca's family and friends," Hoover said. "Right now, we're coordinating with CWU Student Health and Counseling to provide support to our students who may need that during this time."
Alison Des Forges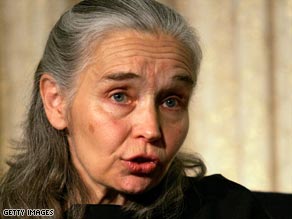 Alison Des Forges was senior adviser of the New York-based Human Rights Watch's Africa Division.
The senior adviser of the New York-based Human Rights Watch's Africa Division was one of the people on Flight 3407, the group told CNN on Friday.
Des Forges, who lived in Buffalo, spent four years in Rwanda documenting the 1994 genocide and had testified about that atrocity and the current situation in central Africa before U.N. and congressional panels, the group said.
Her biography on the group's Web site described her as a historian who also was an expert on Burundi and the Democratic Republic of Congo.
Des Forges was a French speaker who earned her bachelor's in history from Harvard University and her doctorate in history from Yale University. Read more about Alison Des Forges' life
Beverly Eckert
Eckert was the widow of m Sean Rooney, who died in the World Trade Center in the terrorist attacks of September 11, 2001.
After Sean's death, Eckert co-founded Voices of September 11, an advocacy group for survivors of the attacks and families of the those killed. She had a reputation as a strong campaigner and was involved in protests leading to more land for a ground zero memorial, working on the September 11 Commission's Family Steering Committee and pushing for a victims' families compensation fund. Read more about Beverly Eckert
A resident of Connecticut, Eckert was traveling to Buffalo for a weekend celebration of what would have been her husband's 58th birthday.

Watch report on Beverly Eckert's life »
Susan Wehle
A person who knew the 55-year-old cantor of Temple Beth Am in Williamsville, New York, described Wehle as "a very, very spiritual person."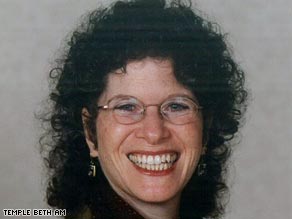 Susan Wehle was cantor of Temple Beth Am in Williamsville, New York.
"She just glowed with excitement and energy when she talked about her spirit and the spirit of religion that lives within her. She expressed that in so many ways," synagogue administrator Richard Ellis said.
Ellis had been planning to drive to the airport to pick up Wehle when she arrived in Buffalo on Thursday. But instead of getting a text message from her at the Buffalo airport, he saw the news that a plane from Newark, New Jersey, had crashed.
Before Wehle joined the Temple Beth Am, she was a cantorial soloist at Temple Sinai in Amherst, New York.
Wehle taught music workshops, conducted choirs and performed in concerts and with theater companies, according to a biography on the temple Web site. She released a CD called "Songs of Hope and Healing."
She is survived by two sons, one in Israel and another in Vermont.
Ellis said Wehle, who lived in Amherst, was well known across the religious spectrum through her interfaith work. People were shocked to hear about Wehle, he said.
"She's going to be so missed by the whole community, not just the Jewish community," Ellis said. "She was loved by everyone."
Lorin Maurer
Officials at Princeton University, where Maurer worked, said the former collegiate swimmer was "full of promise and vitality."
Don't Miss
She was a 2001 graduate of Rowan University, where she was a three-time Academic All-American in swimming. She was the 2000 New Jersey Athletic Conference Swimmer of the Year.
"We are stunned, grief-stricken and angry that someone so young and full of promise and vitality was taken from us so suddenly and unexpectedly," Princeton Director of Athletics Gary Walters said in a written statement.
"What made Lorin so special to all who were lucky enough to meet her even once was her infectious enthusiasm and the joy she found in literally every facet of her life," said West Coast Conference Commissioner Jamie Zaninovich, who brought Maurer to Princeton in his previous role as senior associate athletic director.
Maurer, who turned 30 almost two months ago, worked for Princeton University's Department of Athletics and Office of Development as the athletics friends manager.
Madeline Loftus
A former Buffalo State College student, Loftus, 24, was returning to the school to play in a women's hockey reunion game scheduled for Saturday.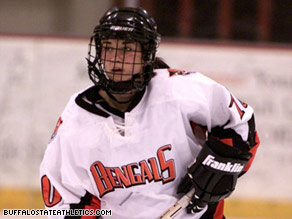 This picture of Madeline Loftus playing for Buffalo State was taken from the school's Web site.
Loftus, a native of Parsippany, New Jersey, played two seasons at Buffalo State from 2002 to 2004 before transferring to St. Mary's University in Minnesota after her sophomore year.
"The Buffalo State Athletics family is deeply saddened by this tragedy," Athletic Director Jerry Boyes said in a statement on the school's Web site. "Our thoughts and prayers go out to Maddy's family and friends."
School administrators are consulting with former players to decide whether to proceed with tomorrow's game. The school will observe a moment of silence before Friday night's varsity women's hockey game in memory of Loftus and the other victims of the crash, the Web site said.

Watch friends recall an "awesome teammate" »
Mary Pettys
Relatives regarded Pettys, who was one of 10 siblings, as "the rock of the family."
"She was the unsung hero of our family ... always rescuing somebody or paying a bill," said Pettys' sister, Margie Gavin.
Pettys lived in South Buffalo, worked for a company based in Newark and traveled between the two cities on a regular basis, Gavin said.
Pettys, who received her MBA from Canisius College in Buffalo, lived her whole life in West Seneca, New York, according to her sister.
Pettys had just gotten engaged and had 39 nieces and nephews.
Colgan Air, which operated Continental Connection Flight 3407, identified the plane's crew members Friday.
In addition to Renslow and Shaw, they include flight attendants Matilda Quintero and Donna Prisco.
An off-duty crew member, who was also on the flight, was identified as Capt. Joseph Zuffoletto.
E-mail to a friend

CNN's Joe Sterling, Marylynn Ryan and Emanuella Grinberg contributed to this report.
All About Buffalo (New York) • Continental Airlines Inc.