LOS ANGELES, California (CNN) -- The mother of octuplets, whose story has sparked controversy around the world, rejects suggestions that she may not be able to care adequately for all 14 of her children and that her decisions have been selfish.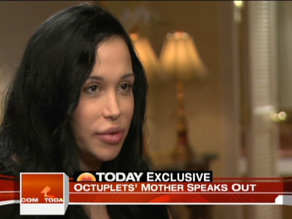 Nadya Suleman, speaking to NBC, said of her 14 children: "I'll stop my life for them."
"I'm providing myself to my children," Nadya Suleman told NBC in her first interview. "I'm loving them unconditionally, accepting them unconditionally, everything I do. I'll stop my life for them and be present with them and hold them and be with them. And how many parents do that? I'm sure there are many that do, but many don't. And that's unfortunate. And that is selfish."
NBC's "Today Show" ran a portion of the interview Friday.
Suleman, a 33-year-old single mother, had the octuplets through fertility treatments, while already having six young children and no clear source of income.
"I know I'll be able to afford them when I'm done with my schooling. If I were just sitting down, watching TV and not being as determined as I am to succeed and provide a better future for my children, I believe that would be considered to a certainly degree selfish," she said.
She said she plans to go back to college to pursue a degree in counseling, NBC reported. She also said all 14 children have the same biological father, a sperm donor whom she described as a friend.

Watch what Suleman told NBC »
Don't Miss
A spokeswoman for Suleman has told CNN that she is being deluged with media offers but denied any suggestions that Suleman may have had a monetary incentive for having so many children.
The spokeswoman, Joann Killeen, told CNN's Larry King Live that Suleman "has no plans on being a welfare mom and really wants to look at every opportunity that she can to make sure she can provide financially for the 14 children she's responsible for now."
Suleman, in the NBC interview, complained that she is being judged differently from how couples are judged, because she is a single mother. "I feel as though I've been under the microscope because I've chosen this unconventional kind of life. I didn't intend on it being unconventional. It just turned out to be. All I wanted ... was to be a mom. That's all I ever wanted in my life."
In quotes from the interview NBC posted on its Web site, Suleman linked her decision to what she felt was missing from her youth.
"That was always a dream of mine, to have a large family, a huge family, and I just longed for certain connections and attachments with another person that I really lacked, I believe, growing up," she said. Asked what was lacking, she cited a "feeling of self and identity ... I felt powerless. And that gave me a sense of predictability. Reflecting back on my childhood, I know it wasn't functional. It was pretty dysfunctional, and whose isn't?"
Of the octuplets' birth, Suleman said she had been hoping to have one more child and had six embryos implanted, two of which led to twins.
She said she knew she would not selectively reduce. "Sometimes we have that dream and that passion and we take risks. And I did and it turned out perfectly."
The babies were born nine weeks premature, but all survived.

Doctors say giving birth to extreme multiples comes with tremendous risks for the mother and the babies. Risks for the children include bleeding in the brain, intestinal problems, developmental delays and lifelong learning disabilities.
Suleman said her fertility specialist told her about risks for the children. But she did not want to have only one or two embryos implanted. "Of course not, I wanted them all transferred. Those are my children. And that's what was available and I used them. I took a risk. It's a gamble. It always is."
E-mail to a friend

All About Pregnancy and Childbirth