By Alan Duke
CNN





ATLANTA, Georgia (CNN) -- When baseball legend Hank Aaron looks back on his achievements -- most notably his 755 home runs -- he says he is equally proud of helping children chase their own dreams.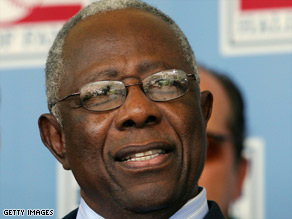 Hank Aaron said his message to young people is: "Don't get discouraged."
Aaron turned 75 Thursday, the same day current home-run king Barry Bonds stood before a judge to plead not guilty again to charges that he lied to a federal grand jury investigating the use of steroids in professional sports.
In the 55 years since his first major league game with the Milwaukee Braves, Aaron has been an example of success achieved by hard work, patience and determination.
His first start was just a few years after Jackie Robinson broke baseball's color barrier. Racial threats and attacks followed Aaron through his career, especially as he closed in on Babe Ruth's record 714 home runs.
Civil rights leader Andrew Young, who attended Aaron's birthday party Thursday night, said Aaron reminded him of the Rev. Martin Luther King Jr. in the way he endured the "deepest and most agonizing suffering."
"He really took as much emotional beating as any of us took -- physical and emotional beating -- because he was out there by himself and we were usually in a group," said Young, a former Atlanta mayor and U.N. ambassador. "And yet he never lost his cool."
He said Aaron was "always consummate cool" even as people threatened his life.
"I said, 'Well, what'd you do, Hank?' He said, 'I just focused all my frustration and all my attention on that little baseball, and when it came anywhere near the plate, I knocked the hell out of it.'"
Young was among hundreds of friends -- including former President Clinton -- who crowded into a hotel ballroom for the birthday celebration. The event was a fundraiser for the Hank Aaron Chasing the Dream Foundation that he founded 15 years ago with his wife, Billye, to help underprivileged children accomplish their goals.
"When I see these kids chase their dream and fulfill that dream and do something that I think all of us can be proud of ... I've been lucky," Aaron said.
"When I was chasing my dream, if somebody didn't step in and say, 'Hey, keep chasing, keep doing this,' then I would not have had the chance to be a home run hitter," he said.
His message to young people is simple: "Don't get discouraged."
"The most important thing is to go to school, get good grades and keep doing what you're supposed to do. Just don't get discouraged, and you don't have to follow a gang," he said.
"If you do hard work, go out and work very hard, keep your eye on the prize and do what is right, I think you can accomplish most anything," Aaron said.
While Aaron's home run record was important, said Major League Baseball Commissioner Bud Selig, his work in the 33 years since his last game has made him "an icon in American society today, bigger than ever."
Former baseball player Brian Jordan was 7 on April 8, 1974, when Aaron hit home run No. 715 to break Ruth's long-standing record. He said Aaron was "not just an icon in baseball, but an icon in life."
"To me, he was like a Jackie Robinson," Jordan said. "He went through the era where you had to just withstand so much but stay focused on the prize, and he did just that."
Aaron has avoided commenting on the steroid controversy surrounding Bonds, who broke Aaron's home run record in 2007.
Jordan, as he entered the ballroom for the birthday party, said, "If you want to look at a role model, you have to look at Hank Aaron."
E-mail to a friend

CNN's Dennis Edwards contributed to this report.
All About Hank Aaron • Andrew Young