From Terence Burke
CNN






STATEN ISLAND, New York (CNN) -- Maybe Wall Street bankers can learn a thing or two from the Humpherys.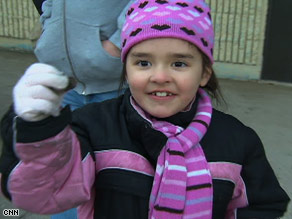 Seven-year-old Karen shows off the fruits of her money-search labors.
The Staten Island family of four is a reminder that "every penny counts" by keeping a constant eye out for other people's lost money.
Braving blustery winter winds and frigid Northeast temperatures, mom Barbara and dad Scott take their two daughters to scour a dreary Staten Island parking lot.
Shouts of joy from 11-year-old Brianna and 7-year-old Karen ring across the early evening sky.

Watch the family search for change »
They've found a penny under the rear of a car.
"It's not so much that we need the money," Barbara said, "it's to show an example to our children. The more change you see, that penny becomes 99 more, and it becomes a dollar."
"With the economy the way it is right now, it's important that they realize Dad is not this endless tap of cash," added Scott, a U.S. Army career counselor.
Barbara came up with the idea to collect "found" money in 2005, dismayed that people kept walking past money on a hallway floor at her college.
"I was in school, and I saw seven cents on the ground, so I said, 'Let me pick this up and let me start blogging it.' Now, all of a sudden, its been 3½ years, and it's almost $1,100."
Every day, when the girls come home from school and Mom and Dad finish with work, they add up their findings and drop their found money in a transparent plastic container.
Barbara then updates her blog, www.changepot.blogspot.com, with a brief posting about where the money was picked up.
'American Morning'
The Humphery family talks about their penny-wise hobby.
6 a.m. ET Friday

For example, February 3, 2009: Today we found a total of 32 cents - three dimes and two pennies in spite of the freak snowstorm that crippled our post-workout plans this evening. Aside from that, the Humphery family spent quite a chilly evening at home.
Despite their fanatical devotion to collecting found money, the Humpherys don't plan on keeping the bounty for themselves.
Once they reach $10,000, the family says, they'll donate it to a charity, explaining that there's a karmic element to their collecting:
"Whatever the community gives you, you should help it when it's having a hard time and give back," 11-year-old Brianna stated proudly.
The family is looking forward to the coming months when the weather gets warmer in the New York area. That means long walks down by the Hudson River or along the beach in search of money.

That's when the reason for their hobby becomes clear.
As Scott says, "A family that collects change together stays together."
E-mail to a friend

All About Staten Island • National Economy