From Jason Kessler
CNN





NEW YORK (CNN) -- New York City Mayor Michael Bloomberg on Friday will lay out details of a plan to cut an additional $1 billion from the city budget and lay off as many as 23,000 city employees, according to a press release from the Mayor's office.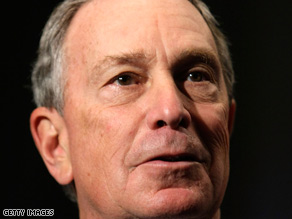 New York City Mayor Michael Bloomberg plans to order layoffs of city employees.
The cost-cutting measures are necessary, according to the release, because the city's projected budget gap for 2010 has ballooned to $4 billion on the heels of budget cuts proposed by New York Governor David Paterson and steep declines in forecasted tax revenues.
The precise number of layoffs the mayor orders was not certain, according to the release.
"In order to close this deficit without destroying the core services New Yorkers rely on, the mayor will need help from all of our partners, from the municipal unions to the leadership in both the state and nation's capitol," said Deputy Mayor Ed Skyler. "We all will have to do our part to get through these tough times."
E-mail to a friend