From Marylynn Ryan
CNN





ATLANTA, Georgia (CNN) -- The Food and Drug Administration said Friday that a criminal investigation has begun into the Georgia plant linked to a salmonella outbreak.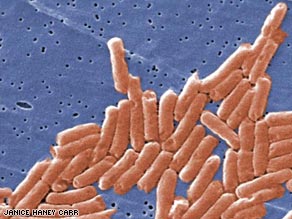 The Peanut Corporation of America found salmonella in its plant in Blakely, Georgia, the FDA said.
Stephen Sundlof, director of the FDA's Center for Food Safety and Applied Nutrition, told reporters that the agency's office of criminal investigation will work through the Department of Justice to develop a case and prosecute if necessary.
More than 500 cases of salmonella in 43 states and Canada have been linked to products (peanut butter and peanut paste made from ground, roasted peanuts) from the Peanut Corporation of America's Blakely, Georgia, plant since September. At least eight people are believed to have died from the outbreak.
Earlier in the day, Georgia Agriculture Commissioner Tommy Irvin asked Gov. Sonny Perdue to determine whether the Georgia Bureau of Investigation has jurisdiction to conduct a criminal probe of PCA.
The company has locations in more than one state, so there are questions as to who is able to investigate, Perdue spokesman Bert Brantley said Friday. The company has headquarters in Virginia but plants in Texas and Georgia.
Don't Miss

PCA announced an expanded recall of peanut butter and peanut paste produced from its Georgia plant last week. PCA doesn't directly supply to supermarkets, so brand-name peanut butters are not expected to be affected, according to the Centers for Disease Control and Prevention in Atlanta.
Instead, PCA sells peanut paste in bulk. The peanut butter is sold in containers ranging in size from five to 1,700 pounds. The peanut paste is used in the manufacturing of cakes, candies, crackers, cookies and ice cream, FDA officials said.
E-mail to a friend

All About Peanut Corporation of America • Food and Drug Administration