From Susan Candiotti
CNN





(CNN) -- A relative of a 93-year-old Michigan man who froze to death in his home says the incident could have been prevented if someone had used common sense.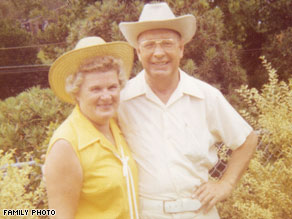 Shur poses with his wife, Marian, in 1976. Local and state officials agree that Schur's death was avoidable.
Marvin Schur's neighbors found the World War II veteran's frozen body in his Bay City bedroom on January 17, four days after a device that regulates how much power he uses -- installed because of failure to pay -- shut off his power. A medical examiner said the temperature was 32 degrees in his house when Schur's body was found.
Utility officials said Schur owed at least $700, but Schur's nephew, William Walworth, said his uncle told him he was worth at least a half-million dollars, and authorities say Schur had cash clipped to his utility bills on his kitchen table.
Walworth said someone should have looked at Schur's payment history and made direct contact to see whether something was wrong.
"This wasn't about someone who didn't have the money to pay his bills," Wallworth said of his uncle, a widower known to his nieces and nephews as "Uncle Mutts."
Schur had been living alone since his wife died more than a year ago, Walworth said. Walworth said his uncle made machine patterns, retired in his 50s, and lived frugally. He loved to take his wife to Florida every winter in their travel trailer, Walworth said.
Walworth says his uncle was someone who always paid his bills, but in the last year, things started changing. Walworth, who lives in Ormond Beach, Florida, said he had trouble reaching his uncle since last year and says his uncle had trouble hearing him on the phone.
Don't Miss
He last talked with Schur more than a year ago.
Local and state officials agree that Schur's death was avoidable. It's prompted a review of Bay City Electric Light & Power's rules and procedures for limiting or cutting off power.
"The attorney general is reviewing guidelines used by Bay City to run its utility company," John Selek, a spokesman for Michigan's attorney general Mike Cox, told CNN.
Unlike private utilities regulated by the state, Bay City runs and oversees its own utilities and therefore doesn't fall under Michigan's public service commission. By law, Michigan requires private companies to prohibit cutting off service to senior citizens between November and April. Seniors must register for the program.
It appears no one from the utility company had personal contact with Schur, in phone or in person. Selek says Schur's case is being reviewed and depending on the results, his death could prompt state laws to also require oversight of city-run utilities.
The city has begun questioning whether its rules and procedures for limiting or cutting off power need a major overhaul. The utility has stopped its practice of cutting power to customers who don't pay their bills, the utility's acting director, Philip Newton, told CNN. Recently, that had been happening as often as 200 times a week.
The utility also has removed all "limiters"-- devices that cut power as a warning for people who've been ignoring their bills. Limiters can be reset to restore a lesser degree of power until a bill payment is worked out. In Schur's case, the limiter was never reset, and it's unclear whether he knew how to do that.
Bay City's Manager Robert Belleman admits seniors who may be confused or in no condition to venture outside to reset a limiter in freezing temperatures need extra supervision.
"We need to make sure that we understand who our customers are. Right now, we don't have any information about the age, health or condition of our customers," Belleman said.
At Bay City's request, the Michigan State Police are investigating Schur's death for possible criminal violations.
"We have to do everything we can to make sure this doesn't happen again, whether it's Bay City or in any one of the cold weather states," Bay City Mayor Charles Brunner told CNN.

A neighbor who lives down the street says Schur's death is "unforgivable."

Watch neighbor say man's death is "unforgivable" »
"This can't be allowed to happen in this country," said Jerome Anderson.
E-mail to a friend