By Tristan Smith
CNN





ATLANTA, Georgia (CNN) -- It's the palm trees and the cross on the front lawn that throw you off. They seem out of place at the White House. But then again, this isn't 1600 Pennsylvania Ave. This White House sits in a quiet residential neighborhood in Atlanta.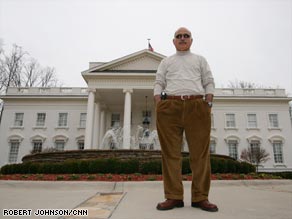 Fred Milani, owner of this replica White House in Atlanta, is trying to sell the home for $9.8 million.
Owner Fred Milani is an Iranian-born real estate developer who came to the United States in 1979, the year the shah left Iran.
His replica of the White House has become a landmark, loved or reviled by those who live in the area.
Milani, 57, builds and sells large single-family homes, commonly referred to as McMansions. Dozens dot the landscape of tidy brick ranch homes near the North Druid Hills area. He tears down many of the homes he buys, leaving McMansions in their place.
Neighborhood residents who have fought the trend consider them monuments to conspicuous consumption.
Milani built the White House in 2002, when Atlanta's real estate market was booming. He says the idea took only moments to decide. His wife, Yvonne, told him she wanted a house with columns, and, according to Milani, his architect suggested replicating the White House.

Watch an inside look at Milani's White House »
"I believe it was Jesus' plan. Five minutes later, we decided to build the White House."
Asked what it's like to live there, he's nonchalant:
"You get used to it after a while. ... It's good."

See more photos of the Atlanta White House »
But when the housing market crashed in 2008, Atlanta was hit hard. Foreclosures soared to some of the highest levels in the nation, and Milani was not immune to the downturn. Twice, his bank has tried to foreclose on the White House, and twice he has found a way to avert it.
In December, he sold five of the 10 homes he had on the market; one closed last week, and another is set to close Friday, Milani said. The developer said he also was able to work with his bank to restructure a $1.75 million delinquent loan.
But that hasn't stopped Milani from putting the house up for sale.
"The economy is doing bad," the developer says. "Everyone in construction is suffering, and I am one of them."
On the market for a month and a half, the White House, with its $9.8 million price tag, has garnered only a few inquiries: one from a potential buyer in California and one from Dubai, Milani says.
Although it is only one-third the size of the actual White House, the home still has six bedrooms, seven full baths, six half baths, a banquet room, an outdoor pool and a soaring entryway with a domed ceiling. It also has its own Oval Office and Lincoln Bedroom.

Explore the real White House »
Milani's Oval Office has a copy of the desk that George W. Bush used during his tenure as president. Sitting open on the desk are two Bibles, one in English and one in Farsi. It's flanked by U.S. and Iranian flags. There's even a presidential seal on the ceiling.
The Lincoln bedroom has a mural of President Lincoln painted on the wall, as well as copies of the Emancipation Proclamation and the Bill of Rights.
"A lot of people who come here, they want to stay in this room," Milani says. "Bill Clinton charged $50,000 a night." When asked how much he charges, Milani replied, "free."
Next door is a 7,500-square-foot "guest house," built in the same style. It has a chapel in the basement. Milani, who was born a Muslim, converted to Christianity in 1995, and services are held in the chapel for fellow Muslims converting to Christianity.
Like many converts, he proudly displays the symbols of his new country and faith.
There is a cross in the front yard, illuminated at night by a red light, surrounded by topiary that spells out "God (heart symbol) you." A pole on top of the house displays the American flag. Inside, it's a curious mix of traditional Persian decor, Christian symbols and Americana.
In the entranceway, the domed ceiling is painted with the image of Christ ministering to a host of people from around the world. There is a Mexican in a sombrero, a woman in traditional Thai dress and an American Indian wearing a full headdress.
Just below Christ is Milani himself. He says he was not originally supposed to be in the mural, but the painter put him in the scene as a surprise.
In the kitchen, a picture depicting all 44 presidents hangs on the wall. Milani says that although he is not overly interested in politics, he did host an inauguration party last week for more than 100 guests, and his wife went to Washington for Barack Obama's swearing-in ceremony.
He says he voted for George W. Bush twice but is now an ardent Obama supporter. He wants three things from the new president. "Stop the foreclosures for three to six months," and "secondly, the banking system needs to release some loans to the people, and he needs to bring the interest rate down."
Although Milani is intensely proud of his home, many neighbors aren't.
Greta Allen, who lives down the street, calls it an eyesore.
"Who in the world would want a replica of the White House?" she asked. "He is the only person."
A few houses down, Chris Madden agrees. "Every time I have to drive out [of] my neighborhood, I have to look at the thing, and I just think it's just terrible."
Madden's neighbor Steve Mobley says that if they had left out the palm trees and the shrubbery, it may not have been so bad. But Mobley, who says he is a Christian, says what really bothers him is that "he said that God told him to build it."
"I do have a problem with that. I don't think God would want you to put millions of dollars into a White House for yourself when there might be some better uses for that money."
Gary Moss, who retired from Georgia State University as a communications and film professor, says he doesn't mind the White House other than having to dodge traffic sometimes "when people stop and want to gawk at it."
But Moss, who lives across the street from Milani in an antebellum farmhouse, accuses the McMansions of changing the neighborhood's character and feeling of closeness. "They're quickly ringing us like pearls on a necklace."
Other neighbors have accused Milani of bending zoning regulations to obtain more height and other features for his McMansions, and of ignoring neighbor complaints.
He denies it, saying that those people are "jealous" and that his building success is deserved. He says that "this is America" and that most of his neighbors like him.

Milani is optimistic. He no longer thinks he financially needs to sell the house and seems unfazed his neighbors' criticism.
"If someone comes and gives me a good price, I will build a congressional building across the street. A new thing. I like a challenge. Always, I am in the building business."
E-mail to a friend

CNN's Deb Krajnak contributed to this report.
All About The White House • Real Estate • Atlanta