By Emily Anderson
CNN





NEW YORK (CNN) -- Eating a box of Girl Scout Cookies in one sitting will be a little bit easier this year: The Girl Scouts of the USA confirmed Wednesday that it has reduced the number of cookies per box to save money because of rising transportation and baking costs.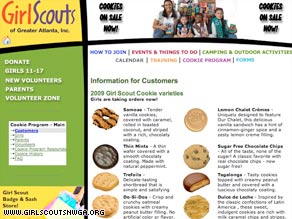 People buying Girl Scout cookies like these on their Web site this year can expect fewer cookies in the packages.
Michelle Tompkins, a national Girl Scout spokeswoman, said that "the cost of baking a cookie today is significantly higher than it was even a year ago, and our bakers cannot continue to absorb these rising costs." She also said transportation costs have increased 30 to 40 percent from a year ago.
The combined cost increase prompted the organization to "lower the net weight of our cookie boxes slightly rather than ask our customers to pay a higher per-package price during these difficult times," Tompkins said in a written statement.
There will be two to four fewer cookies in boxes of Thin Mints, Peanut Butter Sandwiches, Shortbread Cookies, DoSiDos and Trefoils, she said.
The Girl Scouts also reduced the size of some cookies, but Thin Mint lovers shouldn't worry that their sweet snacks will get any slimmer: Only the Lemon Chalet Cremes will change shape.
Tompkins said it is too early to tell how Girl Scout Cookie sales will fare for the year. She said the cookie-selling season ranges from October to May, with the bulk occurring between January and March. Each individual council determines when its scouts will sell, and many have just begun in the past few weeks.
Tompkins said she's heard a range of comments on how sales are going: One council in Texas is having its best year ever, which attributes to new marketing, and other groups are reporting low numbers.
Sales average $700 million a year, she said.
"We hope Girl Scout Cookie lovers will understand the situation and continue to support our girls," she said. "As the premier leadership organization for girls, we also intend to use these circumstances as a business learning experience for the girls."
E-mail to a friend

All About Girl Scout Cookies • Girl Scouts of the United States of America