(CNN) -- The Dutch-based finance and insurance group ING is cutting up to 7,000 staff in an effort to help save $1.4 billion.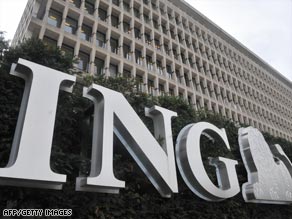 The Dutch financial giant ING is cutting up to 7,000 jobs this year in an effort to save $1.4 billion.
It also announced Monday that CEO, Michel Tilmant, was stepping down.
Tilmant will continue to serve ING as an adviser until his retirement in August, ING said in a statement.
His designated replacement is Jan Hommen, currently chairman of ING's supervisory board. Shareholders must still approve Hommen's transition to CEO.
In October, the Dutch government injected $13.4 billion into ING to shore the company caught in the global financial crisis.
E-mail to a friend