Editor's note: Campbell Brown anchors CNN's "Campbell Brown: No Bias, No Bull" at 8 p.m. ET Mondays through Fridays. She delivered this commentary during the "Cutting through the Bull" segment of Thursday night's broadcast.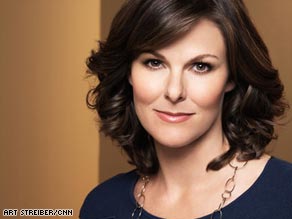 CNN's Campbell Brown says John Thain, according to CNBC, spent $28,000 on curtains.
(CNN) -- John Thain, the former CEO of Merrill Lynch, resigned Thursday from the company that bought Merrill out, Bank of America. As far as we can tell, his departure couldn't come soon enough.
Not long ago, Thain was credited with keeping Merrill alive long enough to be rescued.
Now we learn the man who asked for, then quickly withdrew, his request for a $10 million bonus still managed to live large while Merrill teetered on the brink and workers paid the price.
According to CNBC, Thain spent more than $1.2 million in company funds to spruce up his office, hiring a world-class designer to decorate in full decadence.
The list includes an $87,000 "area rug," $28,000 for curtains, a $68,000 credenza and the perfect finishing touch: a $1,400 wastebasket.
This is what passes for corporate responsibility?
'No Bias, No Bull'
Get the latest on the day's main events.
8 ET Monday through Friday


CEO John Thain: picking out fancy new curtains while the walls are tumbling down.
The opinions expressed in this commentary are solely those of Campbell Brown.
E-mail to a friend

All About U.S. National Economy • John Thain