Kiran Chetry can be seen every morning on CNN's American Morning starting at 6 a.m. ET.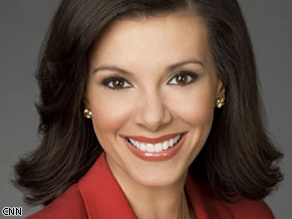 CNN's Kiran Chetry witnesses the historic inauguration of President Barack Obama.
Jan. 20, 2009 - Washington, DC -- One cannot overstate the enormity of what we witnessed this day covering the inauguration of our 44th president, Barack Obama.
For the American Morning crew, we started extra early. Lining up at 3:15 a.m. with many of the other members of the media to get our spot on the risers built above the west front of the U.S. Capitol. But it wasn't just the anchors, reporters, crew and producers bustling about in the bitter pre-dawn cold, the streets of DC were already lined with people bundled in coats, scarves, boots and earmuffs. ALL willing and ready to stand in the frigid cold just to get a chance to witness history. They knew many hours, long lines, security checkpoints, crowds and an 8 degree wind chill would come between them and the moment they were waiting for... a moment to see and hear Barack Obama take the oath of office as our nation's next leader. But they were fine with that. In fact, more than fine. They were thrilled...jubilant and alive. Strangers talking to strangers and friends texting others who weren't there to witness this event in person. Cameras flashing, American flags waving and the intermittent chants of "yes we can" and "USA". One woman said to me "it's not enough to see this on TV. I need to be here. To live it. And to tell my kids and grandkids someday I was there to see the first black president."
American Morning
Join Kiran Chetry and John Roberts weekdays starting at 6 a.m. ET.


Just before 5 a.m., John and I took our seats high over the steps of the Capitol and the platform built for President Obama. And as the minutes went by during our live broadcast, the crowds got bigger and bigger. By 6 a.m., we looked over our shoulders to see much of the mall jam packed with people all the way from the Capitol back to the Washington Monument. It was literally a sea of people...
Each person had their own story to tell about why they came and why today meant so much to them. And during our broadcast we too were telling some of their stories...LIVE...in real time through the great pictures and vantage points and interviews. To be so close to all of it gave me pause. I thought of the pride we should all feel as Americans, at this peaceful transition of power, no matter your personal politics, this was the election of our nation's first black president. But more importantly, the promise that comes every 4 years-- that no matter what's happened before, a chance to strive for a better future always lies ahead.
E-mail to a friend