(CNN) -- A bird struck an Arkansas hospital's helicopter Saturday, tearing a hole into the aircraft's nose and prompting the pilot to land early, according to officials and pictures taken after the landing.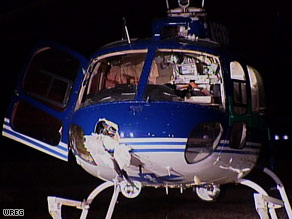 A medical helicopter landed near Forrest City, Arkansas, on Saturday after striking a bird.
The chopper's pilot made a "safe landing" in that state after hitting a bird while returning to Baptist Health Center in Little Rock, Arkansas, hospital spokesman Mark Lowman said.
"I think the pilot just made a judgment call to set it down," Lowman said of the landing, which happened at 6:15 p.m. Saturday near Forrest City, Arkansas.
Video footage taken by CNN affiliate WREG showed a bird hanging out of a hole torn into the paneling on the chopper's nose. Part of the helicopter's windshield also was broken.
The pilot was slightly injured during the landing, and the other two crew members on board were uninjured, Lowman said.
Federal aviation officials are investigating, and the helicopter is not expected to be grounded for long, he said.
The helicopter was returning from a hospital in Memphis, Tennessee, where the crew had taken a patient.
Don't Miss
The incident came two days after a US Airways jetliner was forced to land in New York's Hudson River, apparently after striking a flock of birds.
Shortly after the jet took off from New York's LaGuardia airport on Thursday, the crew reported seeing a flock of birds. Seconds later, the cockpit voice recorder captured the sounds of loud "thumps" and both of the plane's engines failed.
The pilot, C.B. "Sully" Sullenberger, landed the Airbus A320 in the Hudson, where all 155 people aboard were rescued.
E-mail to a friend

All About Arkansas