From Susan Candiotti
CNN





(CNN) -- Six detainees were released from the U.S. military's detention center at Guantanamo Bay, Cuba, the Department of Defense said Saturday.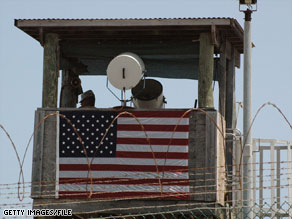 A guard keeps watch from a tower at the military facility at Guantanamo Bay, Cuba.
Four of the men were transferred to Iraq, one to Algeria and one to Afghanistan, a military spokesman said.
They had each been detained at Guantanamo for "several years," according to the military. None of them was charged with a crime.
"The transfer is a demonstration of the United States' desire not to hold detainees any longer than necessary," said a Department of Defense statement. "It also underscores the processes put in place to assess each individual and make a determination about their detention while hostilities are ongoing, an unprecedented step in the history of warfare."
The detainees were among 60 whom the United States has decided to release. Those remaining have not been cleared for release as the government negotiates their return with their home countries.
"There is an inherent risk in detainee transfers and releases, as over 60 ex-Gitmo detainees have reportedly returned to terrorism," Department of Defense spokesman J.D. Gordon said.
Don't Miss
At its peak, Guantanamo held 770 people who the U.S. government believed may have been involved in terrorist activity or military action against the nation. The facility drew sharp criticism, including from Barack Obama as he campaigned for the presidency.
Human and legal rights advocates complained that many of the detainees were being held indefinitely although there were no criminal charges filed against them. Reports of mistreatment of detainees led many, including Obama, to argue that the facility was not effective in dealing with alleged enemy combatants or for gathering good intelligence.
Sources close to Obama's transition team say he plans to make shuttering the facility a priority soon after he takes the oath of office Tuesday.
In all, 244 detainees remain at Guantanamo.
This week, a federal judge ordered the release of a man who is said to be the youngest prisoner sent to Guantanamo after he was captured in Pakistan at 14. The judge gave no timetable on when the man must be freed.
E-mail to a friend

All About Guantanamo Bay • Iraq • Barack Obama