(CNN) -- The check isn't in the mail, and it's not going to be for at least 30 days, California will start telling some of its creditors in February.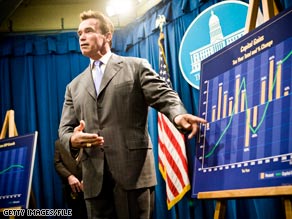 California Gov. Arnold Schwarzenegger makes a point on the state budget in November.
The state, facing a $42 billion deficit, will delay some crucial payments to stay liquid, state Controller John Chiang announced Friday.
Among those who will be left waiting for checks are thousands of businesses that provide services and products to the state; more than 1 million aged and disabled Californians who need to pay for rent, utilities or food; and individuals and businesses awaiting tax refunds to the tune of $1.91 billion.
That includes taxpayers such as Mildred Copeland, 84, of Toluca Lake, who lives on a fixed income. She raises a teenage grandson on her Social Security checks and a part-time job waiting tables. Making her bills is always a stretch, so she counts on her tax refund every year.
"When they need it, they get it, right?" Copeland said of paying her taxes on time. "So why shouldn't we?"
Suspending such payments is meant to preserve cash for education, debt service and other payments that are deemed by the state Constitution, federal law or court rulings as having first claim. But those in education are feeling plenty of pain as well.
That includes students such as Amber Ramirez, who is a freshman at Los Angeles Valley College. She just learned that her school is cutting 130 classes.
At this rate, "it's going to take me 15 years to finish my Ph.D. instead of what I had planned," said Ramirez, who is studying psychology.
Because classes are scarcer, she's forced to take one class at 8 a.m. and another at 5 p.m. That kind of schedule makes it hard for her to work even part-time.
Meanwhile, Democrats and Republicans are deadlocked over how to balance the budget.
"For months, I have warned state leaders that our cash flow will be in serious danger this spring," Chiang said. "Without corrective action from the governor and legislature, there is no way to make it through February unscathed."
The state has blown through its cash reserves as it has spent more than it has taken in. There's been no money in the state's general fund for the past 17 months, so California has been borrowing internally from special funds and from Wall Street. The controller estimates that money will soon be exhausted and that the state will be at least $346 million short in February.
"I take this action with great reluctance," Chiang said in a news release. "I know it will put many California families who rightfully expect their state tax refunds in a desperate position. Individuals who already are vulnerable will be hit hard. Small businesses that don't get paid may have to lay off more workers. Rather than helping stimulate the economy, withholding money from Californians will prolong our pain and delay our economic recovery.
"Delaying these payments will get us through the next few months, but it will not solve the problem. Only the governor and the legislature have the power to avoid this drastic and painful path."
If Gov. Arnold Schwarzenegger and the legislature don't come up with a solution, the controller might have to extend delays in payments or issue IOUs.
On January 6, the governor vetoed an $18 billion package proposed by Democrats who pitched it as "a major down payment" toward addressing the state's budget deficit.
The proposal didn't meet Schwarzenegger's demands set out in a special session, which limited the General Assembly to working on economic measures before acting on other bills.
"Unfortunately, this package is deeply flawed, and, as promised, I vetoed it the moment it landed on my desk," Schwarzenegger said in a letter Tuesday to senior lawmakers. "The measures you sent me punish people with increased taxes but do not make the serious cuts in spending necessary to balance our budget, do nothing to help keep California families working during this recession and do nothing to help Californians facing foreclosure in this mortgage crisis."
The Republican governor, who declared a fiscal emergency in December, has butted heads for months with the Democratic majority over alleviating the state's $11.2 billion revenue shortfall. The Legislative Analyst's Office shows the deficit reaching a staggering $28 billion by mid-2010.
"This is the only package that has the votes in the legislature," state Assembly Speaker Karen Bass said in a written statement. "I urge the governor to sign the package to solve the cash crisis and settle the other issues as we go."
Schwarzenegger was swept into office in 2003 as then-Gov. Gray Davis was recalled by the voters, largely because of a $23.6 billion budget deficit that he projected would grow to more than $34 billion the following year.
E-mail to a friend

CNN's Thelma Gutierrez contributed to this report.
All About California • Arnold Schwarzenegger