(CNN) -- Everyone aboard US Airways Flight 1549 survived when the plane crash-landed into the Hudson River, and that may be due as much to diligent rescue training as luck.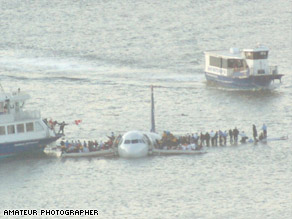 Passengers and crew line up outside the plane as boats move in to rescue them.
The Coast Guard rescuers who quickly got to the scene and many of the ferries and boats that first responded train for water rescues.
"We, the Coast Guard, we do train for these type of events and these type of situations, scenarios, and one thing we do try to do is try to coordinate with our other maritime agency partners [so] that incidents like this go off without a hitch or as safely as possible," said Coast Guard Lt. C.K. Moore, who helped coordinate the response.
Within minutes of the plane crash-landing into the water, the aircraft was surrounded by ferry boats that had been making their regularly scheduled trips across the Hudson and other boats coordinated by, and including, the Coast Guard.
The passengers had begun exiting the plane -- getting into rafts or standing on the wings. But as more people began to exit, the plane started to become submerged and passengers' feet started getting cold. See photos of the crash and rescue
The quick response may have helped save the lives of passengers, who if not for the rescuers may have been subjected to the frigid Hudson water. It's one of the things Moore said the Coast Guard focuses on during water rescues, especially in the winter. After only three minutes in cold water, people can lose the use of their arms and legs, according to the Oregon State Marine Board. At the time of the crash it was 21 degrees outside, the water temperature in the Hudson was 32.5 degrees and winds were blowing at 15 mph. Oregon State Marine Board: Surviving cold water immersion
Thankfully for passengers, ferry captains like Brittany Catanzaro came quickly to their rescue.

Watch passengers describe what happened »
Don't Miss
She was at the helm of a New York Waterway ferry during a normal commute across the river when she looked to her right and saw a plane in the water.
"I had to do a double-take," she said.
But Catanzaro knew exactly what to do. She said she and her crew train each month for water rescues.
"We have to do man overboard, and we're constantly drilling. Constantly," she said. "And when something comes, you already know how to take effect and how to put everything together, so it just went very smoothly."
Catanzaro immediately told her crew to get life jackets on, take extras to throw in the water, and prepare a cradle to help bring passengers onto the boat. The boat was the second on the scene.
"When I got there, my crew went to work and started pulling out people," she said. "Some people were sighing with relief, some people were crying. It was nerve-wracking."
In all, Catanzaro's crew helped bring 24 people aboard.
"I was telling my crew, even if we pulled out one person, that was one more person we saved," she said. "And to pull out 24 people, that's 24 people."
The Coast Guard was able to pluck at least 35 people from the water and wing of the plane.
Catanzaro's crew and the Coast Guard were able to take nearly half the plane's passengers out of the Hudson.
That's a credit to their training, Moore said, which is done exactly for this scenario.
"We do train with each other from time to time to understand what each other can bring to the table when it comes to -- to search and rescue," he said. "This is one of the situations where this has come to fruition, and it's a great -- it's a great thing to see it happen like this."
E-mail to a friend

All About U.S. Coast Guard • US Airways Group Inc.