(CNN) -- A federal judge has ordered the Tennessee Valley Authority to clean up four coal-fired plants that he said were engulfing parts of North Carolina with air pollution -- emissions that fouled the region's health, economy and natural resources.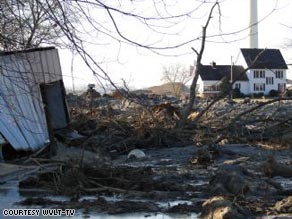 Properties near ground zero of the December 22 Tennessee spill are covered in sludge.
"I'm pleased that the court ordered the TVA to clean up the air pollution coming from its plants closest to North Carolina," said North Carolina Attorney General Ray Cooper. "This will help our air, our health, and our travel and tourism industry."
The Tuesday ruling from U.S. District Judge Lacy Thornburg of North Carolina calls for TVA, the federally-sponsored utility, to meet specific time limits for pollution reduction at the plants closest to the state -- three in eastern Tennessee and one in Alabama. Thornburg also ordered the agency to clean up faster and reduce pollution more than required under federal law.
The court concluded "that TVA's generation of power at low cost to the consuming public has a high social utility" and says "the vast extent of the harms caused in North Carolina by the secondary pollutants emitted by these plants outweighs any utility that may exist from leaving their pollution untreated."
TVA spokesman John Moulton told CNN that "TVA is disappointed by the court's decision. We're continuing to analyze it. In the meantime, TVA is committed to continue its work to improve the region's air quality."
Cooper filed suit in January 2006 asking the court to require TVA to clean up the plants, near the mountainous region of western North Carolina.
The judge ordered year-round use of pollution controls at the Tennessee plants, which have put in or are planning to use such controls.
Don't Miss
"In this case, North Carolina has presented sufficient evidence that untreated air pollution from the three power plants in eastern Tennessee which are closest to North Carolina -- Kingston, Bull Run, and John Sevier -- unreasonably interferes with the rights of North Carolina citizens," the judge wrote in a memorandum of opinion.
The judge ruled that TVA must install and maintain pollution controls at the Widow's Creek plant in Alabama.
"TVA's failure to speedily install readily available pollution control technology is not, and has not been, reasonable conduct under the circumstances."
Stephen Smith, executive director of the Southern Alliance for Clean Energy, said both Tennessee and North Carolina have been affected by the pollution, but North Carolina decided to fight it in court.
Sulfur dioxide, nitrogen oxide and mercury from the pollution affect the Great Smoky Mountains National Park, the Pisgah and Nantahala National Forests, and cities in the state as well. The pollution causes acid rain, smog and regional haze, problems that affect respiratory health, natural resources, and even tourism.
"This is just another example of how coal is dirty business," said Smith, whose group is based in North Carolina and Tennessee. "Coal has serious implications for the environment, and air pollution is one of them."
TVA's coal-powered plants have been in the news recently because of a coal-sludge spill in eastern Tennessee last month.
A billion gallons of the sludge, made up of water and fly ash from a coal-burning TVA steam plant in Kingston, Tennessee, swamped 300 acres of mostly private property when a dike on a retention pond collapsed December 22.
Preliminary results from water samples taken in the spill area show no unsafe levels of toxins, said Leslie Sims, on-scene coordinator for the Environmental Protection Agency. The testing includes municipal supplies and private wells, he said.
However, samples of the fly ash scooped up along roadsides and river banks show elevated levels of arsenic that normally would trigger an EPA response, Sims said. But the EPA is not responding because the TVA is taking action to fix the problem, he added.
E-mail to a friend

All About Nature and the Environment • North Carolina • Tennessee Valley Authority