(CNN) -- An Indiana financial manager who apparently tried to fake his death by crashing his airplane left on a motorcycle he had stashed in his parachute landing zone, authorities said Tuesday.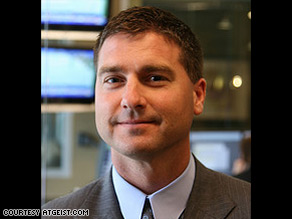 Marcus Schrenker exited his small plane before it crashed, and investigators are looking for him, police say.
Marcus Schrenker fled Harpersville, Alabama, on a red motorcycle he kept at a storage unit leased under an assumed name, officials said.
Schrenker told the leasing agent at the storage facility that he would be back for the motorcycle Monday, the U.S. Marshals Office said.
The motorcycle -- a 2008 Yamaha street bike with saddlebags -- was brought to the storage unit by someone in a brown pickup and trailer, the Marshals Office said.
When authorities searched the unit late Monday night, the motorcycle was gone, and some damp clothes had been left on the floor, the Marshals Office said.

Watch Schrenker perform airborne stunts »
"It's gone. He's gone," Harpersville Police Chief David Latimer told the Pensacola, Florida, News Journal.
Authorities in several states were looking for Schrenker, who was last reported seen Sunday night at a hotel in Harpersville, Alabama, southeast of Birmingham, after he told police in a nearby town that he had been in a canoeing accident.
Don't Miss
Schrenker allowed his plane to crash into a Florida swamp near a high-end neighborhood, authorities said.
"When I heard there was a plane crash, my first reaction was, this had to be staged," Tom Britt, a friend in Indiana, told CNN affiliate WRTV in Indianapolis. "[My] initial reaction was, 'I bet he wasn't in it.' That turned out to be correct. My second reaction was, he's trying to escape the pressure that was compounding on him."
Britt said he received an e-mail Monday from someone who identified himself as Schrenker. The message said it was all a misunderstanding.
Britt described the e-mail he received at 7:18 p.m. Monday as long and personal.
"He had been reading CNN and AtGeist.com [Britt's Web site] and was disturbed," Britt said. "He wanted to set the record straight."
Britt said Schrenker said in the e-mail that he had done nothing wrong and detailed the moments before he bailed from the plane.
"He said he panicked. He blacked out. He was disoriented when he landed. He was trying to explain to me his side of the story," Britt said.
Latimer said the FBI and U.S. marshals were searching for Schrenker.
"They've been hunting him pretty intensely, is all I know," Latimer said in the Pensacola newspaper. "We are going to continue to look for him within our jurisdiction. I understand the federal authorities are widening their search."
On Monday, a judge in Indiana froze Schrenker's assets after investigators looking into his businesses dealings for possible securities violations requested the temporary restraining order, said Jim Gavin, spokesman for the Indiana secretary of state.
The order in Hamilton County Superior Court, which also applies to Schrenker's wife and his three companies, is aimed at protecting investors, Gavin said.
Heritage Wealth Management, Heritage Insurance Services and Icon Wealth Management are "the subjects of an active investigation by the Indiana Securities Division," Gavin said. Public documents list Schrenker as president of Heritage Wealth Management in Fishers, Indiana.
Court papers contain allegations that Schrenker defrauded several investors.
A search warrant related to the inquiry was served December 31, Gavin said.
According to The Herald Bulletin in Anderson, Indiana, Schrenker's wife, Michelle, filed for divorce in Hamilton Superior Court on December 30. A hearing was set for February 5.
Schrenker, 38, took off alone Sunday night in a Piper PA-46 from Anderson, Indiana, en route to Destin, Florida.

Map »
The craft came down near the Blackwater River, 50 to 75 yards from homes, said Santa Rosa County, Florida, sheriff's Sgt. Scott Haines. iReport.com: Are you near the crash site? Tell us about it
"It is a neighborhood, some very nice waterfront property," Haines said.
Military pilots from Whiting Field Naval Air Station in Milton, Florida, saw the plane crash about 9:15 p.m. Sunday.

Watch what authorities believe happened »
Shortly before 2:30 a.m. Monday, the Childersburg, Alabama, Police Department reported that Schrenker approached one of its officers "and said that he had been in a canoeing accident with some friends," a news release said.
The officers, unaware of the plane crash, took Schrenker to a hotel in nearby Harpersville. After hearing about the crash, they went back to the hotel, where they found that he had checked in under a fictitious name.
"When authorities entered Schrenker's room, he was not there," the release said.
Authorities said Schrenker had fled into a wooded area.

Hotel manager Yogi Patel, who identified Schrenker on surveillance video, said Schrenker was the only overnight guest. He signed in as Jason Galouzis of Bolingbrook, Illinois, Patel said.
Steve Darlington, manager of Anderson Municipal Airport, said the plane was in fine condition at takeoff and that Schrenker is "an accomplished pilot" who owns "a couple of airplanes" and flies regularly, Darlington said.
E-mail to a friend

All About Alabama • Indiana • U.S. Marshals Service • Destin (Florida)