(CNN) -- An aircraft carrier named after the first President Bush was commissioned Saturday in Norfolk, Virginia.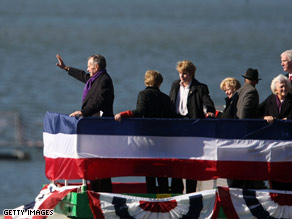 Former President George H.W. Bush waves aboard the aircraft carrier named after him Saturday.
"Those who are sitting out there, where I was, 65 years ago, preparing to serve aboard your new ship, I wish I was sitting right out there with you," the carrier's 84-year-old namesake told sailors at the commissioning ceremony.
"As you prepare to man this ship, I do know that you take with you the hopes and dreams of every American who cherishes freedom and peace, and you take with you the undying respect and admiration of the entire Bush family," he said.
The 1,092-foot, 20-story USS George H.W. Bush was decorated with red, white and blue banners for Saturday's ceremony at Naval Station Norfolk.

Watch video of the aircraft carrier »
The 41st president joined the Navy at 18 and served as an aviator in World War II. He was awarded the Distinguished Flying Cross and three Air Medals for his Navy service in the Pacific during the war, according to the Department of Defense. His time in the Navy ended after about four years.
About 17,000 people were expected to attend Saturday's ceremony. Secretary of State Condoleezza Rice, Defense Secretary Robert Gates, Vice President Dick Cheney and Virginia Gov. Tim Kaine were there, as was Bush's son President George W. Bush and his wife, Laura.
"Laura and I are thrilled to be here to help commission an awesome ship and to honor an awesome man, President George H.W. Bush," the president said. "So what do you give a guy who has been blessed and has just about everything he has ever needed? Well, an aircraft carrier."
The ship, comprising 47,000 tons of structural steel and about 500 tons of aluminum, is the last of the Nimitz class of nuclear-powered aircraft carriers.
The ship's construction began in 2003. It was finished nearly three years later.
The vessel will carry about 6,000 Navy personnel, the Department of Defense said.
After the ceremony, the president left Norfolk for Maryland's Andrews Air Force Base on what was probably his last Air Force One flight. From Andrews, he was expected to take a helicopter to Washington.

White House spokesperson Dana Perino said the president wasn't aware that it was his last scheduled flight on Air Force One until he was told by an interviewer.

Read about features of Air Force One »
President Bush leaves office January 20, and President-elect Barack Obama will be sworn in.
E-mail to a friend

All About George H.W. Bush • U.S. Navy • George W. Bush