NEW YORK (CNN) -- Strong winds, frigid temperatures and blowing snow froze celebrators from around the world as they ushered in 2009 in New York's Times Square on Wednesday night.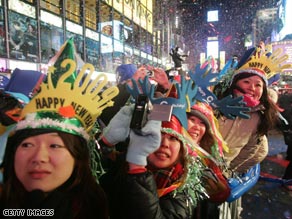 Revelers in New York braved freezing conditions and snow to see in the New Year.
The estimated 100 million viewers tuning into the televised event nationwide may be grateful they stayed home as temperatures dropped into the teens at midnight and heavy winds made it feel like single-digit weather.
Despite a winter weather advisory in effect for much of the day in New York and well into the celebrations, at least 1 million people were expected to crowd Times Square, according to the Times Square Alliance. iReport.com: Your images, your parties
It's a tradition that began more than 100 years ago with the dropping of a ball made from iron and wood and covered with about 100 light bulbs -- a far cry from this year's massive, crystal-coated ball.

Watch the countdown »
The 2009 ball weighs 11,875 pounds, double the size of previous balls. It includes 2,668 Waterford crystals, 32,256 Philip Luxeon Rebel LEDs and has a palette of more than 16 million colors and billions of patterns available.
Sen. Hillary Clinton and former President Bill Clinton helped New York Mayor Michael Bloomberg push the button for the ball drop at 11:59 p.m.

Watch the new year arrive in other parts of the world »
Throughout the night, revelers were treated to musical performances by the Jonas Brothers, Ludacris, Taylor Swift, Parachute, the USO and Lionel Richie. And, as is tradition, confetti in Times Square and fireworks in Central Park helped continue the celebration after midnight. iReport.com: Virginians having time of their lives
Police had a heavy police presence inside Times Square -- both uniformed and undercover, according to Commissioner Ray Kelly. Kelly told CNN's "American Morning" that his department would have counterterrorism posts, radiation and biological weapons detectors and helicopters to help patrol the crowds.
E-mail to a friend

CNN's Kristen Hamill contributed to this report.