By Steve Almasy
CNN





(CNN) -- The check-in area at the airport often looks like semi-organized chaos. You have lines staffed by airline agents, areas populated with automated kiosks, luggage check-in queues, and passengers roaming around with bags and documents in hand.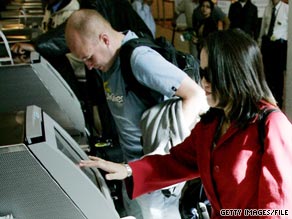 Confused about which credit card to use at an airport kiosk? Any will do, as long as it has your name on it.
Where do you need to go? You may have checked in online, but does that mean you can go straight to the security lines? What about your bags? What do you do if you don't have a boarding pass yet? What will you need to show the agent? Do you even need to stand in that line, or can you go to a kiosk?
We asked airline insiders and frequent travelers to share their tips for navigating from your home to the airport lobby and through the security gates.
Start at home
From your home computer, you can change seats, print out your boarding pass or use most of the features that check-in counter agents can access, says Jared Miller, senior director for customer self-service at Continental Airlines. "When you request a seat upgrade or to get the optimal seat, you have a better likelihood of getting that seat" by checking in online, he says. Continental also offers an automatic check-in that sends you your boarding pass in the 24 hours before your scheduled takeoff.
Check bags online, save time, money
You may save a few minutes, plus a little cash, if you pay your bag fees online; some airlines charge an additional $5 for bags checked at the airport. When you get to the airport, find the bag drop-off, present your boarding pass and drop your bags with the airline employee (who weighs the bag), advises Jay Parsley, a customer service representative for Delta Air Lines. You can also check the bags with a sky cap at the curbside check-in.
Use the kiosks
Parsley is surprised by the number of people don't want to use the automated kiosks. He recently transferred from the one of the world's busiest airports (Hartsfield-Jackson Atlanta International Airport in Georgia) to a smaller airport (Birmingham-Shuttlesworth International Airport in Alabama), but he says there is one common thread: Many people don't like change. Using a kiosk, he says, should take no more than two minutes. Slowing people down, however, is figuring out which credit card to swipe. If you haven't printed your boarding pass at home, you can use any card with your name on it to pull up your flight information and boarding pass, he says.
Don't Miss
Get an electronic boarding pass
Do you have a cell phone that gets e-mail? Though it is still rare, several airlines and airports allow you to download your boarding pass to your mobile device and scan it in at the airport. But it's not perfect. Jennifer Isbister, an analyst working in the gas and oil sector and a frequent flier, tried using an electronic boarding pass for a recent flight. It worked great for boarding, she says, but she had trouble at security and had to retrieve the original e-mail to show them that it was the real deal. You probably still want to have a paper copy of the pass, just in case.
Use the right confirmation code
Parsley and Bryan Barnett, a flight attendant with World Airways, say they see many people who have used online travel sites, such as Orbitz or Expedia, enter the wrong code in at the kiosk. Don't use the confirmation number from the third-party travel company. Be sure to use your airline's confirmation code, which is often hard to find, but will be on the receipt.
Frequent flier benefits
Using your frequent-flier ID card at the kiosk can speed things up, says Barnett, who often travels as a passenger to overseas destinations. When he gets to an airport, he uses his card, which stores information such as his preference for an aisle seat. If you still need a seat assignment when you get to the airport, use the frequent-flier card, which will narrow the list to show the open seats you want.
Check for a code share
It sounds simple, but don't go to the wrong airline. Check your receipt to see the name of the operating airline, especially for international flights. For instance, you may have booked through Delta but are taking an Air France flight. Barnett says he redirects many people who visit the wrong kiosk or check-in line.
Choose the right destination
A lot of confused travelers at the kiosks also attempt to enter in layover cities as a destination, says Barnett. You need to enter only the city you are going to end up in, he says.
Bring the proper documentation
Sometimes, people worry about packing their suitcases but forget to bring the right paperwork. "I've seen people who are overly prepared for their meeting, and they forget boarding passes or passports," Barnett says. You should bring a government-issued ID, and for travel outside the country, a passport and possibly a visa. Some countries even require a return ticket, Miller says.
Put everything in one pocket/holder
You don't want to fumble through your bags or pockets looking for your driver's license. Having it all in one place will keep you from being "that guy" who holds everyone else up.
E-mail to a friend

All About Air Travel