By George Webster
For CNN





(CNN) -- Holiday-makers around the world are facing up to the fact that, in times of recession, large travel expenses are difficult to justify.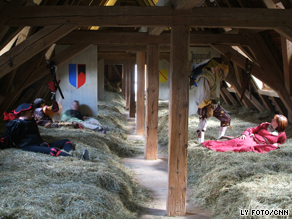 German huehotel 'Zum Alten Marstall' is at the foot of an 11th century castle and has adopted a medieval theme.
While for some this has meant the end of life as we know it, for a new generation of nature lovers and eco-conscious tourists, it has prompted the discovery of a cheap and unusual alternative.
In Germany and its European neighbors Austria and Switzerland, a long weekend in a converted barn - sleeping on a bed of freshly raked hay -- is fast becoming the 'staycation' of choice.
Heuhotels ('heu' is German for hay) offer exactly what their name suggests. For as little as eight euros ($11) a night backpackers, couples, families and, in the case of one "hay hotel" in central Germany - 'groups of up to 60' - can rest their heads in a way nature intended.
With private bedrooms and the option for "real" beds, the 'Zum Alten Marstall' is at the "luxury" end of the market. It also takes advantage of its position at the foot of the 11th century Castle Guttenberg by adopting medieval styling throughout. Here staff wear embroidered tunics and woolen cloaks and male guests are referred to as "Knights."
While not all hay hotels provide such elaborate extras, many offer a range of activities. These typically include horse riding, canoeing, mountain biking and archery. Foodies will also get the chance to buy fresh meat, cheeses and other farm produce on site.
Types of accommodation range from open lofts stuffed with bales of hay, to feed stalls furnished with wooden platforms. And while some hotels include more civilized amenities like privacy curtains and bottles of wine to take to 'bed,' most still require that guests bring their own sleeping bag and towels.
Would you stay in a hay hotel? Or have you stayed in one? Share your experiences in the SoundOff box below

The 'Hofgut,' hay hotel situated just outside the small town of Kassell in the heart of Germany, has been operating for a few years now.
"I suppose some people might find the idea unappealing," manager Sarah tells CNN, "but for anyone who wishes to snuggle up close to nature it's perfect."
To the skeptics she says: "Think back to when you were a child -- this would be heaven! What's changed since then?"
Without the need for new construction, heavy laundry bills or other forms of high energy consumption, hay hotels are also an effective means of low-impact, sustainable tourism.
But it's not just eco-warriors, spendthrifts and children who enjoy the pastoral allure of a converted barn.
"We have many important people from the city coming to stay here, all types that you wouldn't expect," says Sarah, "what better way for a team to bond than by eating together around a camp fire and then rolling around in the hay?"
For others, these hotels present an opportunity to fulfill long-held romantic ambitions -- hence they have become a very popular destination for weddings and honeymoons.

"For lovers, there's nothing more exciting than a night on the hay," says Heinz Laing, a former Greenpeace activist who runs a hay hotel outside Hamburg.
Just remember if you're partial to the odd cigarette, all hay hotels operate a strict no-smoking in bed policy.
E-mail to a friend