By Brad Tuttle





(Budget Travel) -- When Los Angeles therapist Kirby Tepper was looking for ways to make extra cash last year, a friend suggested he build a guesthouse on his property. After decking the place out with a new kitchen and a flat-screen TV, he listed it on the Web site homeaway.com for $200 a night, a rate comparable to area hotels.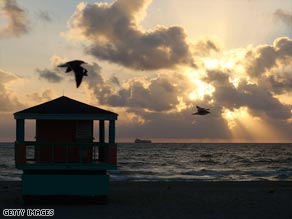 Fierce competition in areas with a glut of vacation homes means seriously low prices.
With the economy heading south, he received few bites until he dropped the price all the way to $120 a night. "Even then, people requested additional discounts," he says.
It's becoming a renter's market in the vacation home and time-share world as more and more owners offer up their places to bring in cash. HomeAway saw a 25 percent jump in listings in late 2008 compared to late 2007, with the vast majority of properties available for rent only a couple weeks out.
Similarly, the time-share listings site redweek.com received 33 percent more postings in February than it did during the same month the year before. Last-minute leases on the site are frequently marked down by as much as 65 percent.
Here's how to boost your chances for big savings:
Check the sales listings
Most vacation property sites have special discount pages (such as "Travel Deals" on HomeAway and "Last Minute Deals" at ownerdirect.com) where they bundle all of their offers for immediate rentals. For example, a three-bedroom condo in Huntington Beach, California, was posted on Owner Direct in March for $100 per night the week before the check-in date -- half off the normal price. Budget Travel: Supersmart trip planning strategies
Follow the building boom
It's always wise to target areas with a glut of vacation units, such as Florida and Hawaii. Fierce competition leads to fewer restrictions on minimum lengths of stay, along with seriously low prices. On the rental site zonder.com, some of the biggest deals are in Orlando, where the 1,700 listed homes are up to 20 percent off what they were a year ago.
Sweet-talk the owners
Use the listed price as a starting point for negotiations and then play up whatever you bring to the table to try to cut a deal. For example, if you plan to stay a few weeks, stress the fact that you're saving the owners the trouble of re-renting and cleaning the place.
Tepper says he often agrees to lower his rates for people who come on weekdays. "I'm not going to pass up the chance to make a dime," he says.
E-mail to a friend

Get the best travel deals and tips emailed to you and enter to win a free trip - CLICK HERE!
Copyright © 2009 Newsweek Budget Travel, Inc., all rights reserved.
Note: This story was accurate when it was published. Please be sure to confirm all rates and details directly with the companies in question before planning your trip.
All About Travel and Tourism