By Christopher Elliott
Tribune Media Services





(Tribune Media Services) -- Kiss those little bottles of lotion goodbye.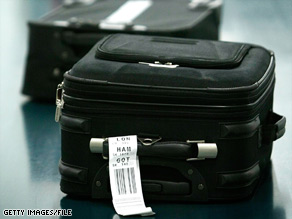 There's every indication the airline industry is moving toward ending free carry-on luggage, says the author.
But don't despair. You stand to gain better things, thanks to the ailing economy. That includes free Wi-Fi in more places, better customer service and of course, many unbelievable bargains.
"The advantages may exceed the losses," said James Chung, president of market research firm Reach Advisors. The soft economy has already forced travel companies to "focus on what really matters for their customers: value and service," he said.
We could use a little good news. Travelers are in a dark mood these days, with nearly one in every four Americans canceling a planned vacation, according to a recent Sun Life Financial survey. Older Americans are likelier, by a few percentage points, to call off their planned getaway.
Are we missing out?
Lauren Goldenberg thinks so. She's a travel agent who specializes in family vacations, and from her perspective, these are the best of times to travel.
"I haven't had any clients return from trips in the past few months complaining about any noticeable decrease in services or amenities," she told me. On the contrary, they're raving about the experience, maybe because the crowds have dispersed and the prices are at historic lows.
Don't Miss
"I'm sure that the resorts, cruise lines and tour operators are finding ways to lower costs in a variety of ways," she said. "We shall see what the future may bring."
Possible losses
But let's not get ahead of ourselves. Here's what we're likely to lose in the recession:
1. Hotel amenities
One of the first things travelers noticed after the economy headed south was that resort amenities, such as washcloths and little bottles of lotion, had disappeared from their rooms. But that's only half the story.
"The downside -- particularly to a long recession -- is that many hotels fall down on both quality of service and product," said Vijay Dandapani, the president of Apple Core Hotels, a group of budget Manhattan hotels.
Renovation programs are reduced or canceled, along with staff training programs. "Other items include diminished variety in breakfast items -- if offered free -- and lower staffing, resulting in longer wait times."
Hotels are trying to minimize the effect on guests. Michael Petrone, the director of AAA's tourism information development, said resorts are ratcheting back "in creative ways," such as blocking off sections of empty rooms to conserve energy costs or reducing restaurant hours.
2. Free carry-on luggage
You can blame snarky travel columnists like me who asked -- rhetorically, of course -- what airlines would think of next when it came to fees. It was almost an invitation to the profit-starved airlines. We might as well have said, "Go on, charge us for our carry-on bags!"
What were we thinking? There's every indication the airline industry is flying in that direction. For example, US Airways recently reduced the size limit on its carry-on baggage to 44 linear inches from 51 inches, a move that other airlines, including Continental, made last year.
Last summer, after several airlines instituted a $15 fee for the first checked bag, my colleague Ron Goltsch predicted the end to free carry-on bags and there's almost no evidence that carriers aren't seriously considering such a move, now that their no-free-checked-bags scheme is generating tens of millions of dollars in what it euphemistically calls "ancillary" revenue.
3. An airline
Ever since last spring, when a series of airlines went belly up in the wake of soaring fuel costs, the airline "deathwatch" has been a favorite sport of airline observers. Technically, Northwest Airlines is the biggest casualty.
It officially merged with Delta Air Lines recently, presumably because it couldn't survive on its own.
Who's next? No one knows. But you don't have to be an overpaid airline analyst to be able to read the latest earnings reports and conclude that some American carriers are flying toward their doom. Will it be US Airways, which suffered a $541 million loss in the fourth quarter? Or United Airlines, which had almost identical numbers?
Maybe it'll be the new Delta/Northwest, which endured an eye-popping $1.44 billion loss for the same quarter. Then again, as the country's No. 1 airline, it might be too big to fail. No matter: Odds are, one of the legacy airlines will probably go down as a result of the recession.
Likely gains
Cheer up! Here are three things we'll gain from the current economic malaise:
1. Free Wi-Fi everywhere
A lousy economy has apparently increased our appetite for access to a free, high-speed wireless network. Travel companies are complying. "Wi-Fi will become more widespread in airplanes, trains and taxis," predicted Dale Eastlund, a senior director at the travel-consulting firm CWT Solutions.
Take Southwest Airlines, which recently announced that it had equipped one aircraft with Wi-Fi technology and would roll out three additional wireless-enabled aircraft by this spring. I had several exchanges with Yahoo!, which is collaborating with Southwest to create an in-flight homepage for the service, and was told Wi-Fi would be free for the foreseeable future.
If Southwest imposes no Wi-Fi charges, then it would set an interesting precedent for the airline industry. Free Wi-Fi is practically a standard in the lodging business.
Nearly nine out of every 10 hotels in the United States offer Wi-Fi, but only 16 percent charge for an Internet connection, according to a recent American Hotel & Lodging Association survey. If that happened on planes too -- now that would be something.
2. Upgraded customer service
"Competition is fierce," said Tom Kelley, a managing partner for Concept Branding Group, a hospitality-consulting firm. "Hotel and restaurant service staff knows their jobs depend on getting and keeping business."
Travel experts aren't unanimous on this point. Andrea Stokes, the vice president of travel and leisure at the market research firm Synovate, believes the opposite will happen -- that as travel companies lay off workers, they can "expect service to decline."
I think both are correct. At some companies, and certainly in the short term, it's possible that customer service will go in the toilet. But at others -- and hopefully in the long term -- the tanking economy will make travel companies appreciate their customers. There's no downside to that.
3. Lots and lots of bargains!
No two ways about it: As the economy reels, we should expect to find deals on everything from airfares to all-inclusive resort stays. Greg Walton, a cruise ship design specialist at the architecture firm RTKL Associates, told me bargain hunters will have an opportunity to upgrade to a lifestyle they might otherwise never afford, particularly at sea.
"Some travelers will be able to experience more luxurious travel arrangements than they have been able to afford in the past," he said. Add in the fact that most cruises are all-inclusive -- meaning that meals are part of the price -- and your vacation may cost less than your apartment rent.
As a matter of fact, the entire travel industry is on sale now. Everywhere you look there's a hotel offering a free night, a car rental company with an upgrade offer, or a restaurant with a two-for-one special. As I pointed out in a recent column, these bargains aren't always legit. But there's only one way to find out.
Bottom line: The recession will be good for travelers. "We have almost nothing to lose and everything to gain," said Daniel Levine, the executive director of guidebook publisher Avant-Guide Institute. Remember, when the economy bounces back, all bets are off. So take advantage of this while you can.
(Christopher Elliott is the ombudsman for National Geographic Traveler magazine. This column originally appeared on MSNBC.com. You can read moretravel tips on his blog, elliott.org or e-mail him at celliott@ngs.org).
(COPYRIGHT) 2009 CHRISTOPHER ELLIOTT DISTRIBUTED BY TRIBUNE MEDIA SERVICES, INC.
E-mail to a friend

All About Travel and Tourism • American Automobile Association • US Airways Group Inc.