By Lisa Respers France
CNN





(CNN) -- Everyone knows traveling can be stressful, but having a smartphone along can make the trek a little more enjoyable.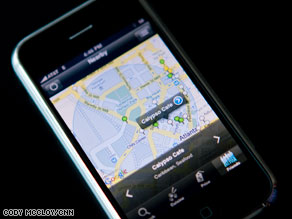 The GoodFood application on the iPhone locates and offers reviews on nearby restaurants.
Both iPhone and BlackBerry have applications that can do everything from help keep you on time for that flight to mellow you out in the midst of those oh-so-annoying delays.
The following are just a few of the many offerings:
Pocket Express -- This nifty little app acts as a "mobile concierge" and provides a package that includes news, sports, weather, movies and travel.
"Travel" offers several helpful features, including the ability to check your flight status and schedule, a currency converter and a listing of nearby hotels. The application is free with an optional subscription to MobileCierge personal assistant for a fee. (Available for BlackBerry and iPhone)
WorldMate Live -- This free app is like having your own personal assistant with the ability to craft an itinerary, sync with your calendar and check out weather forecasts.
The free version also has a hotel booking service and a feature which allows you to find out if someone you know is where you are when you are. iReport.com: Send us photos of your secret travel places
A gold version of the app is available for purchase which includes flight alerts for more than 175 airlines and alternate flight suggestions should you need to reschedule. (Available for BlackBerry)
Stanza -- Why load down your purse or carry-on with paperbacks and magazines when you can load everything on to your phone?
The free Stanza reader app boasts a robust online catalogue of books, newspaper and magazine content. With links to more than 100,000 books from classics to contemporary novels, there will be plenty to read while en route or after arriving to your destination.
Some book downloads are free while others may be purchased from sites like Fictionwise or BooksOnBoard. (Available for iPhone)
Kindle for iPhone -- If Stanza's catalogue isn't enough for you, the recently introduced Kindle application offers access to the hundreds of thousands of books at Amazon's Kindle bookstore. Readers using the free app can adjust text size, add bookmarks and download previously purchased Kindle books.
And for those unsure as to whether they want to purchase a title, they can download a sample of an early chapter to take a test drive before they buy. (Available for iPhone)
Pandora -- A road trip wouldn't be complete without cool tunes and Pandora Internet Radio has plenty.
Users can select an artist whose songs become the basis of a "station," which will play that artist's music and music from performers with a similar sound.
By rating songs either thumbs up or thumbs down, the user can effectively craft a streaming playlist suited to his or her musical tastes. So there's little chance that Michael Bolton will pop up if Led Zeppelin is more your flavor. The app is free. (Available for iPhone)
GoodFood -- No longer do you have to depend on your taxi driver to get a good recommendation of where to eat.
Once you arrive at your destination, check out GoodFood by GoodRec for nearby restaurants and user reviews. Zoom in on the Google powered map, pick a listed establishment and tap for information and directions.
The "Want to Go" feature allows the user to create a list of favored places which will then appear with a bright blue pushpin when viewing the map. You can also add your own recommendations and photos on this free app. (Available for iPhone)
E-mail to a friend

All About Travel and Tourism • Apple iPhone • BlackBerry Mobile Devices