By Heather Eng





(Budget Travel) -- Dreaming of an around-the-world trip? Budget Travel asked eight nomads for long-term travel tips and tricks.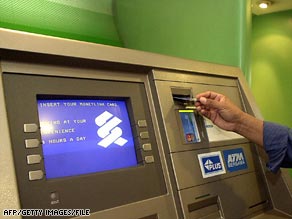 Look for banks with low transaction fees abroad, one world traveler suggests.
1. THE ROUTE "Many people are too ambitious and want to make 14 stops in four weeks. I like to spend at least a week in each place to become really familiar with it." -- Tom Michelson, corporate vice president, AirTreks, an airline broker that specializes in around-the-world tickets
2. DOCUMENTS "Before a long trip, you often can't get all of your visas because some are valid only for three to six months. Instead, pick them up at travel agencies along the way. For example, if you need a Cambodian visa, buy it in Thailand." -- Alex Boylan, host, "Around the World for Free," an online reality series
3. FLIGHTS "Air brokers offer the best prices on around-the-world tickets -- your total might be half of what you'd pay if you bought each leg individually. Airline partnerships such as Star Alliance also sell multiflight tickets, but theirs tend to be pricier." -- Gayle Forman, author, "You Can't Get There From Here: A Year on the Fringes of a Shrinking World"
4. HEALTH INSURANCE "American insurers typically don't cover everything abroad. We bought extra insurance through World Nomads, which has policies ranging in length from one week to six months." -- Jennifer Baggett, Amanda Pressner, and Holly Corbett, travel bloggers, LostGirlsWorld.com. Budget Travel: Will your health plan cover you overseas?
5. ATM CARDS "Find banks with low transaction fees abroad. I opened an account with Capital One because it didn't charge conversion fees for most foreign ATM withdrawals." -- Brook Silva-Braga, director, "A Map for Saturday," a travel documentary
6. PACKING "Test the weight of your backpack at home: You should be able to wear it around for a half hour without getting sweaty or feeling like your spine is going to crumble." -- Doug Lansky, author, "First-Time Around the World: A Rough Guide Special"
7. GUIDES "Instead of lugging books around, research hotels and sights online and take notes. For free maps, visit the tourism bureau in each city." -- Colm Hanratty, editor, Hostelworld.com
8. ENERGY "Bring bouillon cubes -- I drank a cup of broth every day to replenish all the salt I sweated out." -- Charley Boorman, coauthor, "Long Way Round: Chasing Shadows Across the World"
E-mail to a friend

Get the best travel deals and tips emailed to you FREE - CLICK HERE!
Copyright © 2009 Newsweek Budget Travel, Inc., all rights reserved.
All About Travel and Tourism