(Budget Travel) -- Every now and then, you stumble upon a town that's gotten everything right -- great coffee, food with character, shop owners with purpose. These 10 spots have it all, in perfectly small doses.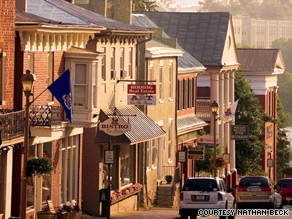 Main Street in Lexington, Virginia, is lined with 19th-century storefronts.
CAYUCOS, CALIFORNIA (pop. 3,000)
Serious waves and serious food
About halfway between San Francisco and Los Angeles, Cayucos is everything you want in a mellow beach town -- an anomaly on the increasingly built-up coast. While the vibe is decidedly relaxed, two things get residents fired up: serious waves and serious food. Surfer Wade Rumble bridges both worlds as owner of Rogue Wave Cafe, where most mornings, after drying off his board, he sells fair-trade, organic coffee beans (72 S. Ocean Ave., roguewavecafe.com).
Just off Highway 1, Cayucos requires a dedicated detour, which has helped it remain untouched. "We have beautiful beaches and beautiful people," says Christa Hozie, who runs Brown Butter Cookie Company with her sister Traci Nickson; the duo make super-addictive sea-salt-topped cookies (250 N. Ocean Ave., brownbuttercookies.com, $13/dozen). "I came to visit three years ago and thought it was such a magical place," explains Hozie.
Grace Lorenzen had a similar reaction. She moved back to the Central Coast from Seattle in 2002 and now manages the five-room Cass House Inn (222 N. Ocean Ave., casshouseinn.com, from $165). The restored 1860s Victorian has a fitting soundtrack for the coastal town: the lulling surf. -- Mario López-Cordero. Budget Travel: Check out the towns
LEXINGTON, VIRGINIA (pop. 6,867)
Right out of a Norman Rockwell

Locals often describe this 19th-century hamlet between the Blue Ridge and Allegheny mountains as "right out of a Norman Rockwell painting." Lexington is the kind of place where people are invested in making sure history is paid real respect. Take Hull's Drive-In Theatre: When the 1950s institution was in danger of closing in 1999, a group of 50 -- dubbed the Hull's Angels -- banded together to save it; they succeeded after raising an initial $10,000 selling popcorn (2367 N. Lee Hwy., double feature $6, open seasonally).
Meanwhile, family-owned B&Bs like the 1868 Magnolia House Inn dot Main Street (501 S. Main St., magnoliahouseinn.com, from $139).
"It's like a movie set," says resident Siobhan Lomax. While history has a hold, modernity has entered in just the right way, in part thanks to Lomax, whose two clothing boutiques, P.S. Pumpkinseeds (1 N. Main St., 540/464-5007) and George and Bob (20 W. Washington St., 540/464-5015), stock labels such as Trina Turk and Penguin.
At the year-old Red Hen, chef Tucker Yoder, who trained at the New England Culinary Institute, creates dishes like pork belly with garlic scapes (11 E. Washington St., redhenlex.com, entrées from $16). The sense of community has proven fertile ground for his business -- and family. "I have three kids, and I don't have to worry about them riding their bikes down the street," says Yoder. Norman Rockwell indeed. -- Mario López-Cordero
BREAUX BRIDGE, LOUISIANA (pop. 8,200)
Big crawfish in a small pond
In the world's crawfish capital, an hour southwest of Baton Rouge, days revolve around Cajun meals and music. Locals two-step to upbeat zydeco tunes at places like Café Des Amis, a brick-walled space that's famous for its crawfish étouffée and where the dining room doubles as a dance floor (140 E. Bridge St., cafedesamis.com, entrées from $16).
The music is what drew long-time New Orleans resident Ellen Wicker back to the area from Maryland five years ago. "I was out dancing, and I met a guy who knew of a B&B that was for sale," Wicker recalls. She picked up the converted 1860s French Creole-style house and opened Maison Des Amis, a B&B with a half acre of landscaped gardens and a gazebo looking out on the bayou in the back (111 Washington St., maisondesamis.com, from $100). "Locals in Breaux Bridge are just friendly and generous," she says. "Right after the hurricane, families took in people they didn't know from Adam and put them up."
While his New Orleans shop was being reconstructed after Katrina hit, decorator Patrick Dunne opened satellite locations of his culinary antiques store Lucullus in Breaux Bridge, upon a friend's recommendation (107 N. Main St., lucullusantiques.com). Now Dunne and his French bulldog, Clovis ("He's very much into zydeco"), split their time between city and country. Says Dunne: "It's fun being a big crawfish in a small pond." -- Maria Ricapito
TUBAC, ARIZONA (pop. 1,900)
Galleries are framed by mountain views
Over the years, everyone from Spanish missionaries to maverick cowboys has called this high-desert town -- 25 miles north of the Mexican border -- home. These days, you're most likely to find artists roaming the streets of Tubac, where dozens of galleries are framed by rugged-mountain views.
"Not only is there no traffic, there's no traffic lights," says Dennis Rowden, who runs Spanish-meets-Western housewares store Pancho's with his interior decorator wife, Lorraine (Tubac Golf Resort & Spa, panchosdesign.com).
While the Western charm is obvious, Tubac's sophistication is a subtler surprise. "People underestimate us," says jeweler Martita Foss, who moved to Tubac last year from southern California to work at the Tubac Center of the Arts, a 4,000-square-foot space for concerts, lectures, and gallery shows (9 Plaza Rd., tubacarts.org). "They may say, 'Oh, it's just an old historic town,' but we're really pretty hip." Foss discovered Tubac on a road trip with friends. "The light is amazing, and the sunsets are phenomenal," she says.
The long wooden porch at the five-room Tubac Country Inn (13 Burruel St., tubaccountryinn.com, from $85) is the perfect place to see the orange-and-red-streaked sky at sundown as it casts its shadow on the area's cacti. Notes Foss: "It's not hard to see why painters and photographers have been drawn here." -- Keith Mulvihill
WALLACE, IDAHO (pop. 1,000)
A place that mines its own history

Preservation and industriousness are key in Wallace, a former mining town in northwest Idaho where every single building (including a brothel that closed its doors in 1988 after pressure from the Feds) is on the National Register of Historic Places. The Oasis Bordello Museum remains trapped in time, from a bra air-drying on a lamp to the list of previously available services (605 Cedar St., 208/753-0801, guided tour $5).
Bicyclists setting off on the roughly 87 miles of area trails fuel up on huckleberry shakes at Red Light Garage, a café decorated with vintage musical instruments (302 5th St., redlightgarage.com, shake $4.50). The café is run by musician turned contractor Jamie Baker and his wife, Barbara, who have made a second career out of restoring Wallace's 100-year-old buildings. Their latest, Hercules Inn, opened to visitors this summer, and each of the four units has a kitchen (15 2nd St., 208/556-0575, from $75).
"Some folks would call this retirement," says Chase Sanborn, who ran a snowboarding-apparel company before opening Wallace Brewing Company, where you'll find him filling kegs seven days a week (610 Bank St., wallacebrewing.com, pints $3). True to the town's roots, he gives the drafts names like Dirty Blond and the Red Light. -- Jason Cohen
SAUGERTIES, NEW YORK (pop. 5,000)
Shop owners extend the welcome mat

Don't be surprised if you're invited into someone's house the minute you set foot in Saugerties, 100 miles up the Hudson River from New York City. Richard Frisbie operates Hope Farm Press & Bookshop out of his converted living room (15 Jane St., hopefarm.com). "We're the book capital of the Hudson Valley," says Frisbie, who often shares anecdotes from some of his 3,500 books, which focus on the region.
It's not uncommon for other shop owners to extend the welcome mat, too. In their two-story 1826 building, chef-owners Marc Propper and Michelle Silver serve homemade brown-sugar ice cream at long, wooden farm tables downstairs at Miss Lucy's Kitchen; upstairs they rent out two warmly inviting apartments, each with a kitchenette (90 Partition St., misslucyskitchen.com, rooms from $150, desserts $7).
Saugerties can feel so much like home for weekenders that some have made it official. On a mushroom-foraging trip in the Hudson Valley, friends Mark Grusell and Juan Romero decided to plant themselves for good and opened Love Bites Cafe, a cozy, 16-seat café with an open kitchen that serves dishes like coconut-carrot French toast with vanilla-citrus butter (85 Partition St., 845/246-1795, $7). -- Thisbe Nissen
MOUNT VERNON, IOWA (pop. 4,671)
Art isn't confined to galleries
In Mount Vernon, about a 20-minute drive east of Cedar Rapids, art isn't confined to gallery walls. As you're driving in on Highway 30, a local artist's rendition of Grant Wood's "American Gothic," splashed on the side of a barn, immediately sets the town's tone. And at an annual sidewalk-chalk festival, which takes place each May, hundreds of people put their stamp on more than 4,000 square feet of the main drag.
"There's a certain amount of culture here that's not as unapproachable as in a larger city," says Matt Steigerwald, a chef from North Carolina who runs Lincoln Cafe, where dishes like the Carolina pork BBQ sandwich draw diners from all over the state (117 1st St. W., foodisimportant.com, $6.50). Due to liquor-license restrictions, the place is BYOB, so Steigerwald opened Lincoln Winebar down the street (125 1st St. W., 319/895-9463).
The unofficial clubhouse for Mount Vernon's creative types is Fuel, a 4-year-old coffee shop that doubles as an antiques store. Some of the shop's sofas, tables, and lamps are for sale, along with everything from ceramic tiles to handmade greeting cards (103 1st St. E., 319/895-8429). -- Thisbe Nissen
JACKSONVILLE, OREGON (pop. 2,750)
A refuge from the tourist whirl of Napa
Just across the border from California, this old gold-rush town is getting its second wind from liquid gold. With 17 wineries in the surrounding Applegate Valley, and a climate that's ripe for growing multiple types of grapes, Jacksonville is a refuge from the tourist whirl of Napa.
Herb Quady is among the residents integral to the burgeoning scene. Quady, whose father, Andrew, produces dessert wines at Quady Winery in Madera, California, opened the Quady North tasting room in April (255 California St., quadynorth.com). "There isn't anyplace in California that's nearly as cute," Quady explains of his move. "We're all about the bucolic southern Oregon life."
The best way to tap in is at South Stage Cellars, which stocks bottles from nine area wineries (125 S. 3rd St., southstagecellars.com). The Garden Bistro at the five-room McCully House Inn & Cottages showcases local growers of a different sort, with food products from 27 area purveyors, including cheese from the goats at nearby Pholia Farm (240 E. California St., mccullyhouseinn.com, rooms from $135).
The lifestyle drew Constance and David Jesser, a chef and a commodities trader, respectively, from Sonoma five years ago to open Jacksonville Mercantile, where the shelves are filled with provisions like black-truffle-roasted almonds, meant to pair perfectly with a bottle of Quady North viognier (120 E. California St., jacksonvillemercantile.com). -- Jason Cohen
ROCKLAND, MAINE (pop. 7,680)
Sophistication mixed with saltiness
You'll find just enough sophistication to balance the saltiness of mid-coast Maine in Rockland, where regional mainstays are reinvented every day. After honing her skills working for Perry Ellis in New York City, Beth Bowley was lured back to Maine four years ago.
"Rockland is filled with folks who've seen what the world has to offer and want to be here," says Bowley, who opened the boutique FourTwelve, which she stocks with clothing and accessories like Sea Bags, made from recycled sails (412 Main St., shopfourtwelve.com, bags from $110).
Down the street at Suzuki's Sushi Bar, Japanese-born chef Keiko Suzuki Steinberger infuses freshly caught lobster, shrimp, and crab with modern Japanese flavors (419 Main St., suzukisushi.com, entrées from $12). Steinberger first came to Rockland to visit a second cousin but stayed after falling for her now husband.
As pleasant as a short visit can be, the real risk of visiting Rockland is that you'll do the same and need to move here for good. It's worth testing the waters by renting a house, on vrbo.com, where you can find 19th-century Capes going for $125 a night. -- Carole Braden
WHITEFISH, MONTANA (pop. 7,723)
Ski bums and urban refugees congregate
After a frenzied stint on Broadway's 42nd Street, actor Luke Walrath was ready for a quieter pace. His actress wife grew up in Whitefish, so the two decided to make it their new home.
"It's at once folksy and stylish," he says of the town, a 35-minute drive southwest of Glacier National Park. The couple cofounded the Alpine Theatre Project, which stages seven shows a year (alpinetheatreproject.org).
At the foot of the Rockies, Whitefish has long drawn adventure seekers. Ski bums and urban refugees congregate over red malty Highlanders at The Great Northern Brewing Company (2 Central Ave., greatnorthernbrewing.com, pints from $3.75).

To live out a rustic Montana fantasy, book a cedar-walled room at Good Medicine Lodge, which feels like a set from "Legends of the Fall" (537 Wisconsin Ave., goodmedicinelodge.com, from $95). -- Kathryn O'Shea-Evans
E-mail to a friend

Get the best travel deals and tips emailed to you FREE - CLICK HERE!
Copyright © 2009 Newsweek Budget Travel, Inc., all rights reserved.
All About Travel and Tourism