By Anto Howard





(Budget Travel) -- In the west of Ireland, the local pub is much more than a place to have a pint. It's a traditional music venue, gossip headquarters, emergency grocery, unofficial tourist office, and, of course, emotional and spiritual retreat. Here are our favorites, in order from the Burren all the way up to Sligo.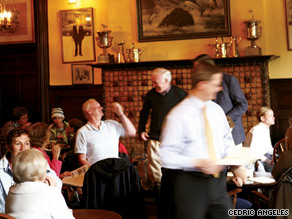 Fisherman's Pub, in Ballynahinch Castle, is where travelers and locals go to meet up and unwind after a day outdoors.
O'Loclainn's
A cozy pub on the edge of the Burren wilderness in County Clare, O'Loclainn's has been in the same family for generations; they started collecting the best Irish whiskey 70 years ago. The desolate, serene Burren and a glass of the good stuff go together in a kind of primal, earthy matrimony. Main St., Ballyvaughan, Co. Clare, 011-353/65-707-7006, irishwhiskeybar.com.
Cassidy's Pub
Opened in 1830 and operated by the same family since then, Cassidy's is housed in a former Royal Irish Constabulary barracks. Its wood-fired pizza oven draws regulars from all over. Take your pint to the back deck and admire the view. Croide na Boirne, Carron, Co. Clare, 011-353/65-708-9109, cassidyspub.com/info.htm.
Galvins
The title of Ireland's best trad music pub would be hotly contested all the way from Cork up to Donegal, but handsome, elegant Galvins might well come top of the pile. Built with stones from the nearby shore, the bar has echoed to the tunes of top fiddlers, box players, and uilleann pipers for generations. Church St., Lahinch, Co. Clare, 011-353/65-708-1045.
O'Dowd's Seafood Bar & Restaurant
O'Dowd's is a classic west coast bar, dating from 1702 and closely connected to the sea and the land. On a sunny day, take a bowl of the fish chowder out to the quay wall and soak up the views of the harbor and the Twelve Bens mountains beyond. Roundstone, Co. Galway, 011-353/95-35809, odowdsbar.com. Budget Travel gallery: The real castles of Ireland
Fisherman's Pub
Like the sunken living room of a sportsman's lodge, Fisherman's Pub, in Ballynahinch Castle, is where travelers and locals go to meet up and unwind after fishing, hunting, or a proper walk around the castle grounds. Recess, Co. Galway, 011-353/95-31006.
Paddy Coyne's
A tiny, no-frills pub in the middle of a stunningly wild, beautiful nowhere called the Renvyle Peninsula, Paddy Coyne's is the core of a scattered rural community. Outside, all may be silent and still for miles around, but open the old doors and it's an intimate riot of Irish music, dancing, and, best of all, Tuesday storytelling nights. Tullycross, Co. Galway, 011-353/95-43499.
Gaynor's
Appearing in the movie "The Field" didn't ruin Gaynor's, in a small town at the top of Killary Harbour. The smell of the open peat is one of the most hypnotic legal fragrances known to man, but it's the view of Ireland's only fjord, between the Mweelrea and Maamturk mountains, that really blows the mind. Leenane, Co. Galway, 011-353/95-42261.
Day's Bar
Little happens on the rugged isle of Inishbofin without John Day and his public house being at the center of it. For over a century, the Days have kept their pier-side hostelry warm and welcoming. By the time you've sunk your third Guinness, you'll have met -- or been told everything about -- half the inhabitants of the island. Inishbofin, Co. Galway, 011-353/95-45829.
Leonard's
The all-in-one roadside pub and grocery shop is a near-dead tradition, but Leonard's, in Larhardane, is one of the finest still in existence. (It also acts as a garage and a funeral parlor!) Pick up the goods for a picnic on nearby Lough Conn before ordering a pint of Guinness. Larhardane, Co. Mayo, 011-353/96-51003.
Shoot the Crows
Small, dark, and usually overcrowded, Shoot is a live-music melting pot that mixes a downtown New York vibe with the unfettered craic (good times) of rural Ireland. It's the spot for late-night reveling. Castle St., Sligo Town, Co. Sligo, 011-353/71-9
E-mail to a friend

Get the best travel deals and tips emailed to you FREE - CLICK HERE!
Copyright © 2009 Newsweek Budget Travel, Inc., all rights reserved.
Note: This story was accurate when it was published. Please be sure to confirm all rates and details directly with the companies in question before planning
All About Travel and Tourism