By Breeanna Hare
CNN





(CNN) -- Wearing white may not be in after Labor Day, but shoulder season definitely is.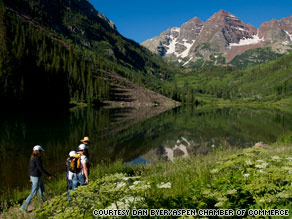 The mountains of Aspen, Colorado, don't have to be covered in snow to provide vacation fun.
Travel industry-speak for the period between peak season and the off season, shoulder season is when smart travelers can snap up unoccupied hotel rooms for a fraction of what they might pay during the summer and walk into trendy restaurants without reservations.
If cost concerns turned your summer into a massive staycation, now's the time to travel without the crowds or the financial guilt.
Sale of the continent
If you're a frequent flier, this is no surprise: There are scads of deals on European destinations as soon as the calendar flips to fall.
"The price drop could be 50 percent off the summer rates," said Michael King of Kansas-based Great Getaways Travel.
You've got places like Spain and Southern France -- typically expensive until the end of August -- that have not only lower rates but great weather until about the end of October, King said.
In Italy, "Florence remains a very good city destination for the fall because it's a smaller destination filled with art, culture and good food, and you do see that fall drop in prices," said Nancy Strong of Strong Travel Services in Dallas, Texas.
Dublin, Ireland, is another travel deal where prices have dropped 44 percent since this time last year, said Heather Leisman, senior director of merchandising at Orbitz.com.
But the biggest plus to European travel in the fall, Leisman noted, is the crowd-free benefits.
"It used to be that you had to book your restaurant reservations in advance, but now you'll have a lot more flexibility. You can show up and get a seat at a trendy restaurant or just walk up and get a spa reservation," she said.
Puerto Rican steals
How did a Caribbean destination make this list smack in the middle of hurricane season? Well, that uncertainty is part of Puerto Rico's price appeal.
"I don't think it's any surprise that hurricanes hit Mexico and the Caribbean in the fall," Leisman said, "but that's what drives down the prices. Puerto Rico is 31 percent less than it was last year."
Before you panic, Puerto Rico is considered to be a year-round travel destination, with a temperature that hovers around 70 degrees. The off-season starts in late spring, but travel experts say the best time to catch that beachside bargain you couldn't find a month ago is in the fall.
Even if the weather isn't cloud-free and balmy, the upside is that there's so much more to the island than its beaches.
"Puerto Rico has a lot of history; there's great shopping, golf, tennis and a lot of water activities," Leisman said.
Hit the mountains
Aspen is one of those destinations that doesn't seem to have an off-season. Popular for its skiing, it's also a hit in the summer months for active travelers. But squeezed in between is a sliver of time where you can enjoy the mountains while minding your budget.
"These mountain destinations are 16 percent less than they were last year," Leisman said. "Most people think of New England when they think of the foliage, but it's beautiful in Colorado. There's horseback riding, climbing and running. In early October and November, they may even get snow, and you can do a little snowshoeing."
The biggest thing, Leisman said, is that "it's not overrun with tourists, and you can get to know the local scene a bit more."
Check out the Aspen Filmfest, which begins September 30, and while you're cruising the local scene, swing by the Aspen Saturday Market to buy from local growers and winemakers. The market happens every Saturday until October 31.
See the Strip
It's not exactly the first locale that comes to mind when you think of fall, but the lag in the business travel industry can be a benefit to your pocketbook as Las Vegas tries to ramp up its leisure market with significant discounts.
"We're looking at rates that are 23 percent lower than they were last year at this time," Leisman said.
Travel to Las Vegas tends to spike around New Year's, so book between September and late November to take advantage of both lower temperatures and lower prices.
Plus, Leisman said, "in addition to the rate reductions, we're also seeing a lot of value added. There's a good chance that you're going to get a dining credit or a spa credit when you book."
Get a piece of the magic
For a family trip, there are few summer destinations that top Walt Disney World. If you'd rather pay the Magic Kingdom a visit without sweat dripping down your back as you wait in endless lines, fall is the time to go.
"I was in Orlando three years ago in November," Leisman said. "It was a dream come true; there were no lines. It's a great day when you don't have to wait in line for two hours for Space Mountain."
Although you may not find any deep discounts to get you there, Leisman said, the park offers a budget break with its meal plan options.
But when Florida's in its shoulder season, said King of Great Getaways, you have to be careful.
"It's a great short getaway, but you have to check the weather before you go," he advised.
Bottom line, when shopping for shoulder season steals, Leisman advises travelers to "do a little shopping and think outside of the box in terms of what kind of vacation you want."
And when you find that dream shoulder season deal? Leisman is adamant: "Book as soon as possible."
E-mail to a friend

All About Italy • Aspen (Colorado) • Las Vegas • Puerto Rico • Walt Disney World Resort