By Katrina Szish
CNN





(CNN) -- In the face of a challenging economy, many would-be summer travelers have cut back on their usual beach getaways. But in New York, the urban tribe of sun and sand worshippers is still hitting the beach: Water Taxi Beach.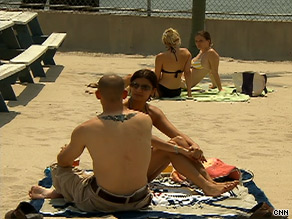 Three sandy stretches in New York have welcomed day-trippers this summer.
With three easy-access, city-side locations, it's a bona fide staycation that is a step beyond the typical fare of museums, zoos and water parks ... and it still allows for plenty of bikinis, beach volleyball and sand between the toes.
"It's just very relaxed and non-commercial," explained Harry Hawk, marketing and entertainment director for Water Taxi Beach. "It's really a reprieve from the situation in Manhattan, with lots of tall buildings."
The original Water Taxi Beach opened in 2005, at the Hunters Point ferry stop in Long Island City, Queens, just across the river from Midtown Manhattan. Tons of white sand -- about 940 of them -- were shipped in from New Jersey beaches, and voila: an instant 44,000-square-foot urban oasis with uninterrupted views of the New York skyline.
According to Hawk, the beach was intended to inspire city dwellers and visitors to get out on the water.
"In the daytime, we have lots of little kids, families and people tanning, coming for a burger or a hot dog, coming to see the view," Hawk explained. "At night, it becomes more like a club."
The concept proved a success. The New York Water Taxi group responded with two additional locations this summer, Pier 17 in the South Street Seaport and Governors Island, each offering a "beach" experience.
Long Island City is known for its no-frills, tiki bar style, complete with life-size electric plastic palm trees, whereas Pier 17 boasts a boardwalk, vibe with skee-ball and mini golf. Governors Island is the ultimate entertainment destination, hosting live musical acts from Erykah Badu to the B-52s.
Each beach has independent hours of operation and entertainment admission fees (many events are free; check the schedules for more information), but they have several things in common: low prices, fantastic food and easy access.
You can travel by train, subway, yellow cab, watercraft, bicycle or car to access the beaches. But if you're hitting Long Island City or Governors Island, the New York Water Taxi offers the most scenic route, providing spectacular cityscape views, best enjoyed from the bright yellow boat's roof deck (tickets start at $5).
Although there are plenty of options, your smartest bet is to buy a hop-on/hop-off pass for one or two days (a one-day pass is $20 for adults, $15 for kids; two-day passes are $25 for adults and $15 for kids). Buy passes on board or at www.nywatertaxi.com.
Not only can you visit all the Water Taxi beaches, you can maximize your exploration and venture to all 10 docking points across the city. It's a fun and easy way to get to some of Manhattan's most famous sights, from Times Square to the West Village to the World Trade Center Memorial.
Water Taxi Beach has some atypical beach rules: no swimming, no pets and no outside food. But you can play beach volleyball and cool off beneath the water-side misting system.

And you won't go hungry: All of the beaches offer plenty of food options, from pulled pork sandwiches ($7) and oysters on the half shell (market price) to award-winning Motz burgers ($6) and vegan soy dogs ($4). They also stock full bars and serve a variety of beers, specialty cocktails, frozen drinks and sangria.
"Food, fun and sand," Hawk said, "it's the Water Taxi Beach motto."
E-mail to a friend

All About Travel and Tourism • New York City