By Breeanna Hare
CNN






(CNN) -- You've done Paris, France, you've done Rome, Italy, and Rio de Janeiro, Brazil. While there's certainly nothing wrong with taking in sights at world-renowned travel locales, there are times when you want to get away from the familiar. Ironically, you don't have to leave your house to get inspired; simply flip on the TV or dip into your DVD collection.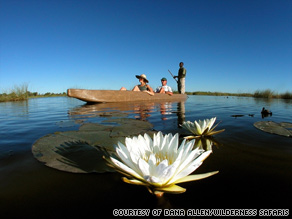 A landlocked country that is dominated by the Kalahari Desert, Botswana still boasts scenic rivers.
Quite a few directors have used lesser-known corners of the world that not only make for movie magic, but also double as potential cultural excursions.
Tony Reeves, author of "The Worldwide Guide to Movie Locations," discovered that during his research.
"The location is often the jumping-off point for a whole new experience," Reeves said. "In Southern Tunisia, in the desert towns well away from the coastal resorts used by George Lucas for the 'Star Wars' prequels and for 'The English Patient,' hearing the distant call to prayer from countless mosques in the early morning darkness was unforgettable."
Reeves admitted that it takes detective work to uncover film locations, so if you're not in the mood to do your own digging, consider these visually stunning and culturally vibrant candidates for your next vacation.
Gaborone, Botswana
Botswana, a small African nation better known for sharing a border with its neighbor, South Africa, is now getting its moment in the spotlight because of HBO's critical success, "The No. 1 Ladies' Detective Agency."
The show has heightened awareness, said Leslee Hall, a spokesperson for the Botswana Tourism Board. "People are interested [in the show], but they're interested in more than that. It's made people more curious about what people can see and do [there]."
Gaborone, the capital city that lies in the southern part of the country where "No. 1 Ladies'" is set, is quickly developing to match the newfound interest. Walking tours of the arid city are in abundance and there's a sprinkling of nightlife. But, Hall said, "As an international traveler, you wouldn't make your whole trip the capital city." Hall recommends stopping through Gaborone on the way to see the wildlife Botswana is known for.
Chobe National Park, which is the second largest in the country, is home to one of the largest concentration of game on the continent. An ecological mix of green plains, marshland, swamps and dry desert, lions, giraffe, zebra and especially elephants roam on the park's grounds.
"Botswana has a slightly different attitude when it comes to tourism," Hall said. "Environmental conservation and tourism is very intertwined. It's a country where wildlife remains supreme, roaming in unfenced parks. And when you go there, you're not one of the masses; your safari experience is intimate."
Hall said that while the Botswana safari is good for families and single adults alike, that intimate experience comes at a premium and isn't recommended for the budget traveler.
Anji, China
Despite the fame 2003's martial arts film "Crouching Tiger, Hidden Dragon" may have brought to the region, Anji is still far from what most think of when they consider vacationing in China.
American expat turned Chinese-culture blogger John Pasden, who traveled to Anji with his wife in April 2008, agrees. "Places like Hangzhou and Yangshuo definitely come to mind first," he said. "But that's part of its appeal; it's not nearly as highly trafficked, so it has a reputation for being fairly quiet and a little off the beaten path."
Known for its lush scenery and miles of bamboo forest, Anji is a serene place for a brief visit, particularly if you're interested in visiting nearby Hangzhou and Huangshan, Pasden said. If you plan to make this trek, though, it's imperative to do thorough research.
"There are many forums online for reading about others' travel experiences, so make use of them," Pasden said. "Chinese friends can be very helpful, but you need to make sure that your ideas of a 'nice trip' don't differ too greatly."
Anji is also not a trip for the Chinese cultural newbie. "English won't get you as far in Anji as in other parts of China. If you don't prepare some basic Chinese, you will definitely struggle. Keep in mind that with all the mountains and winding roads, it's also fairly easy to get lost in the area."
But, if you've found yourself pulled in by the incredibly green surroundings depicted in "Crouching Tiger," the effort could well be worth it. "The scenery is definitely the main draw," Pasden said. "There are mountains and temples as well as scenic streams and rivers."
Roundstone, Ireland
Tucked away on the West side of Ireland, Roundstone is an easy-to-miss destination -- unless, of course, you've seen "The Matchmaker." The 1997 film featuring Janeane Garofalo was shot on location, and while it's certainly a tribute to the beauty and culture of the town, it's not the only reason to go there, said travel blogger Carrie Pierson.
Pierson traveled to Roundstone in 2007, partly because of the film and partly on the recommendation of a backpacking friend, and she calls it the highlight of her travels.
A seaside village along the Atlantic, Roundstone is made of a few narrow streets and plenty of green, rolling hills, as well as incredible hospitality. Since Roundstone is also the site of numerous festivals in the summer, the town is welcoming to travelers.
Pierson and her friend kept busy by taking hikes, driving off in their rental car to view nearby villages, taking in the picturesque scenery and getting their fill of great eats.

"The most surprising high point was the food," she said. "I had been warned against it, but [it was] absolutely the best food I've had in my travels. We tried to capitalize on the fact that it was a fishing village, and we went for the mussels, the trout, and the fish soups."
Pierson suggests plenty of planning for a Roundstone trip, and to not be afraid to contact local businesses with any questions. Since the laid-back village is so small, it only gets a paragraph in most guidebooks and cursory reviews online. "The best resource was the community's Web site," Pierson said.
E-mail to a friend

All About Travel Destinations • Botswana • China • Ireland