By Eileen Ogintz
Tribune Media Services





(Tribune Media Services) -- Come on. Let's have some fun. We deserve it.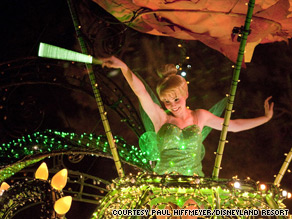 Even adults can be captivated by Disney magic.
Ignore those office e-mails, forget all about the economy and for an afternoon focus instead on what's really important, especially on vacation -- making memories with the kids.
Judging by the crowds on a recent sunny day at Disneyland and its sister California Adventure Park in Anaheim, a lot of families have decided to do just that, getting every dollar's worth out of the day and ending triumphantly with the nighttime fireworks show "Magical."
"To have the kids having such a good time, it's absolutely worth it," says Virginia Martinez, who has brought four kids ages 10 to 15 from Las Vegas, Nevada. "Disney is fun no matter how old you are," she says.
"How can you not have fun when Goofy walks right in front of you," adds Amy Rosen, who lives in nearby Venice, California, and is here with extended family from the Midwest.
I look around at little girls with Tinker Bell painted on their faces, boys in pirate hats, dads sporting Grumpy shirts, grandmas pushing strollers and everyone slurping frozen lemonade, laughing, trying to eat Mickey shaped ice cream bars before they melt, saying calories be damned with churros, cotton candy and giant turkey legs.
People even seem to be in good moods on the lines. Yes, despite FastPass technology that allows you to swipe your ticket and return at an appointed time for the attraction, there are still lines and every ride doesn't have FastPass.
We wait nearly an hour for Toy Story Mania, where you wear 3-D glasses while playing 4-D carnival games. "Definitely it was worth the wait," says 14-year-old Brenda Rodriguez, who shares my car and beats me royally. She's celebrating her birthday. I know because she's wearing a big button that says so and she got free admission. (Come on your birthday for 2009 and get in free.)
Don't Miss
Megan O'Rourke, 14, from San Antonio, Texas, acknowledged her favorite part of the day was her picture with all of the Disney princesses, while Seattle grandmother Janet Lee loved riding Splash Mountain with her 12-year-old granddaughter. They'd come for a special girls' weekend, she said. "She'll only be 12 once," Lee added. "This is our time together."
Especially this summer, maybe we all need a little dose of The Happiest Place on Earth. When Walt Disney conceived Disneyland -- it opened on July 17, 1955 with 18 attractions -- his intent was to create a place where adults and kids, including Disney and his two daughters, could have fun together. Today, there are all types of families here -- moms with their kids, multigenerational families, single dads with their kids, grandparents and grandkids.
Colorado trucker Mike Carson, a single dad, said he hopes to make a summer visit with his 13-year-old daughter an annual tradition. "We're pooped but we're having the time of our lives," he said.
Yes, Disneyland is exhausting and expensive (just getting through the gate will cost a family of four more than $250), but there are many deals available, including free hotel nights and free park admission. If you plan to hit several Southern California attractions, check out the substantial discounts from www.citypass.com.
But it is also an ideal place to be a kid -- no matter what your age. Three-D glasses perched on their noses, my daughter Mel and her friend Orlee laugh at The Muppets' very funny antics -- enhanced by the special effects -- at the Muppet Show at Disney's California Adventure.
But unlike a lot of the kids in the audience, these two girls aren't preschoolers. They're 18 -- newly minted high school graduates. That doesn't mean the fun quotient is any less, they say, even with mom tagging along.
As we make our way through California Adventure, memories come flooding back of past visits here and at Walt Disney World in Orlando: The time 2-year-old Mel cried when Chip and Dale got too close, the time her older brother and sister talked her into riding Space Mountain when she barely made the height requirement and she was so proud of herself. She reminded me of the time I was more scared than she was on the Tower of Terror (I skipped it today).
But one thing hasn't changed. When the girls had enough, we decamped for the hotel, just as we did when a much younger Mel needed a nap -- or her parents did. Later, we meet up with some Southern California relatives for a decidedly grown-up dinner at the Grand Californian Hotel's award-winning Napa Rose restaurant. This being Disneyland, there are plenty of kids chowing down on (petite) tenderloin, mashed potatoes and pasta with four-cheese sauce while parents enjoy the gourmet fare (Braised Alaskan Halibut perhaps?)
The girls rush out before the main course to California Adventure (right next door) to ride Soarin' Over California, the virtual hang-gliding tour over California's landmarks, taking advantage of the FastPass that allows them to return without waiting in line. Back for their steaks, they report the ride lived up to the hype.
They forgo dessert for the chance to ride their childhood favorites at Disneyland, a short walk away -- Pirates of the Caribbean, Space Mountain, Small World and to catch the fireworks featuring music and favorite Disney characters.
This trip, I won't be carrying a sleeping child through the park after the show (Sorry, Tinker Bell!). I'm the one who is exhausted and tell the kids I'm going to bed. They laugh and head out on their own for one more taste of magic.
At breakfast the next morning, they cozy up to Chip and Dale for photos. (No tears this time, just embarrassed grins) and report that when they came out of their last ride, the fireworks had just started.
"Perfect," said Mel.
Thanks, Mickey.
E-mail to a friend

(For more Taking the Kids, visit www.takingthekids.com, where Eileen Ogintz welcomes your questions and comments.)
Copyright 2009 EILEEN OGINTZ, DISTRIBUTED BY TRIBUNE MEDIA SERVICES, INC.
All About Family Travel • Disneyland Resort