By Karen Cicero





We know your summer vacation time is precious: You want to land where you can truly relax, breathe fresh air, get in some exercise and eat well -- without breaking the bank. That's why we teamed up with a panel of travel and health experts to help us find the healthiest of the nation's most popular beach and lake towns.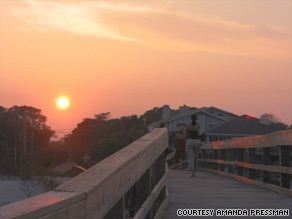 Georgia's Tybee Island boasts a gorgeous 3-mile stretch of beach.
They evaluated air and water quality, the abundance of parks, the cost of a hotel room and more to zero in on the top 10 healthiest getaways. When you're ready for that much-deserved vacay, you won't go wrong with one of these 10 shore bets.
1. Tybee Island, Georgia
A barrier island about 18 miles east of Savannah, low-key Tybee boasts a 3-mile stretch of beach that our judges labeled "magnificent," complete with gorgeous water. "The beaches here rarely have water-quality problems," says panelist and water-quality expert Nancy Stoner, who is very picky about where she dips a toe in.
Exercise is a way of life on Tybee -- from sunrise yoga classes to biking. "You can leave your car parked and bike just about anywhere on the tiny island," says judge Elizabeth Joy, MD, a family and sports medicine physician. And if you forget your gear, just rent a ride from one of the bike shops. Health.com: How we picked the winners
The island also has the least expensive lodgings, on average, of all the towns on our list. And its eateries serve up an abundance of good-for-you fare like fish tacos, salads and veggie-filled sandwiches. "The restaurants serve simple, heart-healthy dishes," says judge Ruth Frechman, RD, a spokeswoman for the American Dietetic Association.
Stay here: Rooms at the 17th Street Inn (starting at $125 per night) have full kitchens, so you can make your own healthy meals. Want to be near the beach? You can't get closer than the Desoto Beach Hotel (starting at $179.95 per night).
2. Coronado, California
The West Coast has no lack of beach towns. But this one, about 2 miles from San Diego, is "a little slice of heaven," says judge and travel agent Lois Howes. The beach is wide, clean and uncrowded. Health.com: Five essentials for a safe day in the sun
There are plenty of ways to get in exercise, too. "You can try surfing lessons or stick with favorites like tennis or biking," Dr. Joy says. Even the fast food here has a nutritious twist -- at Burger Lounge the patties are made with grilled turkey or organic quinoa. And trans fats are banned in all the restaurants.
Stay here: With childproof rooms, jogging strollers to borrow, and a separate concierge desk for kids, the Loews Coronado Bay Resort (starting at $249 per night) is about as family-friendly as it gets. Not bringing kids? The historic Glorietta Bay Inn (starting at $185 per night) is just a block from the beach.
3. Monterey, California
Talk about a breath of fresh air. "There's very little particle pollution or smog here," panelist Janice Nolen of the American Lung Association says. Plus, smoking is banned on the beach. (Smoking is also banned in Coronado, California, and Zephyr Cove, Nevada.)
Our judges gave Monterey a thumbs-up for being a national marine sanctuary, where you can scuba dive, kayak or sail alongside humpback and blue whales. "Seeing the animals brings a new joy to water sports," judge Howes says. Monterey also features a waterfront recreation trail and restaurants that serve sustainable seafood. Health.com: 16 ways to stay in shape on vacation
Stay here: The fitness concierge at the Hyatt Regency Monterey Resort and Spa (starting at $209 per night) will give you running maps of the area and arrange active trips. A cheaper option is Casa Munas (starting at $160 per night), where there's always free fresh fruit and water in the lobby.
4. Osage Beach, Missouri
Osage Beach is on the Lake of the Ozarks, the most popular summer-vacay spot in the Midwest. But you won't feel crowded: The lake has 1,150 miles of shoreline. The free public beach at Lake of the Ozarks State Park in Osage Beach stood out for its fishing, kayaking and sailing, and its scenic backdrop of rolling hills and limestone bluffs. "The view is so spectacular, you won't want to leave," judge Howes says. Health.com: Meet the judges
If you do manage to pry yourself from the park, you can play a round of golf, pick up fresh fruit at one of the many roadside stands or check out nearby Spa Shikia at the Lodge of Four Seasons.
Stay here: Bringing the kids? Tan-Tar-A Resort (starting at $100 per night) has two golf courses, an indoor water park, Jet Ski and paddleboat rentals, plus horseback riding. A great B&B alternative is The Inn at Harbour Ridge (starting at $109 per night), where you can swim or fish right off their dock.
5. Hilton Head Island, South Carolina
If you're a golf nut, Hilton Head is for you. There are 20 public golf courses to choose from. But there's plenty to do for non-golfers, including 12 miles of beaches, 200 tennis courts and 75 miles of bike paths. You can even paddle kayaks through salt marshes and lagoons. "It's a fitness enthusiast's dream come true," Dr. Joy says.
For food, "Local fish is very popular here," panelist Ruth Frechman, RD, says. "Some chefs go out of their way to buy produce from farmers in the area." Great spots to try: Signe's Heaven Bound Bakery and Café, which serves veggie sandwiches on its homemade eight-grain bread, and River House, where produce comes from organic or small farms.
Stay here: A gorgeous white-sand beach faces the Westin Hilton Head Island Resort and Spa (starting at $229 per night). Not in your budget this year? The Holiday Inn Oceanfront is about $50 less per night and has a 24-hour fitness center on-site and bike paths nearby.
6. Zephyr Cove, Nevada
This town on the southeastern shore of Lake Tahoe got oohs and ahhs from the judges because of its beaches. The widest, Nevada Beach, spans more than three football fields and is dotted with picnic tables. And the water is so clear at all of Zephyr's beaches that you can see 78 feet beneath the surface.
The view above water is spectacular, too. "You're not looking at beach condos --the Sierra Nevada mountains are right there," judge Howes says. And don't worry about bringing a bunch of gear. You can rent kayaks, parasails, paddleboats, Jet Skis and other water equipment from many of the marinas in the area.
Visit Sprouts Natural Foods Café, in nearby South Lake, California. It serves up fresh-squeezed juices, hummus melts and brown rice bowls.
Stay Here: Zephyr Cove Resort (starting at $219 per night) sets up volleyball courts on its strip of beach. If you don't mind staying about a mile away from the water, try the bungalow-style lodging at picturesque Pine Cone Resort (starting at $110 per night).
7. Bonita Springs, Florida
Calling all beachcombers! Our judges rated this town, which is midway between Naples and Fort Myers, as having the best sand anywhere. "It's like talcum powder," Howes says. "Your feet feel like they're getting a spa treatment when you walk on it. I could go for miles and miles."
If you have kids with you, stick around for high tide in the afternoon, when seashells wash ashore. Families can take a guided canoe excursion, swim in the calm Gulf waters, or explore the area's parks (1,500 acres of them). You have to look a little harder for healthy-food options. One spot our judges liked: Crispers, which offers healthy salads, even for kids.
Stay here: Hyatt Regency Coconut Point Resort and Spa (starting at $149 per night) has its own climbing wall, around-the-clock fitness center and volleyball games. If you don't need all that, opt for Bonita Beach Resort Motel (starting at $62 per night), where you get a kitchen, too.
8. Wailea, Hawaii
The clarity of the ocean in Wailea, on Maui's southern coast, makes for incredible snorkeling. There are places to rent gear all along the beach; just go early for the best chance to catch a glimpse of sea turtles and butterfly fish. Or you can set up a trip with Hawaii Sailing Canoe Adventure to go snorkeling in deeper waters.
The Wailea Golf Club has three award-winning courses -- and the town's tennis club has 11 courts and offers lessons. But the feature activity is biking 38 miles down Haleakala, a nearby dormant volcano. "Because there are paved trails, anyone in reasonable shape can do it," Dr. Joy says. Plus, there are lots of seafood options, and breakfasts come with tropical fruit.
What's not to love about Wailea? The room rates, which are the highest of all the towns on our list.
Stay here: For a total splurge try Grand Wailea Hotel and Spa (starting at $480 per night). It has an outdoor water park with rope swings, tons of slides and a sandy-bottom pool. And at the Wailea Grand Champion Condos (starting at $210 per night), you can see the golf course from your balcony.
9. Kelleys Island, Ohio
If you're looking for seclusion, this is it. This 4-mile island in Lake Erie has just 367 year-round residents and is only reachable via a 20-minute ferry ride from Marblehead and Sandusky, Ohio (unless you hire a private boat or small plane).
You can bike everywhere, hike in the wooded areas or bring your own scuba gear to explore the offshore shipwrecks. The beach at the state park is cleaned daily and has a play area for pets.
Kelleys Island Wine Company has al fresco dining with salads and healthy pizzas. "I love the fact that the owners grow their own herbs on site," Frechman says. Right on the water, Captain's Corner serves its club sandwich on whole-grain bread and has local fish dishes.
Stay here: With just 31 rooms, the new Kelleys Island Venture Resort (starting at $195 per night) is the biggest place to stay here. B&B options like Eagle's Nest cost around $100 per night.
10. Provincetown, Massachusetts
This outermost tip of Cape Cod had the highest score in water quality of all our towns. "Both beaches, Herring Cove and Race Point, passed every water-quality test with flying colors," judge Stoner says. Both offer kayaking, sailing and even sand-dune hiking.
The town is bike-friendly, too. So why did it come in at number 10? The hotels are on the expensive side, and there weren't as many healthy-food options.
Stay here: At the Land's End Inn (starting at $305 per night), you can have breakfast overlooking the water. The Anchor Inn Beach House (starting at $195 per night) will set up gear rentals and water excursions.
E-mail to a friend

Enter to win a monthly Room Makeover Giveaway from MyHomeIdeas.com
Copyright Health Magazine 2009
All About Travel and Tourism • Exercise and Fitness • Diet and Nutrition