(Budget Travel) -- This summer, the key words are "quick" and "easy." But you still want a trip that delivers. So, hit the road! These seven drives are real getaways -- even if they take you only a few hours from home.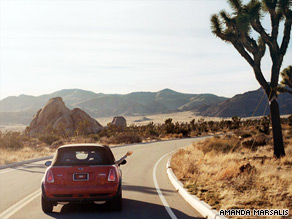 Joshua Tree National Park, located 140 miles from Los Angeles, stretches across 800,000 acres.
LONG BEACH ISLAND, New Jersey
100 miles from New York City
Retro surf towns with pastel beach houses and low-lying diners are strung along a broad central boulevard on Long Beach Island, a nearly 20-mile-long barrier isle off the southern Jersey Shore.
Highlights: At Tiki Taco in Surf City, beef or chicken tacos come with salsas given names like "riptide red" (609/494-3227).
Brave the Sea Dragon, a swinging ship at Fantasy Island, a vintage amusement park in Beach Haven that has a century-old carousel (609/492-4000). The island's best sweet treats -- such as chocolate gelato -- tempt beachgoers at Chocolate Bar nearby (609/492-2577).
Overnight option: Daddy O is a 4-year-old boutique hotel in Brant Beach with 22 modern rooms accented in steel and leather (609/361-5100, from $99). Budget Travel: See photos of these perfect summer getaways
Driving tip: If the Garden State Parkway jams, exit on Highway 9 in Toms River and then head south 20 miles to Route 72, which connects with the causeway.
En route: A 24-foot, 200-pound surfboard marks the entrance to the Ron Jon Surf Shop in Ship Bottom, where you can snap photos and rent gear (609/494-8844). -- Sara Morrow
TYLER, Texas
98 miles from Dallas
Antebellum mansions from the 1800s line the brick streets of Tyler, an old railroad town in the swath of east Texas known for its piney woods -- and its tasty barbecue.
Highlights: Tyler is the "Rose Capital of America," and at the 14-acre Municipal Rose Garden there are nearly 40,000 bushes showcasing 500 distinct varieties, including lines dating back to 1867 (903/531-1213, free).
At the 50-year-old Stanley's Famous Pit Bar-B-Q, the over-the-top Brother-in-law sandwich features a grilled hot link with pulled pork and cheese on a toasted bun (903/593-0311, entrées from $4.75).
Local musicians play old country music favorites at The Gladewater Saturday Night Opry, a barnlike dance hall that comes alive on weekends (903/845-3600, $8).
Overnight option: On Tyler's outskirts, Kiepersol Estates is a winery and inn run by South African expat Pierre de Wet and his daughter Marnelle de Wet Durrett; it serves the area's best filet mignon (903/894-3300, from $140).
Driving tip: Skip Interstate 20 in favor of the more scenic Highway 80, which travels through the tiny 19th-century town of Mineola.
En route: Kitchens, a century-old hardware store and deli in Mineola, sells wrenches and blackberry cobbler (903/569-2664). -- Geraldine Campbell
WHIDBEY ISLAND, Washington
25 miles from Seattle
A zigzagging isle on the northern edge of Washington's Puget Sound, the 45-mile-long Whidbey Island is a rural patchwork of pine forests and small family farms, some of which have been passed down from one generation to the next since the 1850s.
Highlights: Overlooking Penn Cove in Coupeville, the island's main settlement, brothers Doug, Jerry and Tom Kroon run Knead & Feed, a wood-paneled bakery-café that serves shrimp bisque and fresh slices of pie -- the fillings change daily (360/678-5431).
A few doors down, at Mosquito Fleet Chili, husband-and-wife owners Chris and Rita Tomayko make spicy chili using local beef (360/678-2900).
The island's agricultural traditions are protected within the borders of the 17,400-acre Ebey's Landing National Historical Reserve, where local farmers continue to till the rich soil (360/678-6084). The park's eastern shore has open views of the Olympic Mountains to the south.
For dinner, splurge on Penn Cove mussels steamed in wine at The Oystercatcher (360/678-0683, entrées from $20).
Overnight option: Original log walls, beamed ceilings and stone fireplaces adorn the 102-year-old Captain Whidbey Inn (360/678-4097, from $94). Choose from among the 12 rooms in the main house (all with shared bath) or one of 4 one-bedroom cabins scattered around the grounds -- all with views of the water.
Driving tip: It's a 30-minute ferry ride from the dockside town of Mukilteo to the island. Traffic is heavy on Fridays, so leave in the morning or, better yet, linger over dinner in Seattle. The ferries run until 1 a.m.
En route: Next to the dock on the mainland, Ivar's Mukilteo Landing draws locals with its extensive wine list and views of Possession Sound (425/742-6180, ivars.net). -- Kimberly Brown Seely
LAKE RABUN, Georgia
104 miles from Atlanta
Circled by blooming dogwoods, Lake Rabun sits on the southern slope of the Blue Ridge Mountains, where Georgia and the Carolinas meet.
Highlights: Rent a canoe from Rabun BoatWorks (706/982-0402, half day $40) or raft the Chattooga River with Nantahala Outdoor Center (888/905-7238, from $89).
At Tallulah Gorge State Park, sign up for a night trek across the wooden suspension bridge (706/754-7981, free).
Overnight option: A 1922 cedar lodge, the spruced-up Lake Rabun Hotel has a restaurant that serves fresh wild striped bass (800/398-5134, from $109).
Driving tip: Beyond the suburbs, as the mountains come into view, look for white-tailed deer off the road.
En route: For a hearty fried-chicken lunch, head to Shirley's Sole Food Café in Toccoa, 25 miles to the south (706/297-7739). -- Marcia Langhenry
JOSHUA TREE, California
140 miles from Los Angeles
Beyond the eastern edge of the Los Angeles metro area's seemingly endless sprawl is Joshua Tree National Park, where the Mojave, Sonoran and Colorado deserts merge into a terra-cotta landscape studded by the area's spindly namesake trees (seven-day pass $15 per car).
Highlights: Of the three gates that lead into the vast 800,000-acre national park, the one in the town of Joshua Tree, about 25 miles south of Route 62, gives you the most convenient access to the best sights. Here, the road winds through a rugged terrain composed of Joshua trees and granite towers.
The park has more than 700 species of plants -- including fan palms, mesquites and creosotes -- but one of the most remarkable is the teddy-bear cholla, so called for its coat of thin white needles that resemble fur. Walk the sandy quarter-mile trail through the Cholla Cactus Garden, just off the main road, and you'll see hundreds of these glistening plants stretching to the horizon.
About 30 miles to the west is Keys View, a 5,100-foot bluff where you can take in the Santa Rosa Mountains and, on a very clear day, see all the way to Mexico. To go off-road, sign up with Desert Adventures for a three-hour Jeep trip into the backcountry during sunset, with stops for stargazing, medicinal plant hunting and coyote tracking (888/440-5337, from $139).
Overnight option: Sagewater Spa in Desert Hot Springs, about 30 minutes from Joshua Tree, has the cure for an aching tailbone: clear mineral pools heated to 90 degrees. The simple modernist inn also has seven boxy, whitewashed rooms equipped with kitchenettes.
Rhoni Epstein and Cristina Pestana, from Boston and Brazil, respectively, run the spa and often welcome guests with caipirinhas, a light Brazilian cheese bread called pão de queijo and fresh-baked coffee cake from a recipe that Epstein inherited from her grandmother (760/220-1554, two-night minimum, rooms from $175).
Driving tip: Much of the ride from L.A. consists of suburbs and traffic and various combinations thereof. Get out of town by noon for maximum rush-hour avoidance.
En route: Grab a classic date shake at Hadley Fruit Orchards, a shop in Cabazon that's run by the Morongo Indians (800/854-5655, from $3.50). -- Adam Graham
PLUM ISLAND, Massachusetts
42 miles from Boston
Wooden walkways wind through protected dunes, tidal flats and marshlands on Plum Island, an 11-mile-long barrier island off the northern coast of Massachusetts that sits at the mouth of the Merrimack River.
Highlights: A variety of shorebirds make their summer homes at the Parker River National Wildlife Refuge. Drive or bike the six-and-a-half-mile road through the park, or walk the wooden, one-and-a-half-mile Hellcat Interpretive Trail.
Signs identify some of the 350 species of birds that inhabit the area, such as yellow-capped bobolinks and the bufflehead duck, in addition to plants like the beach plum, from which the island gets its name.
Local lobsterman Bob Hartigan is the man behind Bob Lobster (978/465-7100). Pick up one of his signature lobster rolls and then take a seat at a table overlooking the river to scan the sky for birds. It's BYOB -- beer and binoculars.
Overnight option: A number of historic clapboard B&Bs, some dating back to the colonial era, line Newburyport's redbrick lanes; one of the best is the 19th-century Essex Street Inn, which has 37 rooms with cherry four-poster beds (7 Essex St., 978/465-3148, from $100).
Driving tip: Avoid Interstate 95 in favor of Route 1A, which takes on a vintage New England vibe after making its way through the busy seacoast cities of Revere and Salem.
En route: Make a seafood stop in Ipswich, 30 miles south of the island, at the Clam Box, known for its building, which resembles a takeout container (978/356-9707). -- Meg Lukens Noonan
GREAT RIVER ROAD, Missouri
88 miles from St. Louis
On the western banks of the Mississippi River, Highway 79 -- one of several scenic byways known collectively as the Great River Road -- is dotted with old steamboat towns that attract artisans, bird-watchers and lovers of all things Mark Twain.
Highlights: Find rustic rockers made of durable Missouri willow at The Bent Tree Gallery in Clarksville (660/425-2131). The Eagle's Nest Bistro in the town of Louisiana pairs French cuisine with hearty local vintages from its winery (573/754-9888, entrées from $10).
In Hannibal, upriver, the Mark Twain Boyhood Home & Museum displays the signature white jacket that belonged to Huck Finn's creator (573/221-9010, $9). Down the street, Twain-happy tourists linger over coffee at Java Jive, run by local potter Steve Ayers (573/221-1017).
Overnight option: Cedarcrest Manor, in Clarksville, is a restored 1840s mansion with antique-filled rooms that overlook the river (573/242-3310, from $150).
Driving tip: Riding through the clogged St. Louis suburbs is a necessary evil; head out in mid-morning when traffic ebbs.
En route: Between the towns of Louisiana and Hannibal, see wading birds ply the marshes at the Ted Shanks Conservation Area (573/754-6171). -- Rachel Young
E-mail to a friend

Get the best travel deals and tips emailed to you FREE - CLICK HERE!
Copyright © 2009 Newsweek Budget Travel, Inc., all rights reserved.
Note: This story was accurate when it was published. Please be sure to confirm all rates and details directly with the companies in question before planning your trip.
All About Travel and Tourism