(Budget Travel) -- Face off with a giant croc! Ride the world's fastest coaster! And seven more of the season's greatest adventures.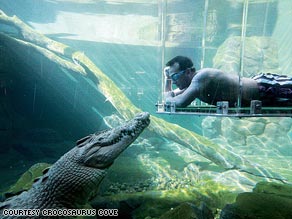 Get up close with a crocodile at Crocosaurus Cove in Darwin, Australia.
Zip line, Maui, Hawaii
At Piiholo Ranch, a working horse and cattle ranch on Maui, Hawaii's longest zip line takes you screaming over guava trees and gulches filled with native ferns. Part of a five-line tour, Line 5, which measures more than a half mile, even takes in a glimpse of the island's north shore. 808/572-1717, piiholozipline.com, $190. -- Carolina A. Miranda
Rain forest sledding, Ocho Rios, Jamaica
To train for the 1988 Winter Olympics in Calgary, the famed Jamaican bobsled team resorted to careering down the island's Blue Mountains in a modified pushcart. To relive the team's experience, head to Mystic Mountain, an eco-themed park on the country's north coast. Here, thrill seekers hop into a bobsled on rails that tears through tropical forest and down a 3,200-foot track that, at one point, drops 400 feet at almost 30 mph. 876/974-3990, rainforestbobsledjamaica.com, $62. -- Sara Morrow. Budget Travel: See photos of these summer thrills
Crocodile close-ups, Darwin, Australia
Meet Choppa, an 18-foot croc who can shred a bull shark with his jaws. At Crocosaurus Cove aquarium, visitors spend 15 heart-pounding minutes in his tank, the Cage of Death. A sturdy acrylic panel separates you from the 1,700-pound reptile -- but that doesn't make the experience any less terrifying. 011-61/8-8981-7522, crocosauruscove.com, admission $18.50, Cage of Death $79, reservations required. -- JD Rinne
Rock and Roll Dreams, London, England
Crackling amps, glaring lights, the roar of the crowd: Most of us will never know the euphoria of strutting around stage like a superstar. But at London's British Music Experience, you can come close. The 20,000-square-foot interactive exhibit, open since March, has a room full of instruments where you can record your own hits and a studio where footage of you gets spliced into a music video. The grand finale: a room decked out in wall-size video screens, showing excerpts of concerts by the likes of Bowie and the Rolling Stones. 011-44/844-847-2477, britishmusicexperience.com, adults $21, kids under 16 $17. -- Alison Rohrs
Tiger tug-of-war, Tampa, Florida
Twice a day, up to six visitors to Jungala, a four-acre animal attraction at Busch Gardens in Tampa, get to play tug-of-war with one of the park's 11 Bengal tigers (with the 300-pound beast safely behind a double-mesh fence). Not surprisingly, the tigers have maintained a flawless record -- the feistiest feline, a male named Bhutan, usually wins in about a minute. 888/800-5447, buschgardens.com, adults $70, kids 3 to 9 $60. -- Amy Chen. Budget Travel: More summer thrills
Defy gravity, Nashville, Tennessee
Channel your inner Neil Armstrong at the Sudekum Planetarium in Nashville, where the new Space Chase wing has two activities that simulate the weightless feeling of space. Guests buckle into a harness and, in minutes, are hurtling above the surface of the moon or alongside a spacecraft. 615/862-5160, sudekumplanetarium.com, adults $11, kids under 12 $9. -- Beth Collins
COASTER WATCH
On the rails of the newest adrenaline-pumping rides.
The Diamondback, Mason, Ohio
Named for a deadly viper, this beast opened in April at Kings Island, near Cincinnati. It has 10 vertical drops spread out over 10 acres, but the real thrill is the open-air vehicle itself, with individual stadium-style seats and no sides. 800/288-0808, visitkingsisland.com, adults $32. -- Danielle Lipp
Ring Racer, Nürburg, Germany
One of pro racing's toughest tracks, the Nürburgring will also, come July, feature the world's fastest coaster -- a monster that can hit 135 mph in under three seconds (and that kicks off near the real track's finish line). 011-49/2691-3020, nuerburgring.de, adults $26. -- Mike Iveson
Terminator Salvation, Valencia, California
Debuting along with the latest Terminator movie in May, the new ride at Six Flags Magic Mountain weds the creaky terror of an old wooden coaster with high-tech effects. Expect five gut-scrambling plunges and speeds of up to 55 mph. 661/255-4100, sixflags.com, adults $60. -- DL
E-mail to a friend

Get the best travel deals and tips emailed to you FREE - CLICK HERE!
Copyright © 2009 Newsweek Budget Travel, Inc., all rights reserved.
Note: This story was accurate when it was published. Please be sure to confirm all rates and details directly with the companies in question before planning your trip.
All About Travel Destinations • Travel and Tourism