By Steve Kastenbaum
CNN





NEW YORK (CNN) -- It's the time of year when crowds flock to the Hamptons, but business owners are wondering whether the recession has cooled off the hot getaway destination for the rich and famous.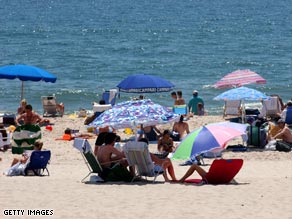 The Hamptons, a traditional summer spot for the rich and famous, is feeling the pinch of the recession.
Sales of homes over $5 million, considered high-end real estate on the east end of Long Island, New York, are down dramatically. Sales dropped almost 64 percent in the first quarter of 2009, compared with the previous year, according to the Prudential Douglas Elliman Real Estate Market Report. The report also states overall home sales were down 49 percent.
Still, some people are spending big to stay in trophy beachfront properties. Houses that didn't find buyers over the past few months are now on the summer rental market, and that's where the action is, according to Dottie Herman, Prudential Douglas Elliman CEO and president.
"I can't reveal the client, but I can tell you that there was, and again this is not the norm, but there was a rental done in the Hamptons for $900,000 for two months," Herman said.
Deals can still be found in a market that is usually locked up several weeks before the Memorial Day weekend.
"Usually, you could very rarely get a rental for less than a month. Now you're seeing people rent for a week or two weeks," Herman said.
For some people, summers in the Hamptons are defined not only by where they stay, but also by what they do there. Many people familiar with the A-list party scene predict subdued affairs this year.
"I think you'll find most people will downplay their fun. It will be more about walks and biking and beaches," said restaurateur Andrew Chapman.
Annual polo matches and headline-grabbing fundraisers will still take place this summer, but planners say menus will be toned down with barbecues replacing gourmet fare.
Chapman hopes visitors to the Hamptons will head to the Blue Parrot, a local favorite eatery that he's reopening this summer. Despite the sour economy, Chapman said he expects to fill tables.
"It's not going to have these velvet ropes or this bottle service or anything fancy like that," he said. "I don't foresee any real economic troubles."
E-mail to a friend

All About Travel Destinations • Family Travel