By John Branch
CNN






(CNN) -- With family vacation budgets tight as ever, one Georgia organization is offering an inexpensive vacation alternative that is at once economically and environmentally friendly.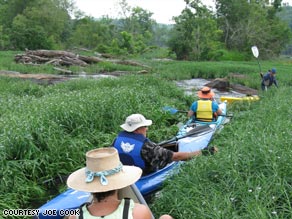 Paddle Georgia is a seven-day river trip for 300 kayakers and canoeists of all skill levels.
In what is considered the largest organized, long-distance paddle trip in the country, 2009 marks the fifth year for the event known simply as Paddle Georgia.
Organized by the Athens, Georgia based nonprofit Georgia River Network, the trip features 300 kayakers and canoeists of all skill levels, ranging from age 4 to 74.
Having floated the Chattahoochee, Etowah, Ocmulgee and Flint rivers over the past four years, this June the group journeys down the Coosawattee and Oostanaula rivers of northwest Georgia.
Charting a 92-mile course, the week-long trip takes participants downstream from the Blue Ridge Mountains of Georgia to downtown Rome, Georgia.
And with trip registration and meal fees for the journey amounting to $57 per day per person, organizers are touting the event as one of the most economical week-long vacations around.
"You travel for seven days with a great group of individuals, seeing sights you'd never see from the highway or even back roads," said April Ingle, executive director of Georgia River Network. "You never have to stop to fill up your gas tank and never have to stand in line at airport security, but you're always just one paddle stroke from a great swimming hole. You'll be hard pressed to find a better vacation value."
Since the event's inception in 2005, more than 1,200 people have participated in Paddle Georgia, helping generate more than $45,000 for river protection in the state. A host of volunteers and supporters from local watershed groups and the communities through which the event passes assist the Georgia River Network staff throughout the week.
"Aside from bringing much attention to our rivers, Paddle Georgia also pumps a lot of money into local communities," Ingle said. Paddlers often spend evenings in local towns, shopping and dining at area businesses, and camping on the local high school football field.
When the group selected the Flint River for 2008, the event even grabbed the attention of former President Carter, who spoke to the paddlers and dined on fried fish with them at the traditional week's-end celebration dinner. Carter vetoed a dam project on the Flint during his tenure as governor of Georgia in the mid-1970s after exploring the river at the urging of outdoorsmen and environmentalists. (The Flint River is the second most endangered river in the United States.)
More than just a canoe and kayak trip, Paddle Georgia includes educational programs on each river's cultural and natural history, tours of facilities and historic sites along the way, nightly games and entertainment, and a research program in which participants help collect chemical and biological data to give a snapshot of the current health of the river.
The trip is suitable for novice paddlers as well as experienced paddlers using canoes and kayaks.
"We hope to have a lot of families," Paddle Georgia Coordinator Joe Cook said. "A week-long canoe trip is not an easy thing for a family to plan. This trip allows a family to participate in a great adventure without having to fret over all the logistics."
The idea for the event was hatched during Cook's own 100-day, 540-mile canoe trip down the Chattahoochee in 1995.
"That trip from the mountains to the Gulf of Mexico was an incredible experience. It was really a lesson in how a river works, how it changes on its journey to the sea and how much it provides for us," Cook said. "Ever since that trip, I've wanted other people to experience Georgia's rivers. The best way to understand and appreciate a river is to get on it and follow in its path."
Ingle and Administration and Outreach Director Dana Skelton embraced the idea of a paddling adventure in spring 2004 and decided that such an event would be a tremendous service to Georgia citizens.
The Georgia River Network has scheduled this year's event for June 20 through 26, and registration is now under way. The trip is limited to the first 300 registrants wishing to do the entire seven-day trip (thru-paddlers). Paddle Georgia Lite, a two day weekend-only portion of the seven-day paddle, is also offered.
More information about Paddle Georgia can be found at www.garivers.org.
E-mail to a friend

All About Travel and Tourism • Georgia