By Larry Bleiberg






(Coastal Living) -- As the temperature nears 200 degrees Fahrenheit, I peer through the steam at 75-year-old Pentti Hirvonen. "It's time," he says.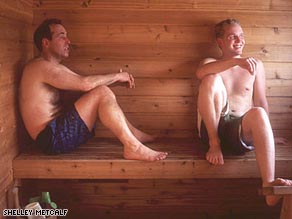 Finland's love of saunas has taken root along the shores of Lake Superior.
He opens the sauna door and steps outside, where it's several degrees below zero. I follow him, barefoot through snow, to a hole in a lake, my feet too hot to even register the temperature. He breaks the thin sheet of ice that has formed in the few minutes we have been inside. Without ceremony, he jumps in, deliberately splashing his face and shoulders. My turn will come next.
Thousands of miles separate Thunder Bay, Ontario, from Finland, but the country's love of saunas has taken root along the shores of Lake Superior. The Canadian outpost is a miniature Helsinki, with one of the largest populations of Finns outside Europe.
On Bay Street, visitors can eat Finnish pancakes and salt-cured salmon at Hoito Restaurant, housed in the basement of the century-old Finn Hall. A block away, an import shop sells stylish Finnish glassware and dinnerware. And up the block, Finntastic Sauna specializes in sauna stoves, cedar buckets, and other hothouse accessories, such as back brushes and birch essence to perfume the water ladled onto hot sauna rocks.
"The sauna is really, really important here," says Eiga Pyykkonen, who owns the store with her husband, David. Like many residents, they have a home sauna, which they visit twice a day. Researchers cite the cardiovascular benefits. A sauna removes toxins, leaving skin soft and supple, they say. And there's a mental payoff, too. Coastal Living: The Great Lakes
"Once you go in the sauna, you can stop thinking about everything else," David says. "It calms you right down. And if it doesn't, you turn up the heat until you can't think about anything else."
Except for days now, I've been thinking about the shock awaiting me when I plunge into near-freezing water. Sauna fans claim the contrast of hot and cold stimulates circulation and ultimately relaxes the body. I'm a little dubious, but it would be a shame to come this far and not test this theory for myself.
So far on my winter sauna sojourn, I've sweated my way from a hotel's poolside hotroom to Kangas', a meticulously maintained public sauna in downtown Thunder Bay. The sign for the 44-year-old bathhouse says it all: "U know U wanna sauna."
Inside, the scent of cedar envelops visitors. They can stop at a café, or head to one of 18 private rooms. Most include three sections -- an outer room for changing and relaxing, a shower area, and an inner wood-lined chamber where the temperature approaches the boiling point.
Ian Dennis owns a vacation home with a wood-burning sauna on a peninsula jutting into Lake Superior, about 45 minutes from Thunder Bay. He doesn't favor hothouse heroics such as rolling in the snow or jumping into water. He prefers to cool down gradually. "You finish your sauna and walk along the beach and you feel alive," he says. "You're more sensitive. You tingle."
Nathan Pyykkonin, who has just jumped from an ice ledge into Lake Superior, tells me there's another advantage to saunas: a night of deep sleep. "You put your head on the pillow," he says, "and when you open your eyes, it's the next morning."
Nearly all of Thunder Bay's saunas are private, although visitors can find B&Bs, rental homes, and hotels with them. During summer, the area bustles with tourists driving the Circle Route around Lake Superior. But despite offering cross-country skiing, snowmobiling, and ice-fishing, the northern Ontario town has less tourism in winter, the only time of year offering an experience like the one awaiting me outside Pentti's cedar sanctuary. After days of worry, it's time to take the plunge.
I ease into the water, but my steaming legs don't even sense the cold. I force myself to lower the rest of my body below the surface, and gasp. Still, numb from the heat, I don't really feel the water. Then I duck my head beneath the surface.
Now I feel it.
I shoot up out of the lake, and sprint back to the sauna that minutes ago seemed unbearably hot. Now it seems perfect. I turn to Pentti, who has already returned to the top bench.
Next time, I tell him, I'll go first.
Take the plunge
Kangas Sauna has 18 saunas for rent, including a 20-person party sauna. For information, call 807/344-6761.
Most hotels have saunas, too. The Valhalla Inn, near the airport, has the city's largest; 800/964-1121 or valhallainn.com. For something more personal, consider McVicar Manor Bed & Breakfast. Although it doesn't have a sauna, you'll find cozy Victorian furnishings; 807/344-9300. If you want a post-sauna roll in the snow, Eldorado Beach Bed & Breakfast can arrange it with prior notice. The home has a sauna on Lake Superior.
For a taste of Finnish shopping, hit Bay Street, home of the utilitarian but delicious Hoito Restaurant; hoito.ca. Several nearby shops stock imported foods, books, and sauna products.
Cross-country skiers will enjoy 12 kilometers (about 7 1/2 miles) of trails at the Lappe Nordic Ski Centre, which also has two saunas; lappenordic.ca.
For more information on Thunder Bay, check out visitthunderbay.com.
E-mail to a friend

Enter to win a monthly Room Makeover Giveaway from MyHomeIdeas.com
Copyright © Coastal Living, 2009
All About Travel and Tourism