By Rick Steves
Tribune Media Services





(Tribune Media Services) -- Many sights in Germany and Austria have been renovated in the last year or two to better display this region's rich heritage, making 2009 a good time to visit.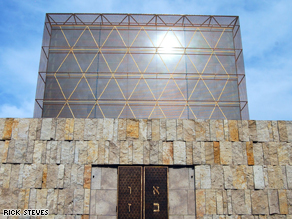 The architecture of Munich's new synagogue evokes the Wailing Wall and 40 years of wandering in the desert.
Several attractions in Munich are newly restored, including the famous glockenspiel at the New Town Hall, which celebrated its 100th birthday last year by restoring its 32 life-sized figures.
Other renovated sights include the Munich City Museum (which features five stories of city history), the dazzling Cuvillies Theater at the Residenz (the elegant palace of the ruling Wittelsbach family), and the futuristic BMW Museum. However, the Halls of the Nibelungen at the Residenz, with ultra-romantic images from Wagner's opera, will remain closed until 2010.
Munich's Jewish population has returned to its pre-World War II size of 10,000, thanks to Germany's acceptance of religious refugees from the former USSR. Their revitalized community has a new center and a striking new synagogue. While closed to the public, the synagogue is worth a walk-by for its architecture.
The lower half of the building evokes the Wailing Wall in Jerusalem while the upper half resembles a tent, recalling the Jews' 40 years of wandering through the desert. The interior of the adjacent Jewish History Museum is interesting architecturally, but its exhibit is the least interesting of its kind that I've seen in Europe. For a better telling of the Jewish story, don't miss the new Visitors Center opening at the Dachau Concentration Camp Memorial.
For a fun change of pace, explore Munich by bike for free with Discover Munich bike tours, which are now offered daily leaving from Marienplatz, the city's center. These tours (and the use of the bike) really are free -- just tip as you want after the 3.5-hour trip, which includes lots of information, silly jokes, and an hour to eat and drink at the Chinese Tower in the English Garden (www.discovermunichnow.com).
Don't Miss
Munich's new law that requires any place serving beer to allow the public (whether or not they're customers) to use their bathrooms is a relief to tourists.
Wurzburg's top sight, the opulent Residenz Palace (the prince-bishop's residence) is undergoing a lengthy restoration. The glorious Imperial Hall should reopen in late spring, but if you want to see the sumptuous chapel, go before it closes in October for several years of renovation.
If you arrive in Dresden at the main train station (the Hauptbahnhof), check out its chic new look, thanks to Sir Norman Foster, the English architect who created the famous Reichstag Dome in Berlin.
In Berlin, a new walking tour company, Berlin Underground Association, leads tours of World War II air-raid bunkers and flak towers (www.berlinerunterwelten.de).
For a cheap and interesting place to stay, Berlin's new hostel, the Ostel, is filled with East-German memorabilia, where you can "enjoy the countless clever and amusing reminders of everyday life in the GDR" (www.ostel.eu). Smoking is now banned in all Berlin restaurants, and just in case you need to visit the U.S. embassy, it's now open at its new home on Pariser Platz (a Stein's throw from the Brandenburg Gate).
For a taste of Poland, take a side-trip from Berlin to the town of Gorlitz and its Polish neighbor across the river, Zgorzelec. Now that Poland is part of the European Union's open borders, the reconstructed pedestrian-only Old Town Bridge between the towns is open and crossable by everyone, without any need for a passport.
In Austria, smoking is now officially verboten in restaurants and cafes, although large places are allowed to build separate smoking rooms for their patrons.
Austria's train network will soon get a little snazzier with the addition of its newest and fastest train, the Railjet. It'll shorten travel times between Budapest, Vienna, and Munich (and connect Vienna to Innsbruck and on to Zurich in 2010).
This year, Vienna begins construction on a huge new central station, located where the current South Station (Sudbahnhof) sits. The aim is to have the new station running by 2011, and completed by 2013. Vienna's vast West Station (Westbahnhof), like Berlin's once mighty Zoo Station, will eventually become an oversized metro stop.
In Innsbruck, the futuristic Hungerburgbahn funicular has opened, allowing visitors to ride right from the center of town high into the surrounding mountains. The Hofburg, Innsbruck's lackluster version of Vienna's imperial palace, is under construction and will be only partially tourable this year. However, the much more interesting Tirolean Folklife Museum nearby reopens this May after substantial renovation.
With spruced-up sights and modernized transportation, Germany and Austria offer travelers a wunderbar welcome.
E-mail to a friend

Rick Steves writes European travel guidebooks and hosts travel shows on public television and public radio. E-mail him at rick@ricksteves.com, or write to him c/o P.O. Box 2009, Edmonds, Wash. 98020.
Copyright 2009 RICK STEVES, DISTRIBUTED BY TRIBUNE MEDIA SERVICES, INC.
All About Travel and Tourism