(Budget Travel) -- Forget everything you thought you knew about hostels. These six new spots come with designer credits, private and shared rooms, restaurants and some of the coolest furniture on the planet.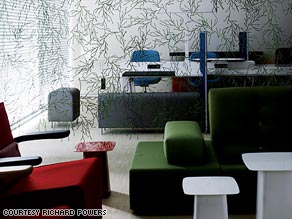 In the lobby of Amsterdam's citizenM, a plastic "algae" curtain separates the computer station from the sitting area.
PARIS
Mama Shelter
The setup: Partners Cyril Aouizerate and Serge Trigano (his family cofounded Club Med) purchased a graffiti-covered parking garage in Paris's 20th arrondissement and unleashed Philippe Starck in the space. With orders to create a combo hotel and hostel, Starck went whimsical, covering curtains with photographs of Parisians and scrawling random thoughts on the ceilings (sample: "How lucky we are to have windows!"). Starck also added homey details, such as a cabinet stocked with bread and Nutella for late-night sandwich making.
Sleeping arrangements: All 172 of the rooms are private, from the singles to the Mama Suite, whose terrace overlooks Père-Lachaise Cemetery. Even the smallest quarters have kitchenettes, iMacs and shower-only bathrooms. Starck custom designed the graffiti-patterned carpeting and hung an illuminated Halloween mask next to each bed as a night-light. Budget Travel: See the new crop of design-minded hostels
The 'hood: A working-class enclave on the Right Bank, the 20th is one of Paris's most up-and-coming areas. The popular indie-rock bar La Flèche d'Or is across the street from Mama Shelter, and for a taste of old Paris, the Edith Piaf Museum is just on the other side of the cemetery.
Unexpected extras: Star chef Alain Senderens presides over Mama Shelter's restaurant, where diners can opt to eat their moules frites at a communal table with TVs embedded in its surface. You may be tempted to make use of the photo booth in the lobby, but be warned that its images are beamed onto a row of plasma TVs by the bar. Information: 011-33/1-43-48-48-48, mamashelter.com, private singles from $100. -- Ellise Pierce
ASCHAU IM CHIEMGAU, GERMANY
Berge
The setup: When German furniture designer Nils Holger Moormann bought some land in southern Bavaria with an abandoned bakery on it, his plan was to use the grounds for storage. But that winter, inspiration struck: His bakery would make the ultimate gemütlich hostel -- one furnished with his own witty designs. Three years (and an astonishing amount of custom carpentry) later, Moormann opened Berge.
Sleeping arrangements: All 13 of the rooms are private and have double or queen-size beds, except for the Bergebude (mountain dorm), which has three bunks built into the walls. Although he's constantly adding features and moving furniture around, Moormann resolutely keeps the hostel TV-free.
The 'hood: Aschau is a medieval hamlet located 90 minutes by train from Munich and 45 minutes by car from Salzburg, Austria. There's first-rate skiing and snowboarding at the Chiemgau resort, within walking distance of Berge. Come spring, guests can hike through Alpine forests and cycle around Chiem Lake. In the village, the restaurant options range from neighborhood pubs to Residenz Heinz Winkler, a Michelin-starred restaurant with a 25,000-bottle wine cellar.
Unexpected extras: A bookworm, Moormann has planted 1,000-plus volumes throughout Berge. In the library, you can try out his top-selling Bookinist chair, with built-in shelves and a big wheel beneath the seat. "I made it when my back was giving me trouble, so I could just roll myself from place to place," he says. Information: 011-49/8052-904-560, moormannberge.de, private rooms from $100. -- Gisela Williams
LOS ANGELES
Stay
The setup: Occupying three floors of the 81-year-old Cecil Hotel, Stay is a mod take on the backpacker special. "Having traveled through Europe in my twenties, I knew exactly what I didn't want," says designer Catherine Coan, whose credits include the high-service Belamar Hotel in Manhattan Beach, California. What she and partner Amy Price did want: an eye-popping palette, an in-house art gallery, a computer nook with 20-inch Macs and a tuned-in clientele of all ages.
Sleeping arrangements: Although they tend to book weeks in advance, try to nab one of the 13 private rooms that come with a queen-size pillow-top bed, Eames-style reading lamps and its own bathroom. The 12 shared quarters have from one to four bunk beds. Regardless of where you land, you will find playful details, such as polka-dotted sheets and bright-orange hand-shaped chairs.
The 'hood: Once-sketchy Main Street is currently on the upswing (Johnny Depp and Katherine Heigl both have lofts nearby), but the area can be desolate at night. Within walking distance: Little Tokyo, the Museum of Contemporary Art and the Frank Gehry-designed Walt Disney Concert Hall. Budget Travel: Hostels on the horizon
Unexpected extras: Stay's concierge lends out Xbox consoles and games to play on the 42-inch TV in the common area. Tuck, a comfort-food restaurant, opens in April and will deliver meat loaf and milkshakes to your room. Next up: Nip, a lobby bar scheduled to debut this summer. Information: 866/935-7829, stay-hotels.net, private rooms from $65. -- Monica Corcoran
BANGKOK
Lub d
The setup: There's no sign whatsoever that Lub d (Thai for "sleep well") was formerly a slapdash office space. Its bright-yellow lobby is tricked out with Robert Indiana-inspired LOVE tables and a banner that reads HAPPY TO SEE YOU. Thanks to Bangkok-based P49 Deesign -- known for creating such swanky resorts as the oceanfront Trisara in Phuket -- even the shared bathrooms are stylish. Deft touches include poured-concrete island-style sinks and black-tiled showers with soap and shampoo dispensers labeled head to toe.
Sleeping arrangements: Of the hostel's four floors, two are communal, with both coed and women-only quarters (with three to five bunk beds per room and a locker for each person). Or you can step it up with a $40 Railway Twin, a private room for two with a bunk bed. Better yet, shell out $10 more for one of the eight private doubles, which have queen-size beds, flat-screen TVs and their own bathrooms.
The 'hood: Lub d is on busy Decho Road, in the Silom district. The surrounding grid of retail streets buzzes with activity into the early morning hours, which is great for night owls. One of Bangkok's largest evening food and shopping bazaars, Patpong Night Market, is just around the corner. To help guests get acquainted with the area, the hostel's manager leads a walking tour every Thursday afternoon.
Unexpected extras: Lub d has its own movie theater, with beanbag chairs in lieu of seats for lie-down viewing. Get your free popcorn at the self-service Yellow Donut Café and Bar in the lobby, which also offers breakfast. Information: 011-66/2-634-7999, lubd.com, private rooms from $40. -- Gisela Williams
SCHIPHOL AIRPORT, AMSTERDAM
citizenM
The setup: From the outside, the 230-room citizenM looks like any other boxy airport hotel. But swing through the red-glass front doors and there's a surprise around every bend. Even registering is an adventure: Guests check themselves in at a row of monitors set against a wall-size bookshelf. A project of the Dutch design team Concrete, citizenM's interior was largely preassembled at a factory. That cost-cutting approach left funds for frills, such as the enormous Frank Gehry puffy-cloud chandelier that illuminates the lobby.
Sleeping arrangements: All of the quarters are private and come with either a custom-made XL bed (even bigger than a California king) or a pair of twins. That Jetsons-like cylinder in the middle of the room is actually the shower, with overhead LED lighting that changes colors. But the toy techies really love? Touch-screen mood pads that control the temperature, blinds and even the alarm clock. Attention, airplane spotters: West-facing rooms have views of the runways.
The 'hood: CitizenM is located directly across from the main terminal at Schiphol Airport. Express trains operate several times an hour between the airport and central Amsterdam -- about a 20-minute ride -- around the clock.
Unexpected extras: CanteenM, a 24-hour café in the lobby, serves smoothies, sandwiches, sushi bento boxes and house martinis with names like Vespa and Mobile. In April, a second citizenM opens in Amsterdam's business district. Information: citizenmamsterdamairport.com (Internet-only reservations), private rooms from $90. -- Gisela Williams
LISBON
Living Lounge Hostel
The setup: A chandelier constructed from crystal shot glasses, a century-old barber's chair reinvented as a chaise, a dining table that gets hoisted to the ceiling to make room for dancing. These are but a few of the surprising furnishings at Living Lounge, in the Baixa section of Lisbon, a new 23-room hostel owned and operated by four design-minded friends: a painter, an architect and two photographers.
Sleeping arrangements: Seventeen artists were each given a space or two to transform, ensuring that none of the rooms are even remotely alike. Take the dorm decorated by graffiti artist Dirty Cop: The walls are painted with black trees evocative of Edgar Allan Poe. Regardless of where you slumber -- one of the 4 singles, 12 doubles, or 7 dorms -- you'll have to shower in the shared bathrooms on each floor.
The 'hood: Living Lounge is in a quiet corner of the historic business and shopping district, where the cobblestoned streets are named after the craftsmen who first set up shop here in the 18th century. The local look is neoclassical, from the National Theater of Dona Maria II to the dozens of pastry shops that sell trouxas de ovos, thick crepes drizzled with syrup.
Unexpected extras: "Our friends want to come over for dinner every night," says part owner Inês Caetano. She's talking about the 8:30 p.m. meal served in the dining room -- a four-course feast for $10. Chef Antonio Cardoso is also the resident tour guide; his morning walks through the city end with a wine tasting back at the hostel. Information: 011-351/2-1346-1078, lisbonloungehostel.com, private rooms from $40. -- Gisela Williams
E-mail to a friend

Get the best travel deals and tips emailed to you FREE - CLICK HERE!
Copyright © 2009 Newsweek Budget Travel, Inc., all rights reserved.
Note: This story was accurate when it was published. Please be sure to confirm all rates and details directly with the companies in question before planning your trip.
All About Travel and Tourism