By Marnie Hunter
CNN






(CNN) -- Romances come and go, but many a gourmand is in it for life with that addictive cocoa concoction, chocolate.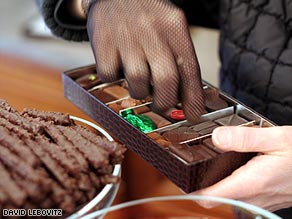 Luxury Paris chocolate tour participants are likely to taste sweets from chocolatiers such as Jean-Charles Rochoux.
And the love affair is no secret. From Paris to San Francisco, chocolate tours are connecting visitors with delectable treats and insider information about what goes into crafting irresistible sweets.
So cave in to your cravings, take a tour and learn a thing or two about chocolate along the way.
San Francisco Gourmet Chocolate Tour
Chocoholics on this Gourmet Walks tour are likely to sample unusual infusions -- such as star anise and pink peppercorn chocolate -- at Recchiuti Confections, a small shop in San Francisco's Ferry Building showcasing exquisite hand-crafted confections.
Tour stops also include a shop that carries more than 225 chocolate bars from 15 countries and a visit to Scharffen Berger for a taste of their 70 percent bar, billed by the founders as the "perfect chocolate bar."
Gourmet Walks founder Andrea Nadel says it's best to taste on an empty stomach, using bread or crackers as a palate cleanser. Another tip: Don't store chocolate in the refrigerator or close to foods like onions or garlic.
Standard tours are offered three times a week; tickets are $49. Additional tours will be available Valentine's Day weekend, including a Chocolate for Lovers package for $150 per couple, which includes T-shirts, a bottle of port and Chocolove bars.
The first stop on this three-hour Old Town Trolley Tour has visitors perched 52 floors up at Top of the Hub in the Prudential Center for a decadent chocolate dessert and sweeping views of the city.
The tour also stops at the Omni Parker House Hotel, home of the Boston cream pie. After sampling the pie, chocoholics buckle down at the chocolate bar buffet at the Langham Hotel.
Tours are conducted on Saturdays. Tickets are $80.
Chicago Chocolate Tours offers tasting trails in the Loop, Magnificent Mile and Andersonville neighborhoods. Started by Harvard grad Valerie Beck, "who used to practice law and is now happy," the tours will provide guests with nuggets about the history and health benefits of chocolate, as well as more treats than most people can finish, according to its Web site.
Don't Miss
On February 13, a special Chocolate and Champagne Girls' Night Out ($50) includes visits to three sweet shops, a goody bag and a champagne toast at the Signature Room, which overlooks the city from the towering John Hancock Building.
Regular tours are available every Friday, Saturday and Sunday. Standard tour tickets are $40 each.
From the Upper East Side's exclusive international labels to SoHo's new wave chocolatiers, this outfit offers a taste of heaven to the sophisticated chocoholic.
The three-hour Union Square tour melds the history and culture of the area with chocolate, pastry and wine pairings.
Tours are offered Fridays, Saturdays and Sundays. Upper East Side and SoHo tours are $70; the chocolate and wine tour is $80.
This weeklong gourmet adventure, hosted by chocolate experts David Lebovitz ("The Great Book of Chocolate") and Mort Rosenblum ("Chocolate: A Bittersweet Saga of Light and Dark") is a serious caloric and monetary splurge.
The package, including six nights in a deluxe four-star hotel with breakfast, plus four lunches, five dinners with wine and all events and transportation, runs 3,295 euros ($4,200) per person for an April 26 to May 2 stay.
The trip, limited to nine guests, is offered each year in May. This year, the organizers added the April departure.
A private tasting at La Maison du Chocolat, visits to local markets, lunches and dinners at Lebovitz and Rosenblum's favorite Parisian bistros and a delicious cruise aboard Rosenblum's houseboat on the Seine are among the week's activities.
E-mail to a friend

All About Travel and Tourism