By Katherine Spiers





(Budget Travel) -- Across the city, Angelenos fuel up at gleaming, brightly painted taco trucks for a dinner or late-night snack of tortas, quesadillas and burritos (but mostly tacos). Here are a few of the best trucks.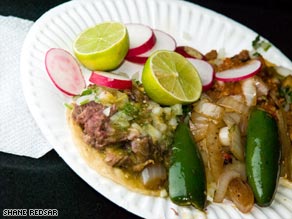 El Chato's tacos are tiny but pack in lots of flavor.
Stationed at a mid-city intersection, El Chato serves dishes that are almost elegant, in spite of the streetside location. The tacos ($1) are tiny two-biters topped with sweet onions sautéed with fiery halves of chili peppers, plus limes, lemons and radishes. The sauce that accompanies specialties such as carne asada (marinated grilled beef), al pastor (pork) and cabeza (beef head and cheeks) is smoky and unusual: there might even be some lemongrass in there, though of course the cooks would never spill the secret of their cult success.
Southwest corner of Olympic Blvd. and La Brea Ave., Mid-City West, 8 p.m. to midnight Mon.-Thurs., 8 p.m. to 1 a.m. Fri.-Sat. Dishes $1-$4.
Taco Zone may be the most popular food truck in town, judging by the constant line of hungry citizens clamoring at its window nightly. With a wide sidewalk ideal for sprawling with your crew and Echo Park's hippest bars nearby, the location is great for people-watching. Just about everything here deserves its reputation, but since you have to choose, go for a quesadilla: this is one of the few trucks serving the cheesy creation. Try it with suadero (chopped sirloin) and top it with whatever sauces and garnishes are offered along the side of the truck -- spicy avocado sauce, pico de gallo, onions, cilantro and peppery red salsa.
Going a bit overboard with the mouth-burning options is fine here, as they can all be counterbalanced with some heavenly horchata. This soothing drink of rice, almond flour, sugar, vanilla and plenty of cinnamon is made daily by the friendly ladies who make the truck so welcoming. Budget Travel: Check out some of L.A.'s tastiest taco trucks
Corner of N. Alvarado St. and Montana St., Echo Park, 7 p.m. to midnight Sun.-Thurs., 7 p.m. to 2 a.m. Fri.-Sat. Dishes $1.50-$5.
Tacos Arabes has the name of its house specialty painted on its window. Tacos arabes were fusion before the term existed: The story is that in the 1930s an Iraqi or Lebanese immigrant in Mexico put his own spin on tacos, using Middle Eastern seasonings such as cumin and turmeric and a wheat tortilla. Another specialty here is the corn tortillas. They're handmade in the tortilleria next to where the truck parks, and their freshness really comes through. Specialists making the tortillas work late into the evening, and diners can spot them in action, forming the cornmeal disks that will soon be topped with beef, pork, chicken and sautéed vegetables.
Northwest corner of Sunset Blvd. and Logan St., Echo Park, 7 p.m. to 1 a.m. Mon.-Sat. Dishes $2-$4.
One of the best things about L.A.'s taco trucks is the airbrushed murals that adorn them. Rambo's has an especially famous scene: The warrior of movie legend brandishes a plateful of tacos in the jungle while a buxom safari leader looks on. Does it make sense? Not necessarily, but it is fun. Busty ladies are a common theme on taco trucks, though they are paired more often with spiritual figures and animals than with movie icons. As for the food, Rambo's is a good spot to get adventurous. Popular tacos include lengua (tongue) and tripas (intestines). Each taco gets its own unique salsa, and you can count on it being almost blindingly spicy.
Southeast corner of Eagle Rock Blvd. and York Blvd., Eagle Rock, 7 p.m. to 2 a.m. Mon.-Sat. Dishes $1-$3.50.
La Estrella is so successful that the owners and chefs have managed to turn it into a mini chain, with one brick-and-mortar restaurant and a number of trucks stationed around town. The one in Highland Park is the most centrally located: Near a hipster bowling alley, dive bars and Occidental College, it's handy for town and gown alike.
If you only try one kind of taco here, make it the al pastor. The pork is so perfectly seasoned and cooked that many folks order it without the standard salsa, just a sprinkling of cilantro and chopped onions. This location got a lot of press early in 2008, when a motion was passed at the behest of brick-and-mortar restaurant owners to effectively ban taco trucks from parts of Los Angeles County; La Estrella is the favorite of Save Our Taco Trucks, the group who led the fight to overturn it. Luckily for us all, the ban was repealed and the eating continues.
Northwest corner of York Blvd. and Ave. 54, Highland Park, 7 p.m. to midnight Mon.-Thurs., 7 p.m. to 2 a.m. Fri.-Sat. Tacos $2 each.
The final truck serves no tacos, but the specialty is a classic in its own way, and a great ending to any food crawl. The main attraction at Salina's Churros are sugary, deep-fried wonders, crispy outside but soft and fluffy inside. The churros are usually made fresh to order, in the scary-looking deep fryer behind the window. Churros are best when piping hot: if you're offered one made more than five minutes ago, smile sweetly and ask for a new batch; the cooks are happy to comply.
Other dessert options include bionicos, fruit salads with cream and grains; and fried plantanos (plantains) with sweet cream and strawberry jam. The plantanos, hard-to-recognize lumps, aren't exactly pretty, but they are delicious. An ideal night to hit this truck up is Wednesday, when Barragan's Mexican restaurant two doors down has $2 margaritas. Pick up a bag full of churros to line your stomach with dough before joining the scenesters at the bar. It could turn out to be one of the the tastiest, cheapest, and yes, sweetest, nights of your life.
Southwest corner of Sunset Blvd. and Echo Park Ave., Echo Park, 3 p.m. to 9 p.m. daily. Eight churros for $3, other dishes $4.
E-mail to a friend

Get the best travel deals and tips emailed to you FREE - CLICK HERE!
Copyright © 2009 Newsweek Budget Travel, Inc., all rights reserved.
All About Travel and Tourism • Food and Cooking