By Zach Pontz
CNN






(CNN) -- If you consider new experiences and foreign cultures an investment, Costa Rica might be a better option than the stock market right now.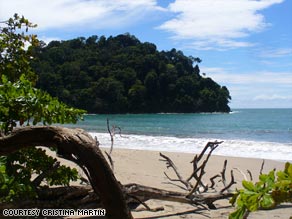 Manuel Antonio National Park is a popular destination for Costa Rica visitors.
Flights are reasonable -- I paid roughly $370 from Atlanta, Georgia, on short notice -- and if you're smart, so are meals.
Sodas, small roadside stands which have minimal seating but maximum eating capacity, serve traditional dishes such as gallo pinto, a religiously devoured dish of rice, beans and alternating spices, or chicharrones, a typical fried meat dish. Cheap and delicious, they're a great way to dine your way through the country for just a few dollars.
And in Costa Rica, even indulging is cheap: For the most part, top-flight restaurants won't cost you more than $25 a person.
I was able to save some money by traveling with my friend Cristina and her family. But even if you don't know anyone in Costa Rica, you can experience the authentic Costa Rican Tico style without going broke. Just follow me.
South to San Isidro
First thing to do upon arriving in the capital, San Jose, is head south. As in all tourism-driven countries, there are decidedly more expensive and increasingly non-indigenous sections of country, the north being the perpetrator here. For us, San Isidro, a small city in the southern part of the country, was our first stop.
We drove, but if you don't want to shell out a few hundred dollars for gas and the weekly rental of a car, buses are cheap and trustworthy. The quickest route to San Isidro is along the Pan-American Highway, a winding, throttled roadway through mountains and rainforest.
Spinning through the fog and rain, our car pumping along, the silhouette of valleys along cliffs edge on either side of us, I began to ask myself when this trip would level out. As we approached our destination and the pulsing lights of the city in the valley below burgeoned, I had my answer.
San Isidro sits amidst the hills on the edge of Chirripo National Park. What seems like a sluggish little town proves otherwise, as the center of the city is vibrant and rhythmic, bustling with people, shops and a multitude of restaurants. The main square, at the base of the town's largest church, is attractive with its surrounding cafes, markets and stores.
Particularly appealing is the Central market, open every day but Sunday until 5 p.m. The true character -- and cheapest meals -- of San Isidro are uncovered here, where bakeries, food stands and sweet shops act as a culinary history of a people . The empanadas, ceviches and plates of rice and beans -- with their Spanish roots -- were especially tantalizing.
Waterfalls and surf
The next day, we headed off toward the coast, but not before stopping to take a trip through the rainforest on horseback to Nauyaca Waterfalls. For $45, Don Lulo's Nauyaca Waterfalls provides the horse, escort and grub.
I admit I'd never been on a horse before, and the lack of control I felt at first wasn't altogether pleasing. Despite some startling missteps by my horse, Yogi, I felt safe most of the time, and the trip was capped off with an amazing lunch of chicken, beans, rice and batidos, a popular Costa Rican drink consisting of fruit blended in water or milk.
From the falls, we shot to Dominical, a small surf enclave with a rugged unmarked beach. We checked into Tortilla Flats, a hotel that sits 20 feet from the beach. For $20 a night, its location can't be beat, even if its spartan rooms left a bit to be desired.
The town has a bounty of small eateries. With multiple choices, including a sushi restaurant and a Mex-American bar, we chose a small deserted soda to dine in. The open air and scanty seating assured us that this was the place locals -- and thus fine indigenous food -- could be found. We were right.
Wildlife in Manuel Antonio
Last Stop: Manuel Antonio. This resort town sits on the edge of a national park. Frequented by movie stars and everybody else, the main road is lined with fancy hotels and restaurants. But the beauty of the place is that it's not a one-note town. Scattered amongst the resorts are affordable accommodations that don't skirt quality. At Villas El Parque, one such lodging, our room's expansive views of the ocean were enthralling.
A variety of restaurants, from tourist traps to small gastronomic gems, litter the mountainside. El Avion might be of interest, as it's built around an old C-123 that was the sister plane of the one at the center of the 1980s Iran/Contra affair. Salvaged from the San Jose airport in 2000, it now acts not only as a novelty but also as a nightclub.
The park itself is the main draw. Though it is smaller than most other national parks, its assortment of wildlife is astounding. You've got to be quick to catch a glimpse of the endangered squirrel monkey or a colorfully brilliant toucan. If a slow pace is more your style, lovably indolent sloths abound.
I suggest hiring a tour guide. For a minimal fee, their quick vision and knowledge of the park's life forms will no doubt ease any reluctance you might have about not going it alone. For a day's worth of fun, you won't spend more than $25 a person.
For the week, I struggled to spend $300 in this tiny country, ironic when one considers that the English translation, Rich Coast, was coined when Spanish explorers came ashore in the 1500s and found natives wearing gold bands in their ears.
Depending on your budget, anything from zip-line tours to windsurfing and scuba diving to climbing the edge of volcanoes can be accomplished in Costa Rica. The Tico lifestyle is enticing. A relaxed and languid pace reminds you of exactly what life is about -- and how not to go broke trying to discover it.
E-mail to a friend

All About Travel and Tourism • Costa Rica