By Carolanne Griffith Roberts





(Southern Living) -- Our ship hadn't quite left port when I handed my teenager a present: a lovely leather-bound notebook with lined pages and a variety of colorful pens. His mission was to keep a cruise journal, a tell-all, remember-the-moments account of his days (and nights) on the high seas.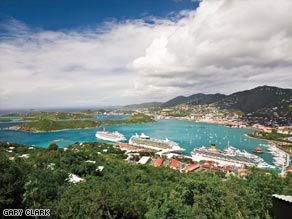 A family cruise gives teens some autonomy in a fairly safe environment.
Duh. If you were a kid on a cruise, would you write? Dream on. He was too busy, totally booked. We always teach him to set goals and he does. His cruise goals included the rock wall, miniature golf, teen-only nightclub, video arcade, fast-food joints, pools, hot tubs, basketball court, pizza 24-7, jogging track, "mocktail" bar, scratch deejay lessons, boogie boarding, Wii tennis, battle of the sexes contest, hip-hop, crowning of a prom king and queen, foosball tourney, disco night-and freedom.
Our guy checked most of it off his list. And he'll second what we fast found out: Taking a teen on a cruise is a good idea. Pick a three- to four-day sail in the Caribbean for the best results. He's a free agent in a safe environment, and I can give my overactive mama radar a rest and enjoy some worry-free fun on our amazing Royal Caribbean International liner. We'll do it again. Here are a few memories along the way (somebody had to use that journal).
Together time. Smile for the camera as we board. Report to muster stations for the lifeboat drill. And he's off. We find a lovely spot for departure; he hits orientation at Fuel, the club for Generation Facebook. We hear later that there are more than 1,000 kids on board.
Dinner, late seating. He finds us, dressed appropriately (love it). Dessert comes and goes, so does he. Something about dancing, music, a party, and a new friend from Brazil. We stroll the deck, catch a show. Romantic.
Shore excursion, St. Maarten. We're suddenly desirable (maybe it's our plans to sail in a race featuring former America's Cup yachts, a pay-extra adventure our kid cites as a "major memory moment"). Back onboard: He heads for pizza, but shows up with friends for the seventies night, an everyone event where his parents embarrass him by dancing the way we used to (Y-M-C-Aaaaay!).
We elders anchor the mornings -- elliptical trainers facing the fast-moving waves, coffee with a view, and finish-a-sentence chats. He rules the evenings --we'll never know if he entered the dating game (some things you don't share).
We use our iPhones (with the AT&T at Sea feature) to touch base.
We meet up for the early evening ice show, a cross between Cirque du Soleil and Ice Capades, and earn a nod of approval. It's cool -- take a sweater.
Strangely enough -- and I hope this happens to you -- we saw him more by day three. Maybe he suspected we knew something that he didn't (we did -- a specialty steak restaurant onboard; a nightclub show he protested but enjoyed; taxi rides around islands such as St. Thomas; new friends with a cute daughter his age; and so on).
From a parenting point of view, we seldom needed to direct traffic, correct attitude, or be intense during our days at sea. We were too busy enjoying our son.
The teen who got off that ship was the same one who got on -- but calmer, more worldly, engaging, and in need of a week's worth of sleep. Back home, we overheard him recounting the tales (sometimes embellished) to landlubber buddies. Our teen, king of the waves. Thinking his parents are momentarily cool for taking him. Wow. We're on to something.
Weekend (or weekend-plus) sails
Royal Caribbean International: Southern Ports: Fort Lauderdale, Port Canaveral, Miami, and Tampa, Florida; Baltimore. Destinations: The Bahamas and western Caribbean. For Your Teen: Teen Center (10:30 p.m.-2 a.m.), theme nights, rock wall, FlowRider surf simulator (some ships), Scratch DJ Academy, ice-skating (some ships), airbrush tattoos. Rates: from $229 for three nights, $249 for four nights; www.royalcaribbean.com.
Carnival Cruise Lines: Southern Ports: Mobile, Alabama; Fort Lauderdale, Jacksonville, Miami, Port Canaveral, and Tampa, Florida; New Orleans; Charleston, South Carolina; Galveston, Texas. Destinations: The Bahamas and eastern and western Caribbean. For Your Teen: games and a video arcade (offerings vary by ship), Club O2 for older teens, teen dance floor, teen-only shore excursions, themed parties. Rates: from $229 for three nights, $209 for four nights; www.carnival.com.
Disney Cruise Line: Southern Ports: Port Canaveral. Destinations: The Bahamas. For Your Teen: Ocean Quest (ages 10-14) area with video games and a to scale replica of the ship's bridge; Aloft (Disney Wonder) and The Stack (Disney Magic) for older teens with TVs, a lounge area, and Internet cafe; Studio Sea family club; themed parties; activities ranging from animation classes to PlayStation2 competitions. Rates: from $429 for three nights, $499 for four nights; http://disneycruise.disney.go.com.
Celebrity Cruises: Southern Ports: Fort Lauderdale and Miami. Destinations: The Bahamas and western Caribbean. For Your Teen: XClub program with games, karaoke, and more; Fun Factory, themed parties, talent shows, pizza party. Rates: from $199 for two nights, $349 for four nights; www.celebritycruises.com.
Norwegian Cruise Line: Southern Port: Miami. Destinations: The Bahamas. For Your Teen: Teen's Crew program, themed parties, group dining, teen disco, other activities. Rates: from $199 for two nights, $209 for three nights; www.ncl.com. -- Lauren Simpson
E-mail to a friend

Try 2 FREE TRIAL issues of Southern Living - CLICK HERE !
Submit your favorite places to visit, stay, and dine in the South and enter to win a Caribbean Getaway - click here!
Copyright SOUTHERN LIVING Magazine. All rights reserved. This material may not be published, broadcast, rewritten, or redistributed.
All About Family Travel • Travel and Tourism